Yes! You read that right! Imagine eating copious amounts of fried chicken to your heart's delight. I'm not too ashamed to admit I've zoned out before during meetings thinking about impossibly crunchy battered Korean fried chicken, and then having someone nudge me back to reality to tell me that there is drool pooling on my desk. Time to put on your stretchy pants because Restaurant Mon Ami – home to Montreal's best Korean fried chicken, now has a location that serves all you can eat fried chicken… only it's also one of the best all you can eat Korean barbecue restaurants in the city. What? Let me explain.
My favourite spot for Korean Friend Chicken – Mon Ami has an sister restaurant – located just down the street – specializing in Korean BBQ, coincidentally called Mon Ami BBQ . Where not only can you enjoy the best Korean barbecues delights, but also ball out on some awesome authentic Korean dishes, including their famous fried chicken!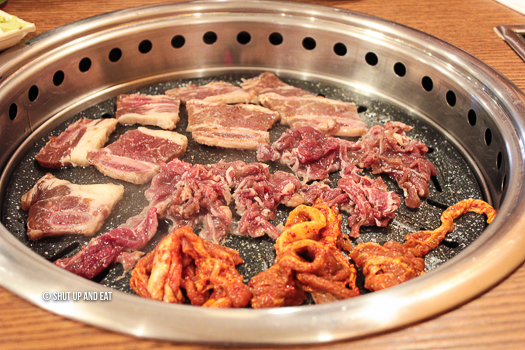 If you've never had Korean BBQ before, I'd like to invite you out from under that rock you're living under and join us in the year 2017. Different cuts of meat and seafood lovingly marinated in spices cooked to "perfection" on a table top (or built right into) grill. Served with a variety of dipping sauces, side dishes and condiments, and veggies, bring a towel and get ready to celebrate the meat sweats. Perfection in quotations because you're doing the cooking, so if it's burned, you suck and it's all on you.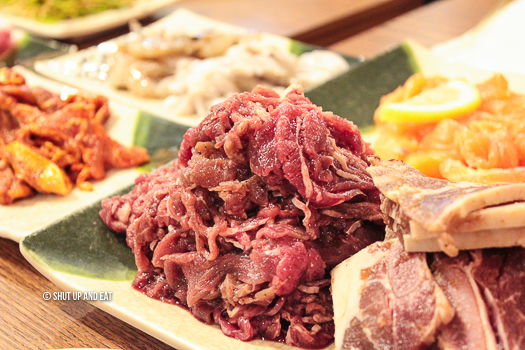 Mon Ami BBQ's menu is straight forward. A list of meat and seafood including classic beef bulgogi, gabli short ribs, octopus and sweet marinated pork, as well as vegetables. Not to mention side dishes like kim chi, seasoned shredded green onions, pickled radish and doenjang – Korean fermented soy bean paste. The menu also has a decent list of hot dishes you can order like a traditional sol dot bi bim bap – rice with beef and vegetables served in a small hot stone bowl topped with a fried egg, haemul-pajeon (seafood pancake), fried dumplings and Tteok Kkochi – fried rice cake amongst other things.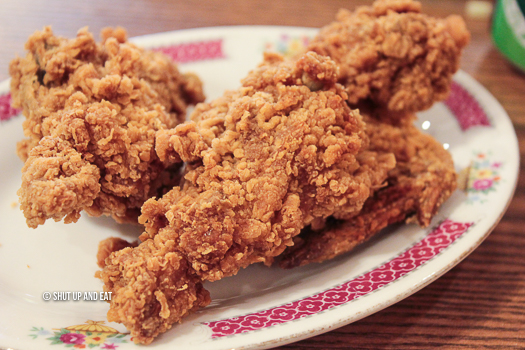 The menu also includes Mon Ami's famous fried chicken. Served one way – no sauce – the classic way. The chicken is perfectly golden and crispy, juicy and tender. Have you ever said to yourself, "Damn, I wish I had amazing fried chicken to go with my Korean barbecue"? NOW YOU CAN.

The meats and marinades are all traditionally prepared. A great balance of sweet and savoury, hot and spicy. Accented with the dipping sauces – I suggest ordering the sesame oil/salt mixture, the soy bean paste and mixing it with soy sauce. Purists will say that the doenjang goes with seafood, and the sesame oil with meat. Some might say it's wrong, but it tastes so right.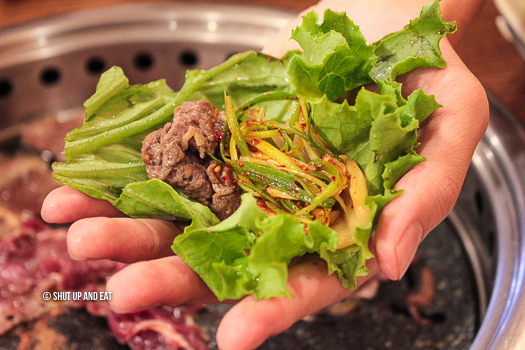 The galbi short ribs and bulgogi beef are sweet and savoury that embrace the light char it takes on from the grill. The beef tastes best when eaten with seasoned scallions topped with kim chi. Do yourself a favor, wrap your bites in lettuce.

The idea of all you can eat Mon Ami fried chicken is what you may come for, but you're staying for the barbecue. Order as much as you can eat, but in moderation, there is a charge for uneaten food. Did i mention all you can drink canned soda and juice as well! With the best Korean fried chicken and now the best Korean BBQ, is there anything left of the Korean culinary world for Mon Ami to conquer? Probably, and I'm sure they're already working on it. Reservations are a must. Last dinner seating is at 8:30. Go early.
Mon Ami BBQ
6521 Avenue Somerled, Montréal, QC H4V 1S7
Mon Ami BBQ
Closed Tuesdays.