If I were to say, "Indian brunch", what's the first thing that pops into your head? Runny eggs wrapped dosa served with dahl and chutney? Fruit chaat with yogurt and saffron? Puri? What if I were to say, "Indian cuisine inspired brunch"? What now? Runny eggs served with garam masala spiced potatoes with a side of whole wheat naan? Some sort of red curry shakshuka? If I want a meal of a certain cuisine, I'd choose what that cuisine serves for that meal; Chinese breakfast: congee and youtiao (cruller), Vietnamese breakfast: pho, American breakfast: cheeseburger and a texmex-burrito. I'm often skeptical of when restaurants do fusion – let alone for fusion breakfast. However my opinion changed when I had to the opportunity to discover what an Indian fusion brunch is all about when I visited India Rosa.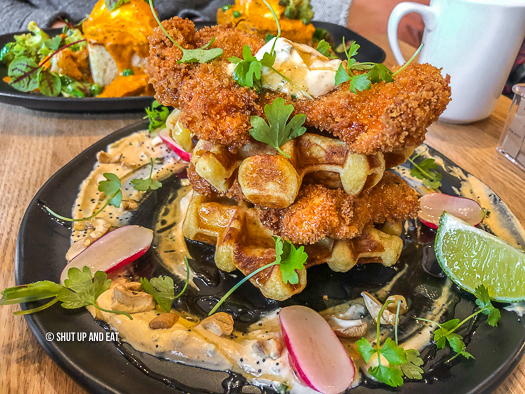 This popular Indian spot in the Plateau serving Indian Tapas has a pretty amazing brunch menu to discover. From fragrant curries, to succulent koftas and stuffed omelettes, India Rosa is appealing to brunch goers introducing brunch with an Indian twist.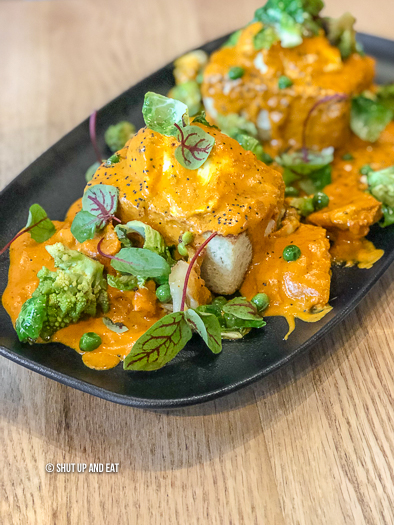 The butter chicken eggs Benedict. Two poached eggs on toasted brioche, topped with butter chicken, fried onions, Brussels sprout petals, peas, sorrel shoots and romanesco. To be honest, this would have been my first image of "Indian brunch"; something with butter chicken. But ladled over eggs benny, next level! The butter chicken wasn't spicy, but mildly sweet. The sweet peas and nutty florets made each savory bite a delight. The butter sauce when mixed wit the broken yolk was incredibly rich. The tangy, slightly acidic sorrel shoots cut though easily. The only thing that disappointed was that the butter chicken was screaming hot. If you didn't break your yolks fast enough, the eggs would be completely cooked through rendering a poached egg into a soft-boiled egg.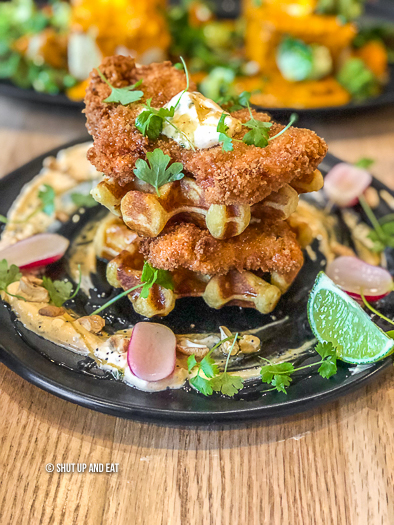 Masala waffles, fried Tandoori chicken, sour curry and lime zest, drizzled with spicy honey, topped with cashew, and garnished with raw radishes, cilantro micro greens and lime.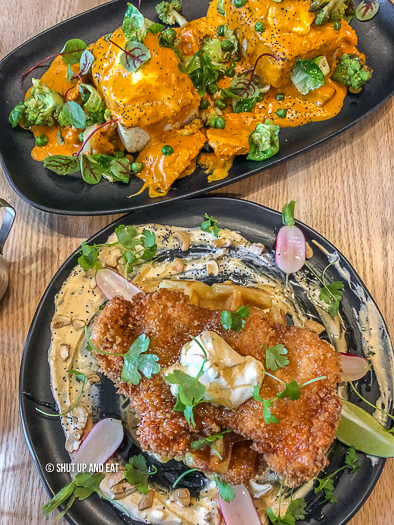 The panko crusted chicken had great flavor and remained crunchy until the last bite. I know what waffles taste like, you know what waffles taste like, but you haven't really eaten waffles until you had these Indian spiced waffles from India Rosa, they are amazing. The spiciness in this dish isn't intense, but there's a kick. The different kinds of heat (from the chicken, the waffles, to bites of raw radish) all work well together. It's quelled and complimented by the tangy cream sauce and sharp hits of fresh lime juice and sweet honey. The dish was perfectly composed and consciously thought out and executed masterfully.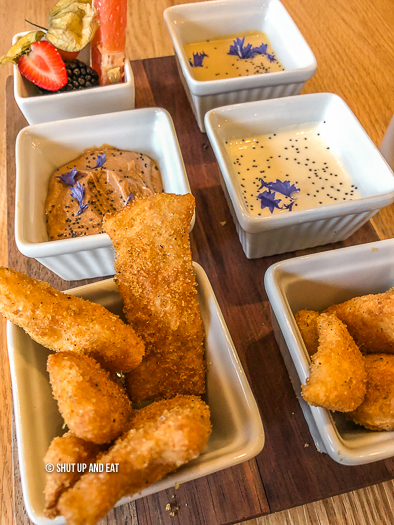 The Naan doughnuts intrigued me, so I had to have them. Deep-fried naan sticks rolled in sugar and cinnamon, then dusted in Indian 5-spice, served with maple-caramel, whipped praline cream and lime yogurt. These were tasty, I would have been just as happy to eat these without the dip. The naan was sweet and savory… delicious! The dips were a bit much for me.
Stylish and Instagramable space for those who want to brunch for the gram, but I highly suggest you brunch for the food. Their regular menu seems fun with a bunch of dishes that look like their easy to share over Indian drinks and cocktails.
Like I said, what do you think if I were to say "Indian fusion brunch". What hokey mish-mash of east meets west dish you're thinking of, you're right. But now imagine it being done deliciously and done well. Great brunch options with something for everyone – vegetarians too, they have an extensive cocktail list and exotic smoothies to enjoy as well.
India Rosa
1241 Mont-Royal East
514.543.1880
Brunch – First come, first served.
http://www.indiarosa.com
—
I was an invited guest of India Rosa. Thoughts and opinions are my own.