Street food. Why are people obsessed with it? For the same reason my room is painted bright red and I've already planned to name my first child Ferrari – we want what we don't have – my dog is also named Kim Kardashian. Back to "street food". We don't have it a legit street food scene here, which leaves us with a crater-sized craving for the things we've seen fetishized on tv and Youtube. If you've watched that NetFlix Docuseries, you'd understand what I'm talking about. Sure we have food trucks and open-air food festivals, but that's not the same. No matter how hard we try, we'll always have a pathetic, second-rate attempt at something authentic and so bastardized it becomes a caricature of itself. This is why when you're looking for authentic street food, you have too look indoors. This week I checked out a cozy spot in Montreal West serving authentic Chinese street food – Montreal Crêpes & Dumplings Chinois.

Since vending food on the streets is against the law, more and more nimble food entrepreneurs have started to take street food indoors. Opening modest eateries that feature a few tables or counter seating hawking a concise menu of snacks and light meals. Montreal Crêpes & Dumplings specializes in Chinese street food – even though they don't say so – Crêpes and dumplings.

Opposed to other dumpling spots that list no less that 30 types of dumplings including derivatives of themselves, Montreal Crêpes & Dumplings offers a modest seven options. You can order them boiled of pan-fried. These pork, shrimp and cabbage dumplings were amazing. The skin is hand-made, you can tell by its unmistakable chewiness. A quick dunk in their secret sweet and sour dipping sauce complimented the flavourful filling.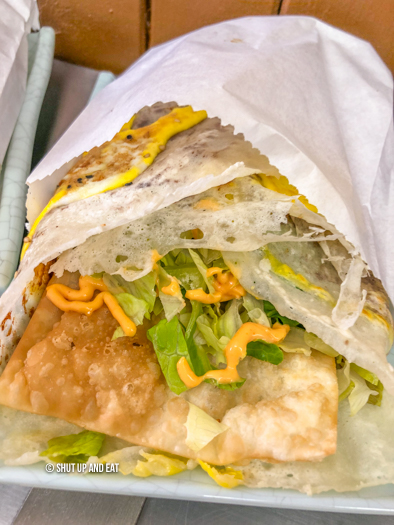 Montreal Crêpes & Dumplings's specialty, the Jianbing. They're often eaten for breakfast and are considered China's most popular street food snack. This classic version is made with wheat-flour, lined with a beaten fried egg, slathered with bean paste, topped with chopped scallions and cilantro, lettuce and a slice of deep-fried wonton chip. A melange of textures and flavours hits all all the right spots on the palate. Delicious, comforting and incredibly light – I can crush at least 3.

This version of the Jianbing includes beer-battered fried chicken and topped with spicy mayo. Here's a PROTIP, don't take it out of the bag – it will get messy. Eat it as you would any other wrapped sandwich; peel the bag back as you eat it.

Always made to order, these Chinese breakfast burritos are a hit on the streets of China that often see regional variations. Some include the crêpes being made with millet of buckwheat flour as well as fillings of different kinds of sautéed meat. Montreal Crêpes & Dumplings offer seven options as well, which include breakfast crêpes (bacon and egg filled) and regular ones filled roasted pork, and jerk chicken.

Chinese Crêpes & Dumplings is a very unassuming quaint little spot in Montreal West. Street food, or by inherent circumstance – not street food – just by the circumstance that it's an actual restaurant (I'd say more lunch counter) and not served on the street in the midst of diesel fumes and motorbikes. Serving up only two things and they're delicious.
Montreal Crêpes & Dumplings
37 Westminster North, Montreal Ouest,
https://montrealcrepes.com