Picture a dimly lit alley steps away from the hustle and bustle of a typical Tokyo street. Along a row of wooden doors sits a hidden oasis of food and drink where locals congregate and strangers make new friends. A mix of J-pop and Japanese oldies fill the air and ride a smoke scented draft wafting from the kitchen. Small bites of fried goodies and raw seafood, pepper the tables and glimmers and random lights are caught on the edges of cocktail glasses. This is Hanzo Izakaya. Owned and operated by the same team that brought to you Escondites, biirū, La Habanera, Kao Lua, and Gokudo, Hanzo Izakaya is Tokyo at night where wisps of neon lights creep in through noren curtains inviting you into a familiar place for a drink.
The space was charming. I was told Hanzo was inspired by the Crazy 88 scene in Kill Bill that reflected Japanese elegance" through the eyes of the owner. You know that Tarantino movie with Uma Thurman in the yellow jumpsuit that had us all collectively as a human race whistling that damn melody for three months? Yeah that movie.

Hanzo has a pretty extensive alcohol list which comprises of a great selection of wine, beers and cocktails. As a non drinker, I appreciated that they had a couple of mocktails on their menu. The Texas Ranger was camerise and ancho, yuzu, mandarin with blood orange and the Buck, was jalapeño, pineapple, lychee.

The menu has several sections; appetizers, raw, fried, grilled, hot and sides.The edamame was served with wasabi, salted butter, and furikake – a Japanese rice seasoning of seaweed, sesame and shaved bonito flakes. I'll admit, I've never had edamame with butter before, and I will never have it without again. It was different. It was interestingly weird. It was tasty.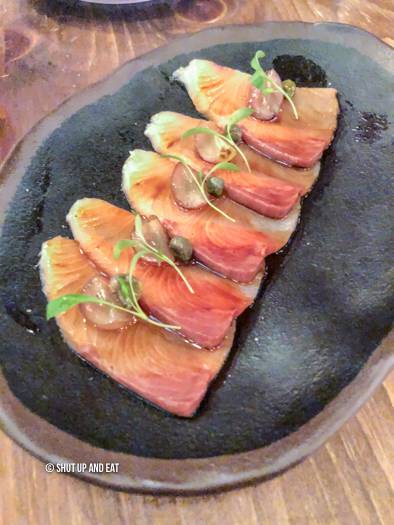 Whenever I go for sushi, I always order hamachi sashimi, it's my favourite. The fattiness and delicate flavour is unparalleled. When I saw Hanzo's hamachi sashimi on the menu, I was hesitant. It's prepared with red grapes, capers, orange, yuzu and cayenne dressing. Why do you need to complicated my most favourite fish? So I ordered it and was pleasantly surprised. The natural sweetness of the fish was not compromised as the citrus and heat of the dressing cut through the unctuousness of the very generous slices nicely.

Completely out of left field, the "KFC" or the Konbini friend chicken (an ode of the 7-11 or "convenience store" fried chicken in Japan) had a South American flair to it. Black pepper and achiote fried chicken, served with an aji amarillo aioli. Not as crunchy as I would have liked it, but then chicken was moist and tender. The spiked aioli was a nice touch as well.

I'll admit, these dumplings are not the most prettiest things to look at, but they sure were tasty. Pork, shrimp, black mushroom gyozas with yuzu koshō, and chili oil. I was told that the dumpling wrappers were made with squid ink. The inherent brininess of squid ink that I'm used to in a dough form (like in pasta), was lost in these dumplings. Striking to look at and attention grabbing nonetheless.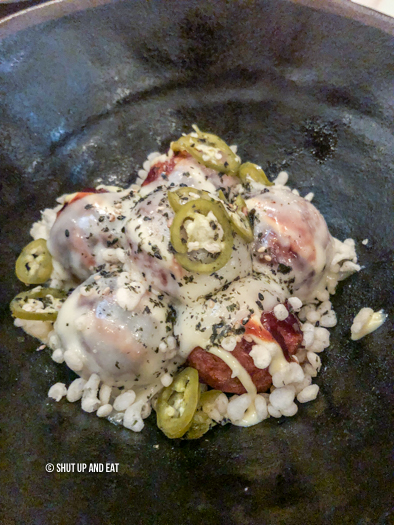 Like white girls who return form the Caribbean with braids, this version of octopus balls just returned from a trip to Mexico. The fluttering bonito flakes is replaced with melted cheese and topped with, tempura, jalapeño, and furikake. This dish had great texture. The chewy cheese was different and not something you'd typically associate with takoyaki, but a creative addition to each bite.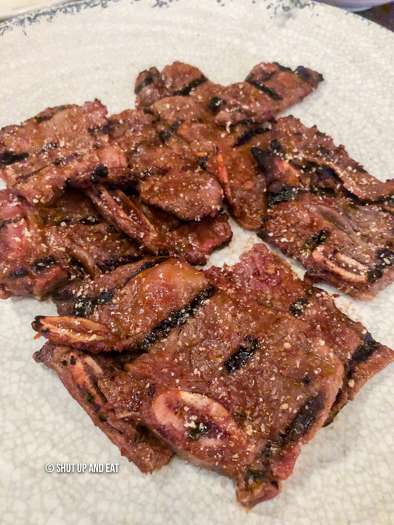 The Karubi was grilled spicy beef short ribs. Smokey and charred, the beef was tender and had a slight kick to each bite. As much of a fan I am of short ribs, these were decent, but nothing to write home about.
The reference to the Crazy 88 scene from Kill Bill was lost on me. The lacquered furniture, tatami tables, rice-paper paneling, wide open spaces was missing. However, what I did see was a clever space that reflected the rustic charm of Old Montreal and traditional Japanese interior decorating while blending classic Japanese dishes with cheeky culinary twists. Hanzo is a great place for drinks and snacks. Each dish had a unique personality of its own, but not overly adventurous but complimented the entire Hanzo Izakaya experience as a whole.
Hanzo Izakaya
417 Rue Saint Nicolas
Montréal, Québec
H2Y 2P4 Canada
http://www.hanzoizakaya.ca
—
I was a guest of Hanzo, thoughts and opinions are my own