I'm not going to lie and say Verdun isn't a foodie destination. I'll admit, with places like, Janine Cafe and Well for brunch, Blackstrap for the city's best BBQ and some of my favourite Asian restaurants, Les Street Monkeys and Hong Mere and Comon, it's definitely one of my favourite neighbourhoods to eat in. I was recently told about a new dumpling spot that entered the game (coincidentally called, "Mr. Dumpling") and I had to check it out.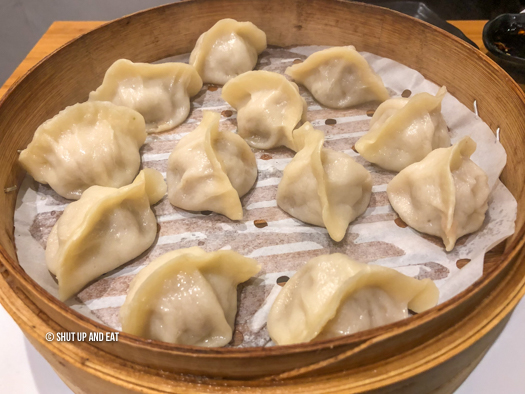 Their menu has a little bit of everything. A handful of soups and appetizers, wok items and dumplings. We started with the peanut butter dumplings. This dish – no matter where you order it – will always be plain pork dumplings topped with a gloopy sauce. Plain dumplings prepared simply (boiled) because it's just a vessel; an afterthought. These dumplings didn't have much flavour but as I said, this is just an excuse to eat spicy peanut butter sauce. The sauce was ok. It was savoury and mildly sweet and a bit watery if anything – attributed to the excess moisture from the dumplings. Unless they're in soup noodles, boiled dumplings aren't my favourite, served outside of some liquid, they're flaccid and soggy.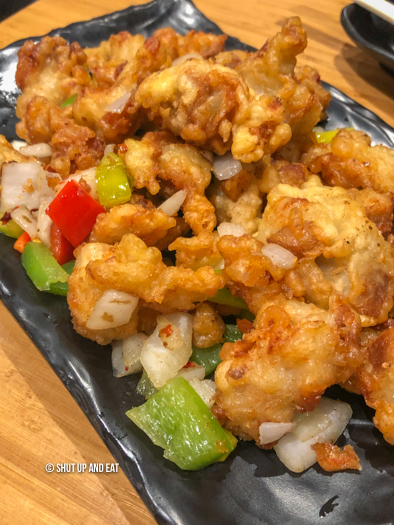 We ordered the salt and pepper chicken from the specialties section. Tender morsels of deep fried chicken dusted in salt and tossed with a quick sauté of peppers, onions and chili flakes. The batter was thick and soggy around the bigger pieces of chicken. A bit disappointing, I've had better in food courts.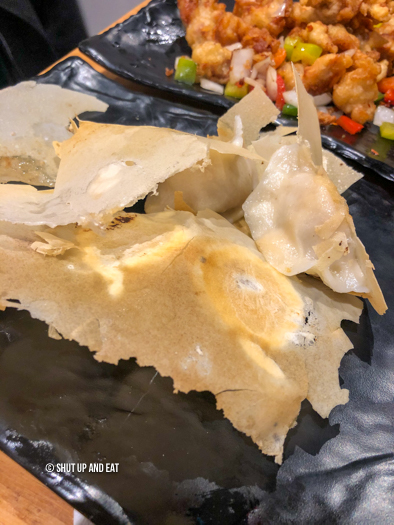 The pan-fried chicken and shrimp dumplings.

One of my most favourite things about pan-fried dumplings is when they pour starchy water around the dumplings so that it creates a giant sheet of starch crispies. The dumplings come in a small or large order, 6 and 12 pieces to an order respectively. The wrappers had an unmistakeable texture and chew to them, only achieved when they are hand made. The chicken and shrimp filling was ok. Just ok.

The steamed pork and veggie dumplings were tasty. Each bite was a scorching hot mouthful of porky soupy goodness.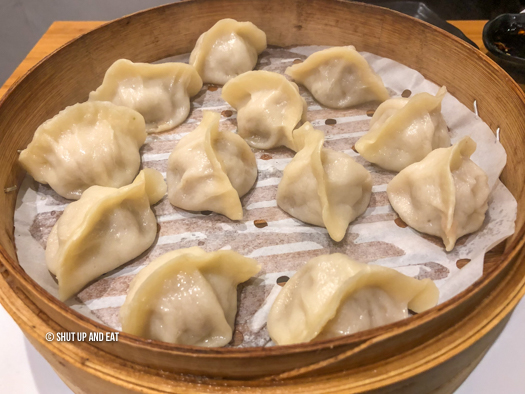 The large order of pork and chive dumplings. These were flavourful, a pleasant aroma of a generous portion of chives in each dumpling. The wrappers were thin and delicate and offered a nice soft texture to each bite.
If you look closely at these and the previous dumplings, you can see a difference in the wrappers. The ones from the pork and veggies were thick, I'd say a bit too thick. Once they started to cool down, they became too firm and gummy. Not pleasant at all. There can be two reasons. 1, the dumpling wrappers were inherently too thick or 2, the steam wasn't hot enough (or there wasn't enough of it) and the dough started cooking with radiant heat like cake. Call me picky, but I'd like to see some sort of consistency.
Situated on the western end of the main drag of Wellington, Mr. Dumpling has been opened for a little over six months pushing steamer rungs piled high packed full of dumplings. With a name like "Mr. Dumpling", it's pretty self explanatory as to what they serve right? They only had five different kinds of dumplings on the menu and when we ordered, the waiter tried to upsell us by convincing us that the general tao was their specialty… but you're called Mr. Dumpling. There was no vinegar, chili oil or adequate dumpling eating spoons – you had to ask for them.
Maybe they're still trying to get a feel for the nieghbourhood and coming off as too authentic might scare people away. But they're missing an opportunity to set the pace and introduce and educate the locals on what the dumpling experience should be like.
Mr. Dumpling
5045 Rue Wellington
(514) 769-8666
https://mr-dumpling-diner.business.site/