Does anyone else remember 49 cent pizza on Saint-Mathieu and de Maisoneuve? Many Fridays of my youth were spent taking the 165 bus down Cote des Neiges to cop the best deal on pizza in the city. For $2, you got two slices of the shadiest pizza and a drink. The food was questionable at best but the risk was part of the experience. It was one of the few places you can go eat fully knowing you'd probably get sick…and you were ok with that. There was a time where you could get a slice almost anywhere in Montreal until these slice shops slowly dried up. Recently, there has been a literal boom in by-the-slice shops, but not just ordinary pizza; New York-style pizza to be exact. I checked out the newest spot slinging slices, Pizza Toni.
They have four different kinds of pizza on deck and square pizzas to order. Plain cheese, marina (sauce with arugula), margherita, and pepperoni. So what do you order when the place only has four kinds of pizza to choose from? The only natural thing; you order three of the four because you don't like arugula.
They unfortunately don't do half pizzas unless it's half pepperoni and half cheese. So I asked them to jerry rig me a Chuck-E-Cheese pie and make a pizza using slices from other pizzas.
Types of pizza eaters
I believe there are three major types of pizza eaters.
The Purist
The purist: you enjoy a pizza in its purest essence and love a classic Margherita. A study in dough fermentation, you hold your slice up and you admire the spotting of the crust. You smack you lips and try to identify the harvest year of the tomatoes used to make the sauce. You look forward to the delicate chew of the mozzarella di bufala who's creaminess quells the sweet aromatic basil. The first thing you're going to notice when you eat Pizza Toni is the sauce. It was sweet and had a definite zing to it.
Next thing you'll notice is the crunch, a literally crunch with each bite. The undercarriage is nice and firm and does not give out to the weight of the slice. Structural integrity is not compromised within the pinch, foldable and commendable.
The Dresser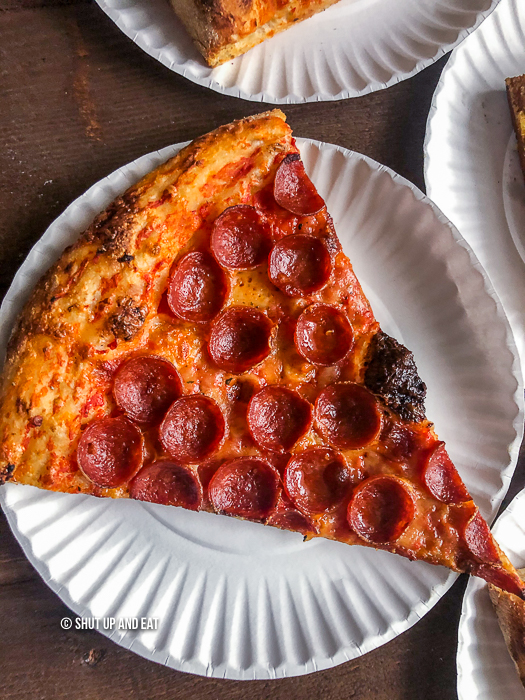 You like pizza with toppings – regardless of what they are, pepperoni, mushrooms, peppers, pineapple… All at once, or a tried and true combination that appeases your palate. You're not afraid to try new things because you're a fun person and people like you. I've always considered a pepperoni pizza, the gold standard of pizza. The choice of pepperoni is instrumental in balancing the creaminess of the cheese and sweetness of the sauce; the key. The pepperoni at Pizza Toni is salty with a touch of heat. The oil that's nestled delicately in each pepperoni cup drips and permeates the rest of the slice. A delight.
Plain Jane
You like plain cheese pizza. You're boring. You need someone to make your appointments for you, you have the palate of a child. You're basically an eight year old Kevin McAlister. Grow up. I ordered plain cheese because it was cheese over no cheese+arugula. To be fair, each bite was cheesey was salty. To me it was just an excuse to eat more of Pizza Toni's beautifully crafted crust, other than that, plain cheese does not float my boat. "I'll have a slice of plain cheese pizza" would be the code word if I were ever in danger and needed help.
Do yourself a favour and get a corner piece for your "car slice".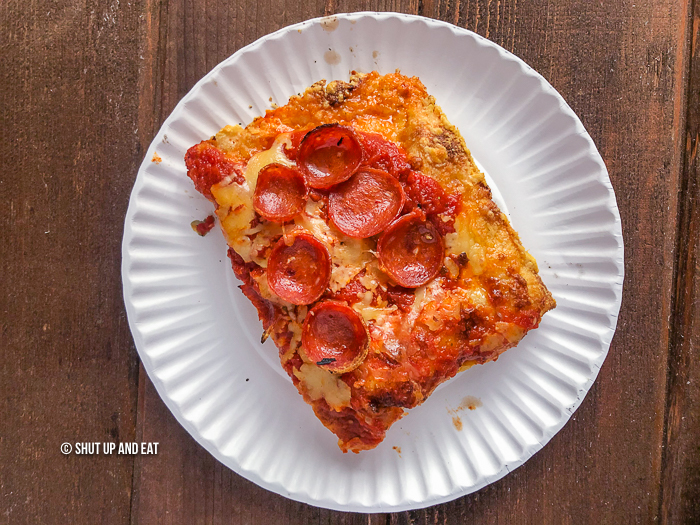 They had a pepperoni square pizza when I went. I'm not sure if they usually have others on hand, but they do make them to order. Do yourself a favour and get a corner piece for your "car slice". You know, the slice you eat in the car on your way home before you start on your designated slices and before anyone notices you just inhaled pre-pizza.
LOOK AT IT. Besides being the coveted crunchy corner piece, the dough is completely different from the round pies. This Detroit-style pizza or grandma pizza or nonna pizza, the crust is significantly fluffier. It's a great snack. A pre-pizza slice of pizza.
Pizza Toni is located in the Mile-End AKA Williamsburg North. Pie by the slice, smoked meat and bagels. What can be more New York than that? Ps, no one calls it Williamsburg North, only me. But let's try to make it a thing. The pizza at Pizza Toni is solid. Nice crispy and chewy crust, delicious sauce, salty cheese and zesty pep, there's not much more you can ask for. Great service and hospitality I'm excited that this spot exists in the area and you should be too.
Pizza Toni.
104 St. Viateur O.
https://www.thepizzatoni.com/