The Farsides recently introduced their new delivery menu featuring Hat Yai fried chicken. Hat Yai chicken originates from the Souther Thai town of Hat Yai that is located next to the Malaysian border. I remember fondly having this Thai fried chicken in night markets in Southeast Asia. The chicken is usually served with a generous scoop of deep fried shallots with a side of sticky rice. I haven't been able to find anyone who makes Thai style friend chicken in Montreal, so when The Farsides hit me up and wanted to send me a sample of their new delivery and takeout menu, I was excited to accept the offer.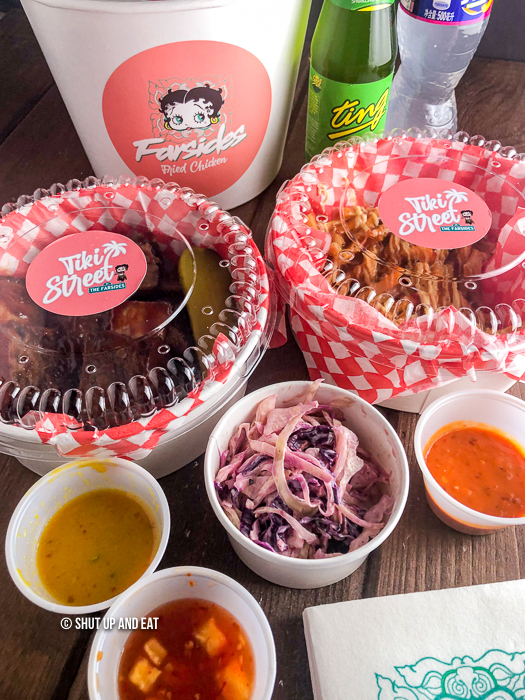 I was sent something that resembled The "Lil Homie" combo on their site. It consisted of 5 pieces of their signature hat yai fried chicken, 5 pieces of banana ketchup short ribs, "remixed fries", a fire papaya dope slaw, 2 signature sauces and 1 guava malasada. I say resembled because I got three sauces instead of two and didn't get a malasada. So for all intents and purposes I got a respectable sampler.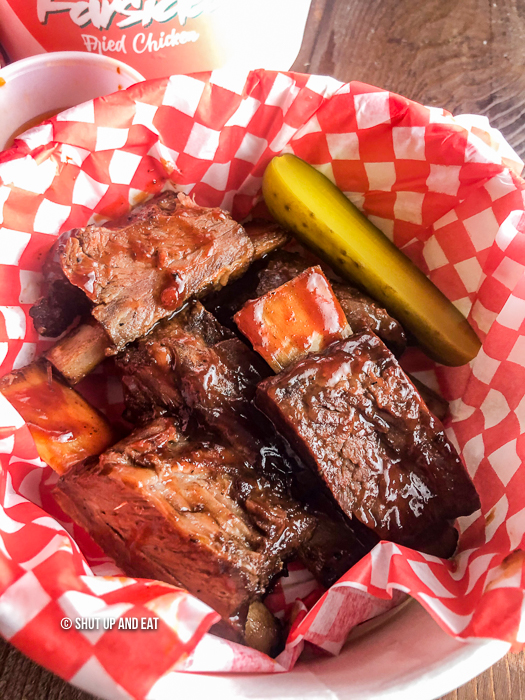 Banana ketchup BBQ ribs
The tender beef ribs were slathered in a their banana ketchup which added a tangy bite to each mouthful. The sauce was tasty (although not very banana-y) and complimented the robust beefiness of the ribs. I love ribs and these were great – if not a bit dry. The pickle added a nice quenching sour bite to break up the monotony of the heavy flavours.



I once polished off a bottle of Kewpie mayo in less than a week after I found myself putting it on everything.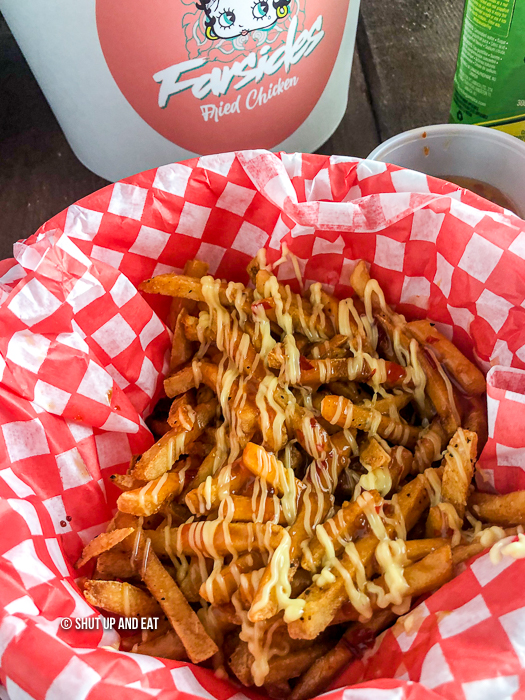 Remixed fries
The "remixed fries" were shoe string fries (my favourite) covered in a classic sweet Thai chili sauce, drizzled with Japanese mayo and dusted in MAMA ramen seasoning. Kewpie mayo has a very distinct taste to it and if you've had it before, you'll know how addictive it is. I once polished off a bottle of Kewpie Mayo in less than a week after I found myself putting it on everything. It was explained to me that Farside's "Remixed fries" are their "hip hop take on disco fries". Disco fries is the American cousin to the poutine. The common denominator: cheese; ooey, gooey, delicious melted American cheese on disco fries, and cheese curds on poutine. I failed to see the illmatic connection or hip hop reference.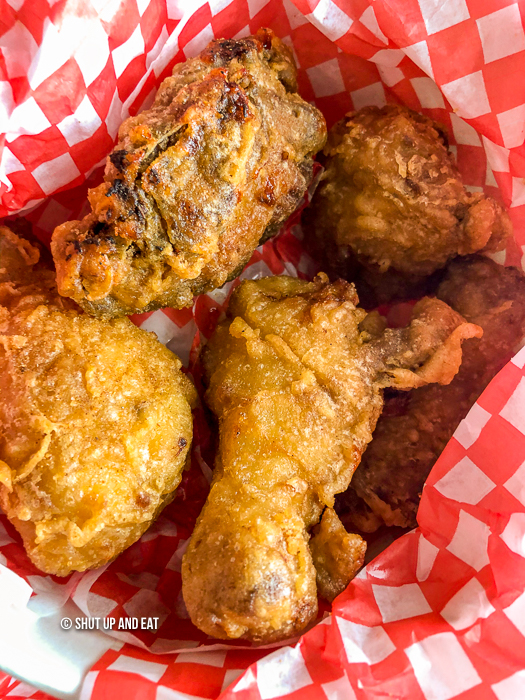 Hat Yai Fried Chicken
I was pumped to have Hat Yai chicken again. Memories of steamy nights pounding street food in 100% humidity with wafts of diesel fumes, fry-oil and durian came rushing back at the mere mention of it. My mouth waters at the idea of mounds of deep fried shallots and garlic on top of fried chicken with a side of sticky rice and a baggie of ice cold Coca-cola and salt. The Farsides serves their interpretation of Hat Yai fried chicken – minus the shallots and sticky rice. The chicken was garlicky and flavourful and had a welcomed kick when dunked in the coconutty hot sauce.
The five-piece bucket was three drumsticks and two thighs. Every piece was caked in batter which broke away like when you bite and decapitate part of an Easter chocolate bunny. Each bite broke way to an incredibly tender and juicy piece of chicken. The citrusy mustard sauce was also a nice dipping sauce. The side of creamy purple coleslaw was nothing special.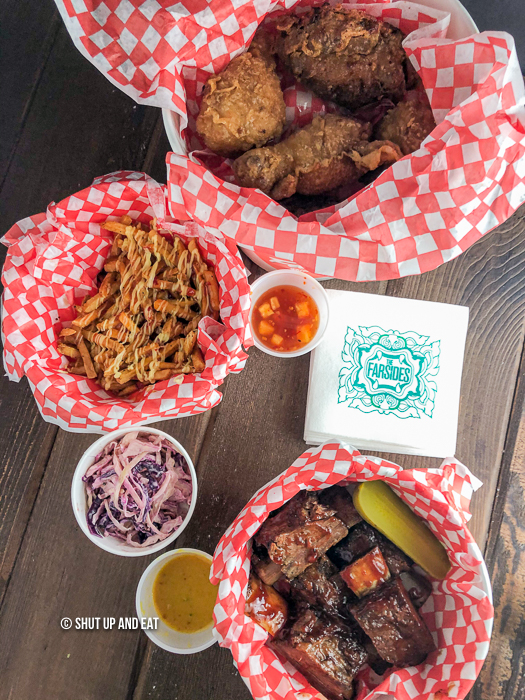 This was my first Farsides experience. Their site reads "Our blend of culinary styling sets the exotic far eastern flavours of Thailand's shores crashing into the far Western Beaches of Hawaiian cuisine." The concept is a bit of a stretch that works better in person when you're able to experience their space and fun tiki bar menu and enjoy their snackable menu items – which leaned heavier on the Southeast Asian side. Albeit some aspects of either cuisine found its way into certain elements of the dishes. The Farsides whimsical interpretations are definitely fun and I can only imagine the vibe in their space on a bouncing Friday night.
Thank you to The Farsides for sending this over! Ma-sawadee-khalo bruh.
The Farsides
690 Notre Dame Ouest
(514) 951-8454
https://www.thefarsides.com/
—
I was a guest of The Farsides and this meal was complimentary. Thoughts and opinions are my own.