Recently, someone hit me up to ask my why have I been featuring so many West Island restaurants recently. Simple; recognition where recognition is due. Once upon a time the west island was a barren wasteland of interesting restaurants. Ok, I meant, the west was the place the place to go to if you wanted to dine at the same five Italian places that are stuck in time. Or if you liked big box chains and the food court at the mall. Otherwise you'd have to trek past Ikea for some decent eats.
But now they've got claims for proper Korean food like Corilla, Matjip, and Coq au Miel, dumplings at Mama Dumpling and Dumpling King, southern options like barbecue at Smokebox, a taste of 'Nawlins at Nolah, to legit Persian kebabs at Grill Select. You've come a long way West Island, I applaud you! This week I'm checking out the newest player in the game, Hoshi, your new all-you-can-eat Korean BBQ and sushi spot.
Located right off Sources, Hoshi is the West Island's newest hotspot for all you can eat Korean BBQ and sushi. The menu is pandemic friendly and is a scannable QR code. It loads a page on your mobile browser that pairs with their system. The menu is typical of most other AYCE places, short list of appetizers, hot dishes, a modest sushi menu but the highlight was obviously the barbecue options.



"All-you-can-eat" is a challenge I welcome. So I checked out Hoshi to "Eat-all-that-I-Could"
Sushi
The sushi menu consists of a handful of nigiri and fun maki rolls, hand-rolls and hosomaki for the picky eaters. The options were pretty standard and the quality was good. Fish tasted fresh and the selection was decent. When it comes to all-you-can-eat, you have to go in with a game plan. You heart and stomach says to order EVERYTHING at once, but order with your head.
Order small first. Re-con the menu and make appetizers for yourself. It's counter intuitive, but you've got to set the base layer first, open your appetite and start stretching your stomach for to maximize the food to price matrix.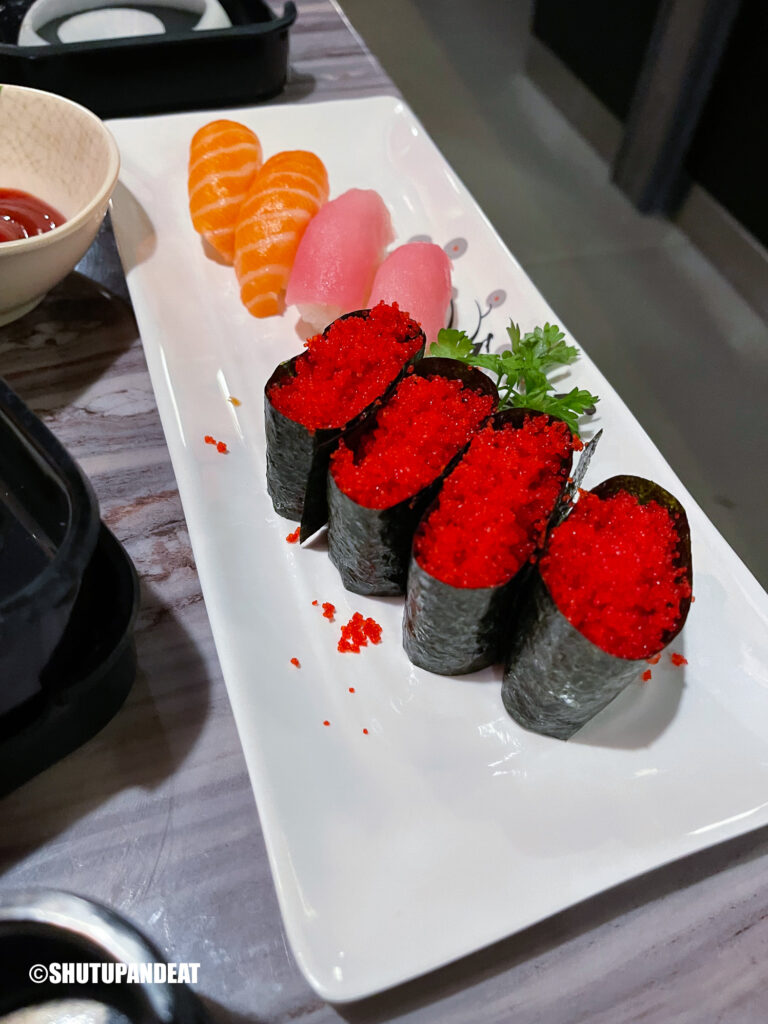 Avoid too much fried stuff at first. Don't let the crunchy golden goodness of shrimp tempura tempt you. It takes up space and prime real estate from the more expensive items. Save that for filler in the third or fourth round of ordering. My go-to procedure is, 1)appetizers, 2) sushi and bbq 3) hot menu items 4) bbq 5) tempura 6+) if you've made it this far, everything goes.
BBQ
The bbq menu has a variety is nicely and (properly) marinated meats. Steak, short ribs, pork belly, lamb (on weekends) as well as seafood; fish and shell fish, as well as veggies.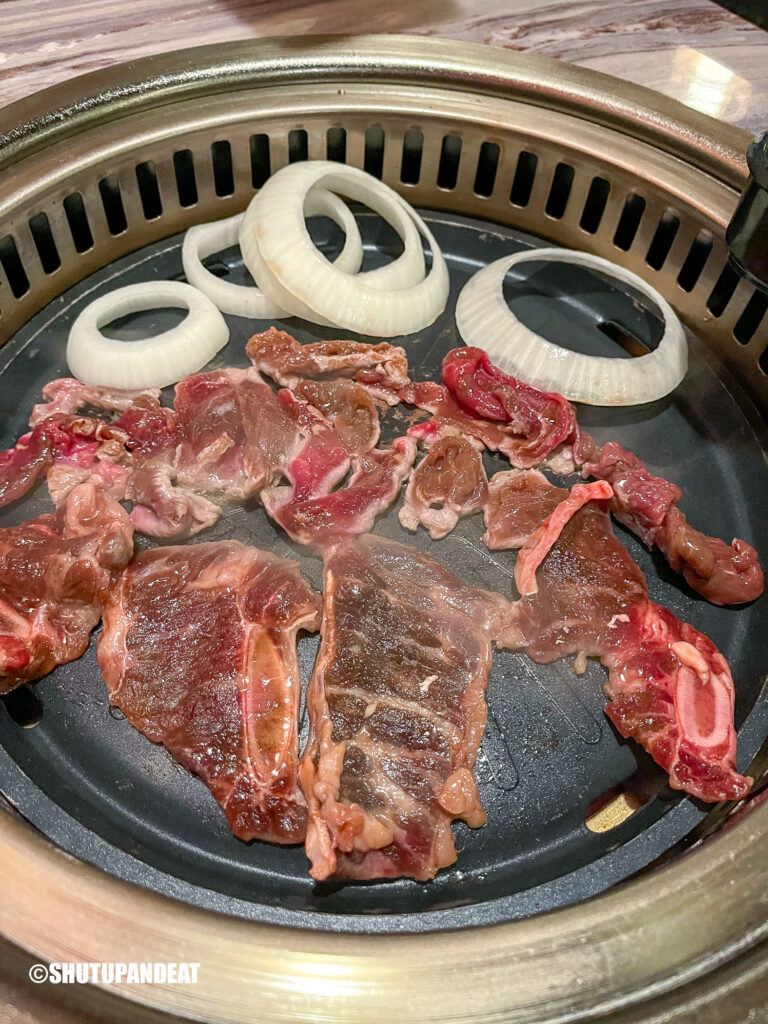 Pro move: the price of beef is high right now, about $19.50 a kilo. If you're able to eat at least 225 grams of beef, you're eating for free. That's taking into count the average of the other items you'd order at retail value.
Hot menu
The hot menu has a bunch of items for those who are not interested in BBQ or sushi (I don't know why you'd be here then). It has stir-fry dishes, rice, noodles, dumplings, brochettes and fried things. Carbs are filler and for suckers. Worth ordering though. Not much to say about these items. They were hot, served with corresponding sauces and tasty.
The misconception with buffet and all-you-can-eat places is the questionable quality. Cold and bbq items are refrigerated (duh), sushi made to order and since it's volume based, things aren't sitting around and doesn't have time to go bad.
Hoshi is a great place for a group where everyone will find something they're interested in and be satisfied. I was told that they are still tweaking the menu and slowly adding more items. The weekend menu has more options at a few dollars more. I went during the week, the place was not at capacity but there were many tables enjoying themselves.
Hoshi Korean BBQ and Sushi
48 Brunswick Blvd.
Facebook
(514) 693-8988