I've been writing about food for a while. I've seen trends and fads come and go and I've witnessed restaurants open and close. Spring cleaning of the blog saw the deletion of over 150 restaurant reviews I've written about in the past 14 years. It's eye-opening and sad at the same time. I got to reminisce about memorable (and not so memorable) meals I've had while setting expectations and creating space for ones to come. I recently checked out a small local join that's serving up Korean corndogs. And it's not the place you're thinking about. This week I visit Coq Au Miel.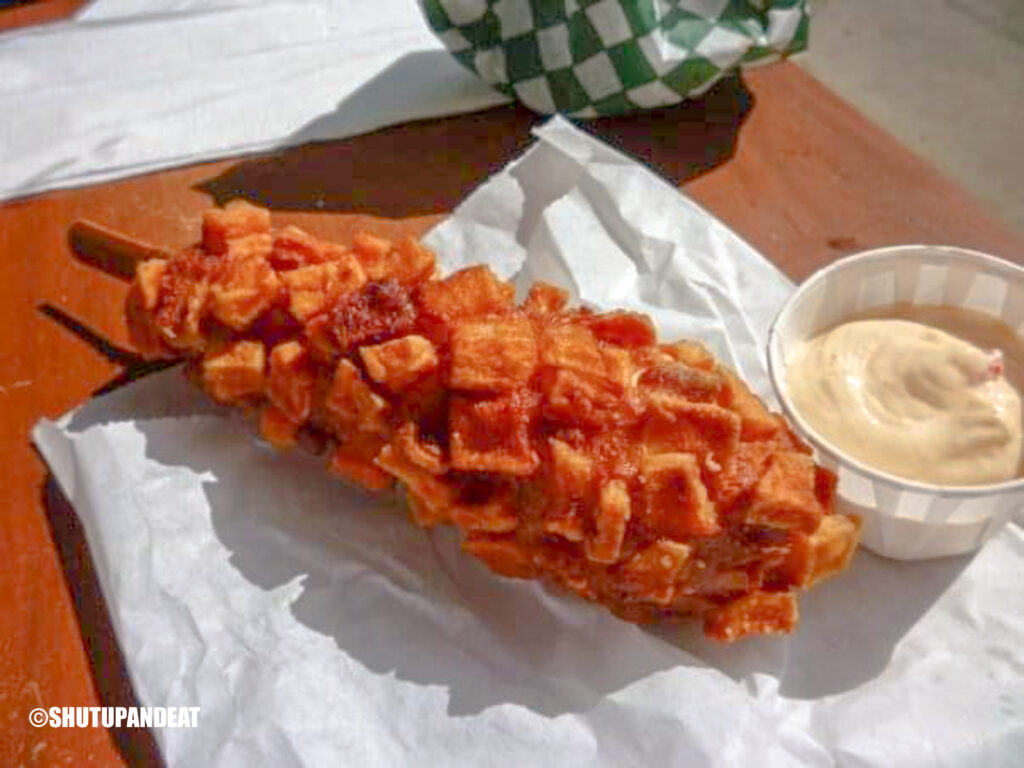 Make no mistake; I first put you onto Korean corn dogs *12 years ago* when I wrote about Picks downtown.
Make no mistake, I first put you on to Korean corndogs 12 years ago when I wrote about Picks. The cute burger spot downtown who were putting kimchi in their burgers on homemade buns and encrusting chopped up fries on their corn dogs. But it was only in the past year or so, the Korean version of the corn dog has literally exploded on the food scene. A very well known chain helped by establishing roots in the city. However, I try my best to support the local guys and this week I went to cop some tasty Korean corndogs in the West.
"Potato mozza" & "Double cheese"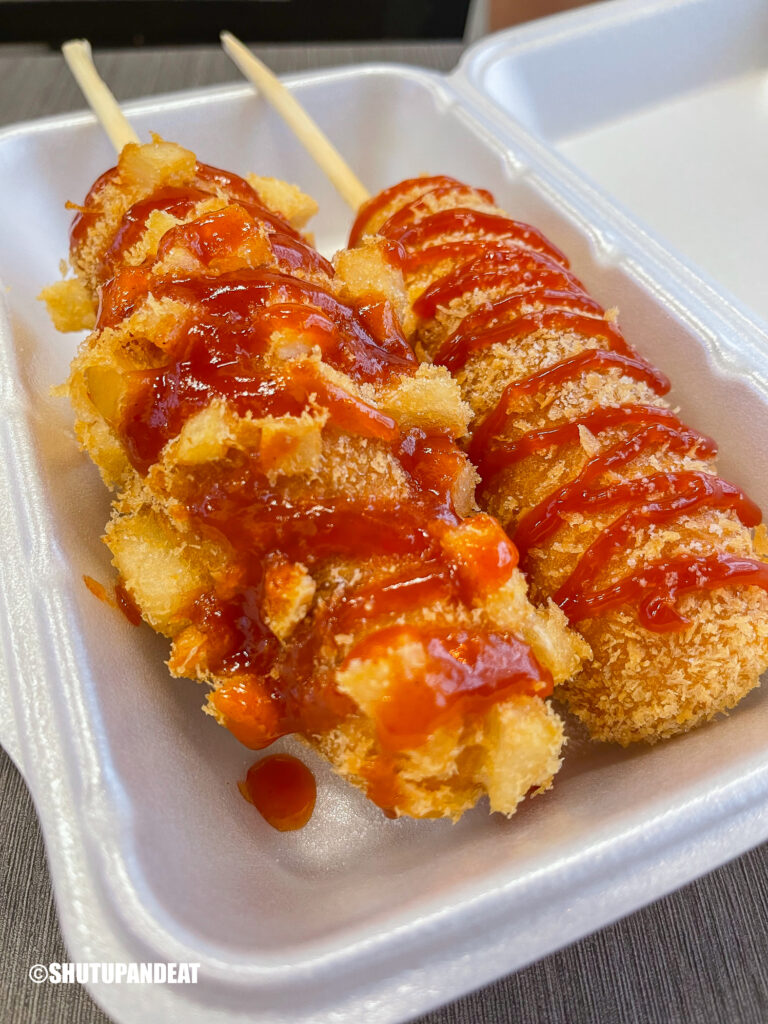 Coq au Miel has eight different kinds of corn dogs on the menu. From Original to ones stuffed with cheese, or encrusted with chopped up pieces of potato. The batter on the hot dogs are not like normal conventional corn dogs. These Korean versions see the sausage wrapped in a dough instead of something more like a batter. Which makes each bite more sweet and bready.
Each option (except the original and regular potato) includes some sort of cheese inside the breading. The top third is chewy melted cheese – mozzarella or cheddar depending on the dog.
"Squid ink" & "Potato"
Each order is dressed with toppings that you pick. Sauces like, teriyaki, spicy mayo, ketchup, mustard as well as dusted with parmesan and radioactive orange cheese powder. The squid-ink dog is striking, but you shouldn't let the term 'squid-ink' deter you from ordering it. It's not like it's fishy in taste, more than it has a slight saltiness to it and it's just fun to look at.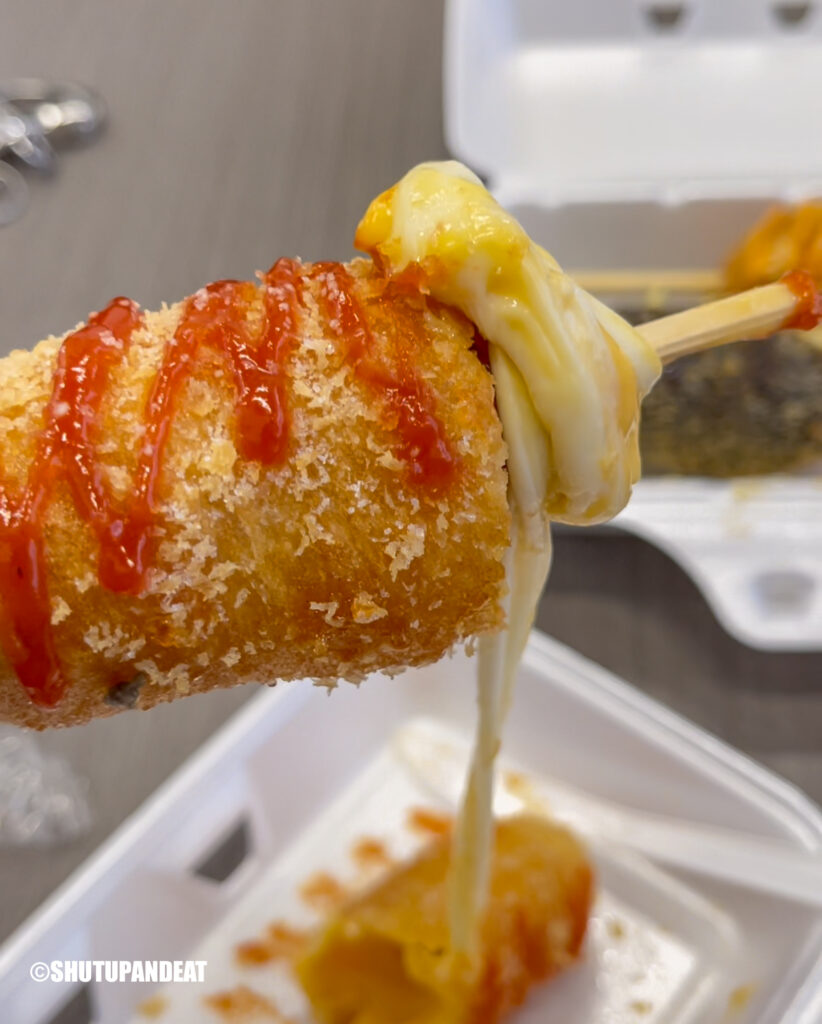 The options are basically derivatives of each other; dogs with mozzarella and cheddar, just mozzarella or just cheddar. With or without potatoes, with one cheese or both, etc.
Fried chicken
We also ordered the popcorn chicken. At the time of my visit, this was the only option other than wings. They have since added actual fried chicken on the menu. We had the "red" sweet and spicy chicken. It was ok. Not the best I've ever had. It was ok.
Coq au Miel is definitely striking the Korean corndog iron is while it's hot. A cute family-run spot in the West Island is a great spot for snacks and a quick bite to explore the Korean corn dog or "kogo". Follow them on IG as they often post specials of the week/month to get you in the door. They haven't been open for long, and service is still a bit rough around the edges. Like I said, it's a spot for snacks. Cheesy, crunchy, corn doggy snacks at that.
Coq au Miel
4824 Boul Saint-Jean
(514) 624-5555
https://www.instagram.com/restaurant_coqaumiel/