I've always joked that dim sum is almost a form of Chinese tapas – small dishes, bite-sized foods easy to share – "chapas". I recently had the opportunity to check out a spot in Laval that is re-interpreting and re-envisioning modern Chinese cuisine and serving them tapas style. Gon Bui is a young and fun spot interpreting what Chinese tapas would be. Done by incorporating elements from other Asian cuisines to amalgamate and present something thoughtful and new. I'll drink to that… Cheers? Santé? No, gon bui!
Gon Bui's space is dark and moody with a highlight on their wishing tree made up of lucky Chinese red envelopes, an ornate bar and moon-door opening to the kitchen to match. The menu is broke up into various sections: "Night market" consists of small plates to share. "Noodle Bar" (self explanatory), and "Sharing is caring", larger dishes that are equally fun to share.
Cocktails
"Gon Bui" literally means cheers in Cantonese. The cocktail menu here is filled with fun drinks to start the night. We went with the Blue-Ming flower: gin, chrysanthemum and pea flower and the "Pandan la nuit": rum, pandan and yakult.
Jellyfish Salad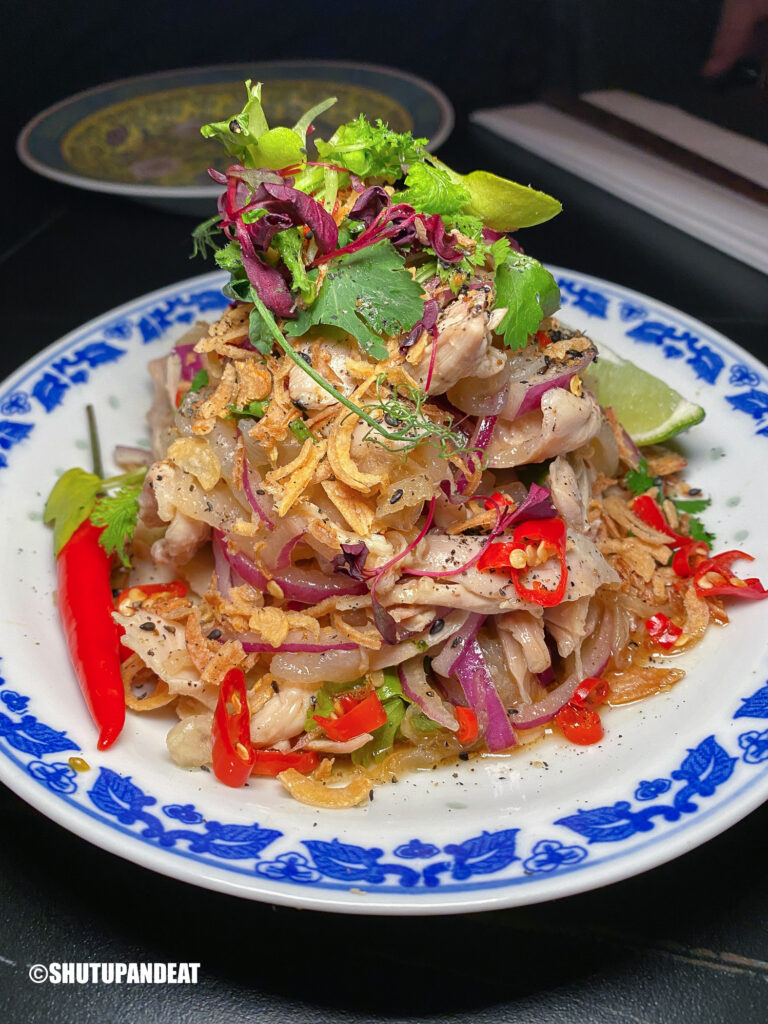 We started with the Jelly fish salad. This dish comprised of soft slices of poached chilled chicken and crunchy jelly fish. All tossed in a smokey and citrusy-sesame dressing mixed with fried shallots, fresh cilantro, onions and chili peppers. It was spicy and it was delicious. If you can't handle eating spicy food; suck it up, dig deep and just handle it. The fresh chili peppers are used with purpose. Not only for heat, but the inherent sweetness of the peppers added to the balance of flavours in the dish.
If you can't handle spicy, suck it up, dig deep and just handle it.
Bang Bang Chicken
The Bang Bang chicken is not your standard popcorn chicken. The order was large, incredibly crunchy morsels of tender and juicy chicken dusted with salt and fresh cracked pepper. The dipping sauce was a take on the classic honey-mustard sauce – sweet and tangy. The maple aspect wasn't very decipherable other than just the overt sweetness being overshadowed by the yellow mustard. I would have preferred this with plum sauce. Still tasty.
Fortune Har Gow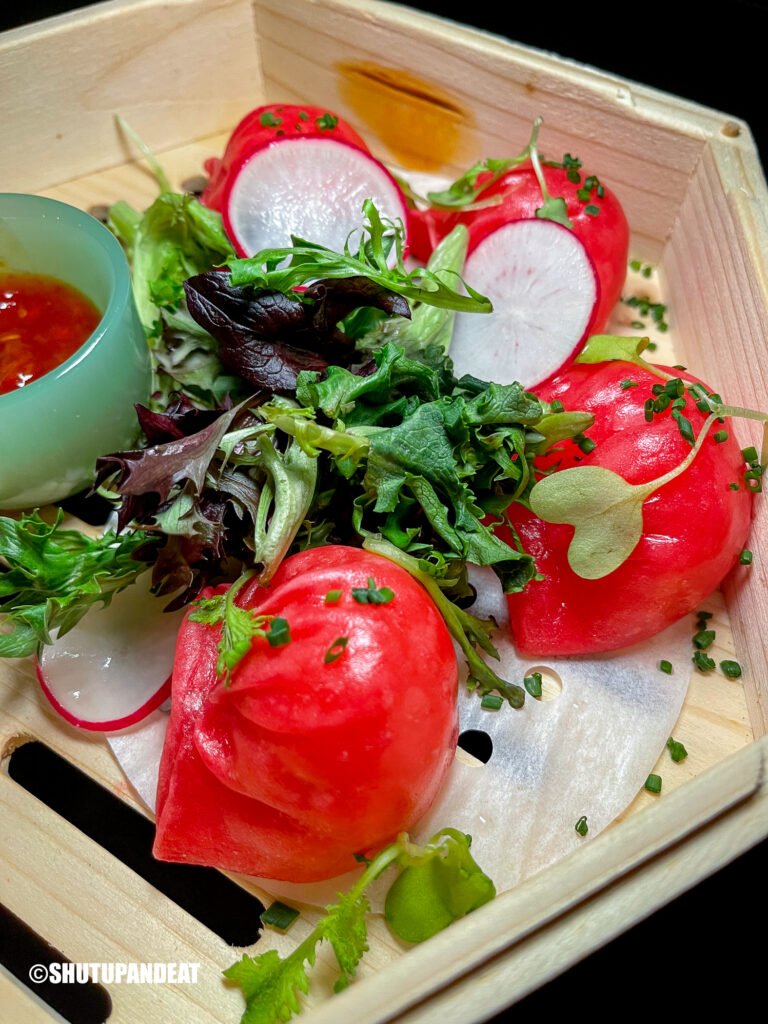 Classic shrimp dumplings with a striking twist. You've had ha gao before at dim sum – but not like this. Plump shrimp filled dumplings wrapped in a crystal skin that's transparent and chewy. Red is an auspicious colour in the Chinese culture. It represents prosperity and fortune – hence the name "fortune ha gao". Beautiful to look at and delicious to eat, these dumplings were served with a sweet chili sauce. I craved Koon Yick and hot mustard. If you know, you know.
Salted Egg Carbonara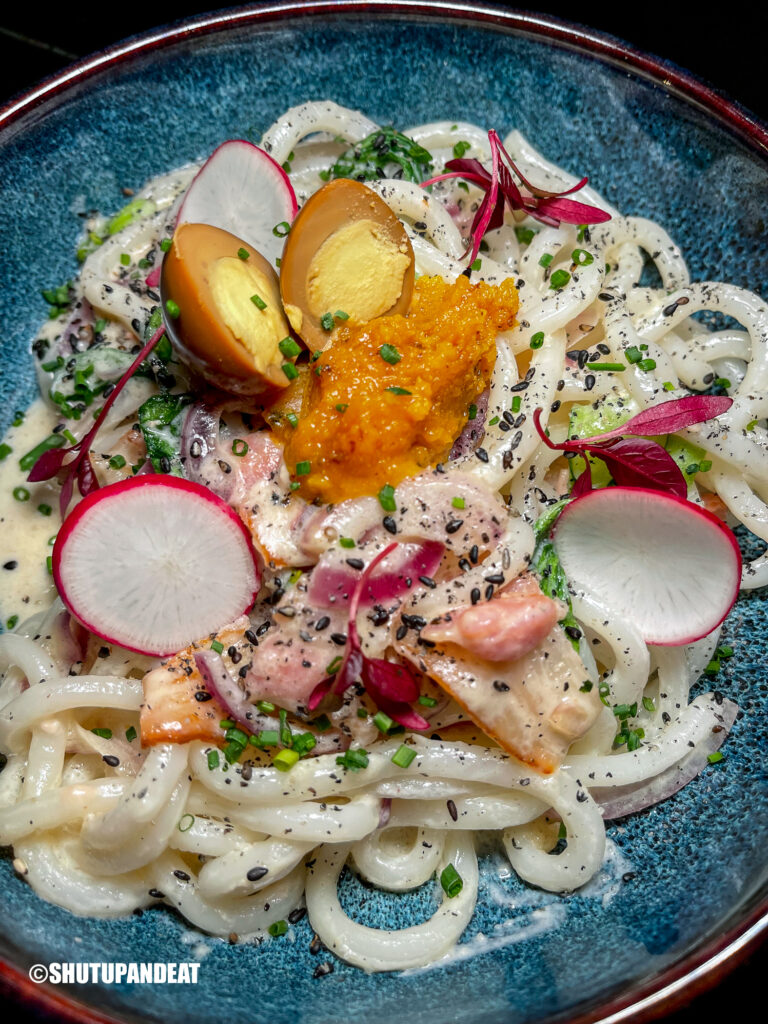 This creative spin on a classic carbonara is fun. The salted egg yolk ( the orange paste, not the small marinated quail egg) gave the dish an incredible depth of flavour. The smokey bacon and with preserved salted egg yolk combined to give each bite a certain umami. Thick luscious sauce sticking to toothsome udon noodles. Coincidentally that's my stipper name – Thicc Luscious.
16-Hour Char Siu Ribs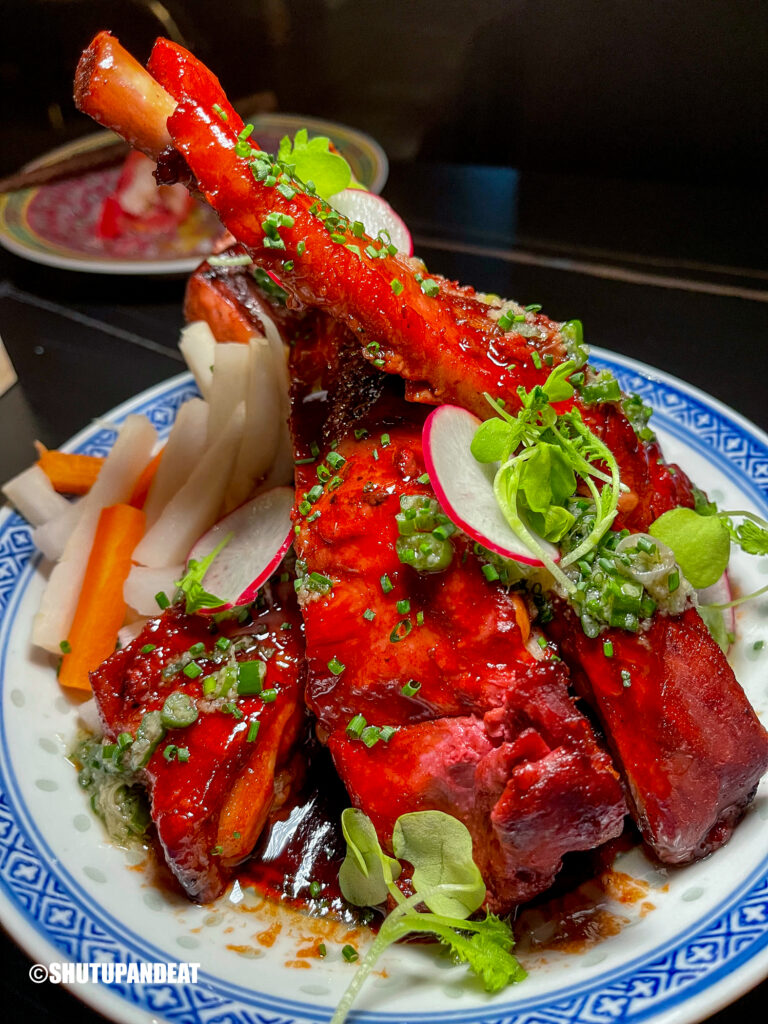 Like the dumplings, the ribs were loud in appearance. Bright red and in your face. The meat was soft and supple but lacked that candy-glass look and smokey charred glaze that tradition char siu has. The flavour was subtle. Each bite was accented nicely by the ginger-scallion oil and sweet and sour pickled carrots and daikon. A very substantial dish. I can see myself ordering this and a side of rice for a full meal.
"Peking Duck"
Peking duck in parenthesis because it's inspired by and not actually crispy skin whole-roasted duck. Traditionally, Peking duck is an entire experience. The duck is served over three to four courses, most importantly, the skin and meat is served separately. This version at Gon Bui is a creative spin on this traditional dish that sees a perfectly cooked duck breast served with pancakes and non-traditional accoutrements.
Pickled daikon and carrots, cilantro, shredded scallions, pickled cucumbers and fermented spicy mustard greens.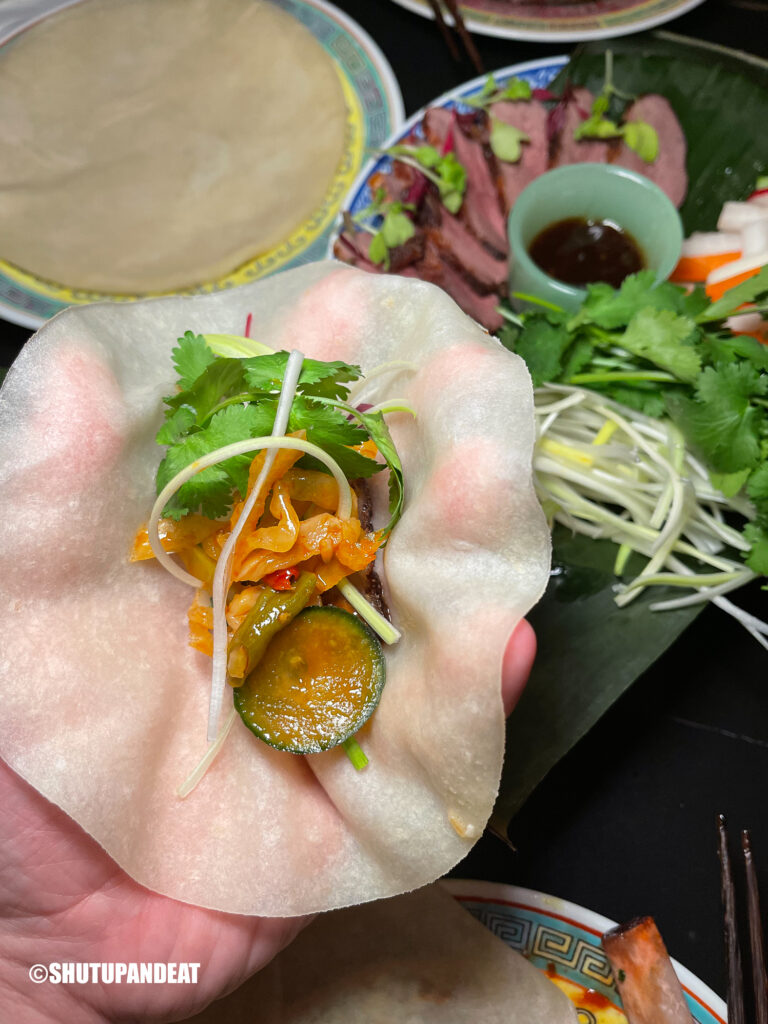 Definitely fun to eat and share. The duck had a nice glaze to it and was flavourful if not just a bit tough. Each pancake packet is delicious when fully loaded. Generous slice of duck sitting on a slather of sweet and savoury hoisin, topped with an assortment of tangy pickles with a touch of heat. Perfect.
The Canto-Churro is a Chinese take on a churro. Chinese… Churro… A "Churro". Basically a sweet version of a "Youtiao". You've probably seen this fried dough snack served with congee. This one is topped with dulce de leche, cinnamon, crushed pistachio and strawberry. Similar to a doughnut but definitely not the same. The dough is inherently a bit salty and the texture is crunchy. A completely different experience. Save room for this. Just make sure to eat it right away while it's hot.
You'd never think one would be able to find such creative food hidden away in a random strip in Laval. But in some weird way, that's exactly what you should expect. Montreal's culinary scene has no bounds and proper places to cop delicious food will be found where you least expect it. The team – from service to back of house – are up and coming talent in the Montreal restaurant and food scene with experience from some awesome establishments around the city.
I'm always skeptical and weary of places that are trying to "reinvent" dishes or fusing different cuisines together. Maybe it's because I have an emotional attachment to certain dishes. I'm usually disappointed when I'm presented a dish with the same name but then served a "reinvented" version of it and it doesn't live up to its name. Gon Bui is not doing this. Instead they are serving food inspired by tradition using familiar ingredient in hopes to create new memories and expectations. Which they have. The heavy hitting "Peking Duck" and salted egg carbonara for example. Each dish lend enough to respective preparations and ingredients, but prepared in a way that they're both familiar yet new at the same time.
Gon Bui
2133, Boul Le Carrefour Laval
https://gonbui.com/
---
I was a guest of Gon Bui. Opinions are my own.