When was the last time you were at Place Bell? Yes, THAT Place Bell, home of the Laval Rockets and host of various events and concerts. I've been exactly three times and not for hockey games or shows, but for food. No, not at the concessions or the arena cantine where they serve questionable steamies and overpriced alcohol. Place Bell is home to one of the most happening restaurants in Laval – Gatto Matto. Far from a sports bar with sticky floors pumping out deep fried frozen foods. This spot bills itself as a place who's "bright and vibrant colors give a WOW factor that will make you feel like in a modern Milan hotel with a girly touch." Listen, don't judge me for the fact that I've already been three times. Keep reading and you'll know why.
Gatto Matto isn't an arena restaurant more than it is its own entity occupying a commercial space in the Place Bell complex. The menu is "avant-garde and modern Italian" which consists of updated classic Italian dishes. Not to disregard tradition, but re-envisioned with a touch of sass. The menu consists anti-pasti, crudo, pasta, seafood and meat as well as pizza.
Beef Carpaccio "1950"
Black Angus AAA beef tenderloin, crispy artichokes, caper berries, balsamic aioli, parmesan shavings, arugula, grissini. This dish was a clinic in textures and flavours and is a delight to start any meal. The thinly pounded beef was chilled and delicate, both on the tongue and palate. The sharp bitter greens was great and was accentuated by the tart parmesan vinegary dressing. The fried artichokes were crisp and fun to eat.
Salmon Tartare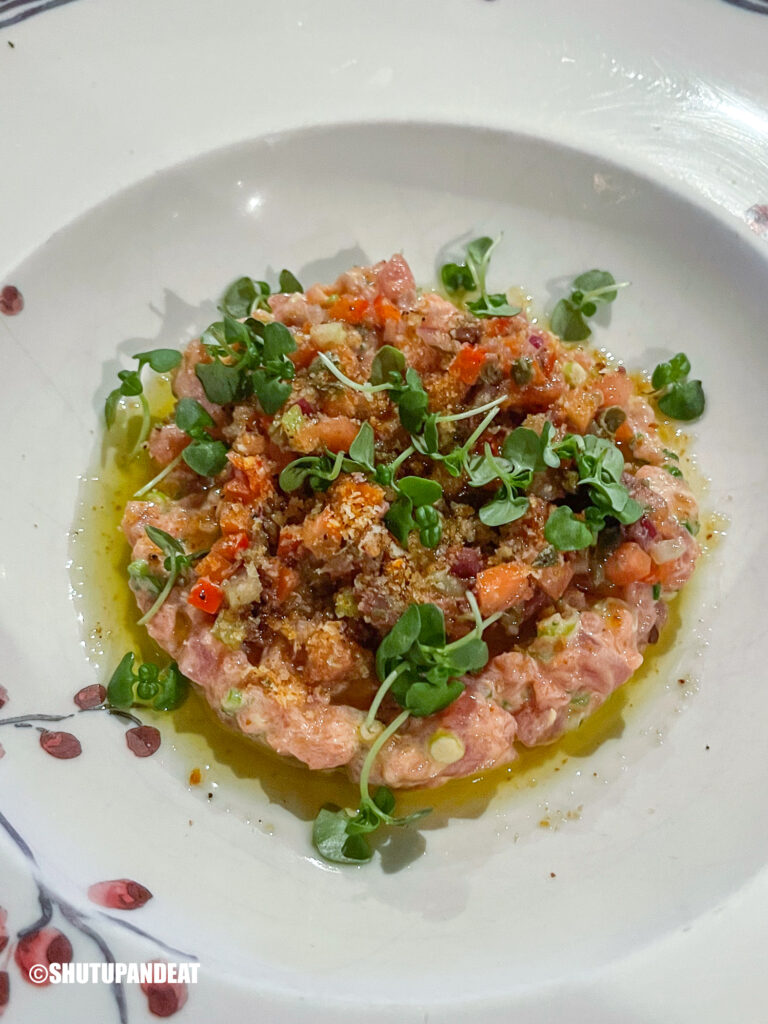 A delicious Atlantic salmon tartare with creme fraiche, dill, capers, Lebanese cucumbers, lemon zest, radish and mustard. This was served with rounds of crostini and was a mouthful of flavour in each bite. Fresh. I would eat this all day.
Grilled Octopus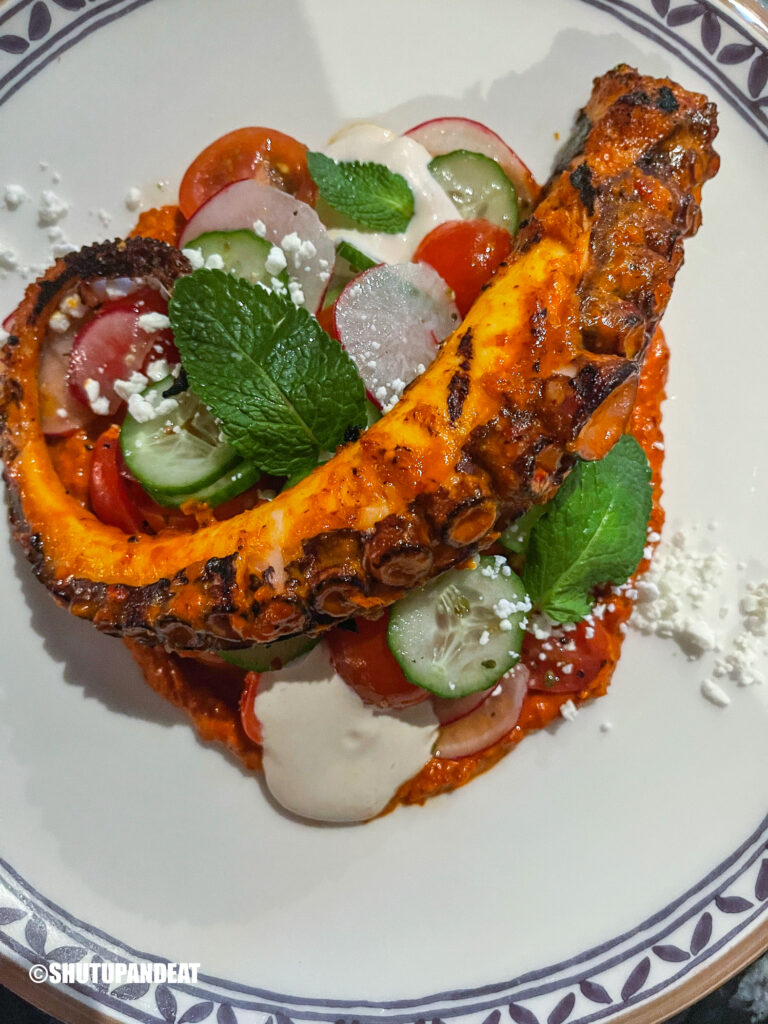 The grilled octopus was ridiculous. It was perfectly charred and incredibly tender. The tentacle was nestled on ripe cherry tomatoes, sliced cucumber and radish on top of Sicilian harissa, tahini and garnished with mint and Bulgarian feta. This dish is worth the drive to Laval alone.
Mushroom and ricotta ravioli
These plump ravioli were stuffed with goat cheese ricotta, wild mushrooms and tossed is a creamy porto sauce with freshly shaved pecorino. Goat cheese is not my thing, and that's okay. The ravioli were cooked perfectly and the aroma of the cheese was delicate against the earthiness of the mushroom. It was tasty.
Lamb Chops
I used to call lamb chops, "meatcicles", until I realized what "meatcicle" could also mean. Then I started calling them lamb chops. Australian lamb chops on a bed of grilled seasonal vegetables, zesty pesto and whipped labneh. They were tender and juicy and not at all gamey. I know lamb is not everyone's jam, but props to these chops, they were delicious.
I know lamb is not everyone's jam, but props to these chops, they were delicious.
Mushroom pizza
Order this. If there's a pizza you're going to order at Gatto Matto, it's this one. I've been three times and I've ordered it three times. The three-mushroom pizza (oyster, cremini and portobello) with a creamy black truffle sauce, mozzarella and chive. Even though I was in Laval, it tasted like luxury.
Over the various visits, I had the chance to try a variety of the desserts. From the mini cannoli with sour cherry, to an incredibly creamy and subtly nutty pistachio gelato to their homemade and Nutella pizza, everything is a hit.
The meal (and more importantly, the experience) at Gatto Matto is spot on; from the menu selection to the details in service, everything was on point. The reimagined contemporary Italian menu was fun. I'm not Italian nor do I claim to have any extensive knowledge in the cuisine, many of the dishes seemed familiar to me. This was comforting and enjoyable. Everything was balanced. From the textures to flavours, down to the garnish. Every element on the plate was purposeful and thought through. Chef Ara Ekmekdjian's background and experience at many of Montreal's best restaurants is exemplified in his menu. Lending his own touch and background while acknowledging and being sensitive the history of the dishes he creates it evident. Can't wait to go back.
Gatto Matto
1950 Rue Claude-Gagné #302, Laval, QC H7N 6K6
https://gattomatto.ca/