In every corner of the city, in every neighbourhood, we've all got our favourite "neighbourhood spot". You know, that mom and pop Chinese take out place, or the no frills 2-for-1 pizza place that also sells slices, the coffee shop and bakery. Depending on where you live in our eclectic city, the roster can also include French brasserie, banh mi shop and if you live in The Plateau, Biergarten. That's right. The lucky folks who live right off Parc Laurier have their own outdoor boozey oasis, serving home grown brews and delicious food. Not just "pub grub" though. Food by renown chef Paul Toussaint. This week I had the chance to check out The Biergarten Belle Gueule and Aux Quartiers Belle Gueule pub.
Located in the heart of the Plateau, The Biergarten Belle Gueule and Aux Quartiers Belle Gueule pub introduced a collab for the ages as their paired up Chef Paul Toussaint to raise the bar when it comes to a gastronomic pub experience. Put away your preconceptions and get ready for a subtle mix of casual high-end gastronomy, comfort food in a casual and relaxed atmosphere paired with some of the most unique brews in the city.
Ceviche
The food menu consists of a handful of items including various pizzas, and I got the chance to sample several. The ceviche is a mix of white fish (bream and sea bass), shaved onions and peppered with sweet belle peppers, tossed in lime juice, yuzu, scotch bonnet oil and served with tortillas. Light and fresh, ceviche is always a great choice for an outdoor snack on a humid summer night.
Jerk Chicken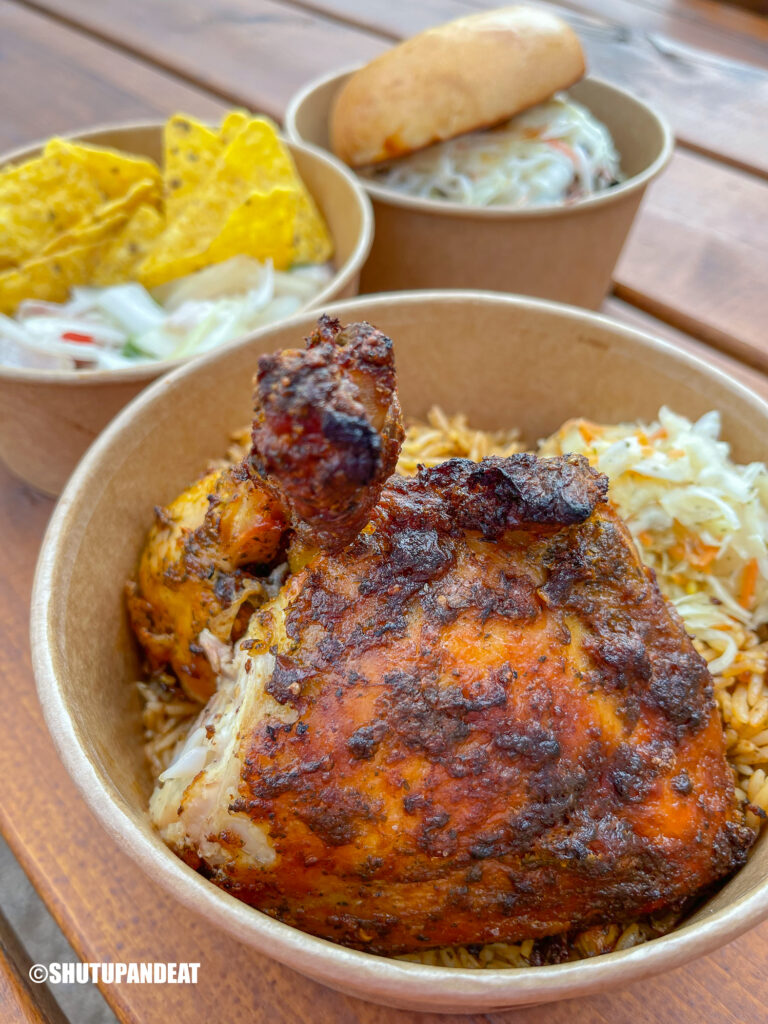 Chef Toussaint's famous jerk chicken. The tender and juicy chicken leg is served with rice and peas with a side of pikliz – (Haitian pickled cabbage, carrots, bell peppers and Scotch bonnet peppers). The chicken is flavourful and it will leave your mouth intact – which is the opposite of how I like to eat my spicy jerk chicken. I prefer it spicier. Chef got me a dish of their straight Scotch bonnet pepper paste. It definitely added the heat that I craved. Delicious.
Brisket Sandwich
The brisket sandwich was great. Shredded low-and-slow smoked Texas style beef brisket (from Armando's BBQ) topped with a creamy coleslaw in a toasted brioche bun. Each bite was a great mix of lean and fatty beef. I would have preferred the beef sliced opposed to being shredded, but that's a personal preference.
Margherita di Bufala
The margherita was good. It wasn't the best pizza I've ever had, but it's definitely something tasty to snack on. The sauce was sweet and the crust was crisp and chewy.
Dessert Calzone
This leopard sweet pizza pocket was delicious. Stuffed with bananas, ripe Quebec strawberries, pastry cream and Nutella. Get this. Don't share it. Also, ask them not to cut it. The "slices" were hard to eat as everything kept oozing out.
We should all be so lucky to have a Biergarten in our neighbourhood. What magic lamp do I need to rub to get one to open in the burbs where I live? The Aux Quartiers Belle Gueule pub obviously has an indoor space, but with the weather we've been getting, there's no reason to NOT spend as much time as possible outside. Gone are the days of deep friend frozen pub grub. Wishing more watering holes get with the times! Great spot for a quick 5 à 7 or meet up with friends. Get out there and enjoy the summer!

Aux Quartiers Belle Gueule + Biergarten
5579 Ave Christophe-Colomb
http://brasseursrj.com/quartiers-belle-gueule/
—
I was a guest of Aux Quartiers Belle Gueule. Thoughts and opinions are my own.