I've been writing about the Montreal food and Montreal restaurant scene for over 15 years (!) In the past decade and a half (!!) I've been witness to fads, trends, restaurants come and go, some with great fanfare, others quietly. What I love most about writing about food are the places that normally would not get noticed. The places who fly under the radar because they are so busy doing their own thing to draw attention to themselves. The gems. I'll admit, the places that I often selfishly keep to myself. But then realize it goes against exactly what I set our to do 15 years ago; sharing my experiences and discoveries I make eating my way across the city. I'm going to tell you about this place I've been going to because, I think you'll enjoy it as much as I do; Restaurant Miran.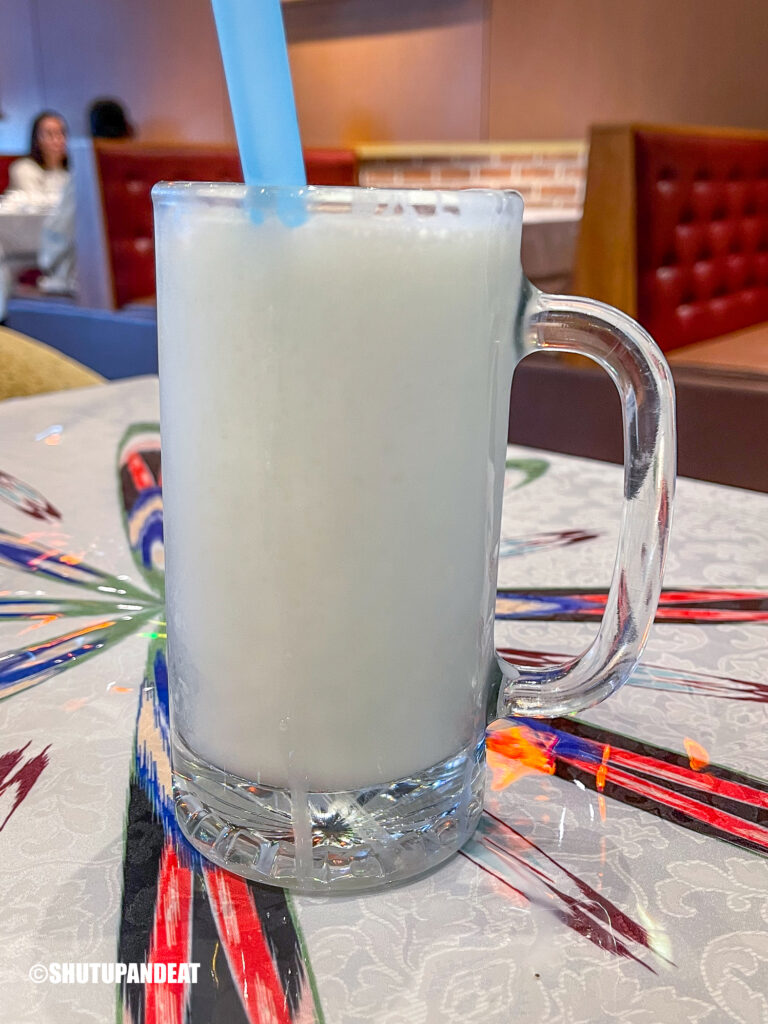 If you've never had Uyghur cuisine before, be prepared for a sensory awakening. Not to trivialize the cuisine, the simplest way I can describe it is, asian dishes with middle-eastern flavours. That's what came to my mind the first time I ate at Miran. This makes sense considering the geographical location of the Uyghur diaspora.
Uyghur cuisine meets somewhere in the middle between central Asian and Turkic tradition, bubbling away from the melting pot of that famous trade route.
The menu consists of lamb-centric dishes, brochettes, cold platters, sautées and noodles.
Manta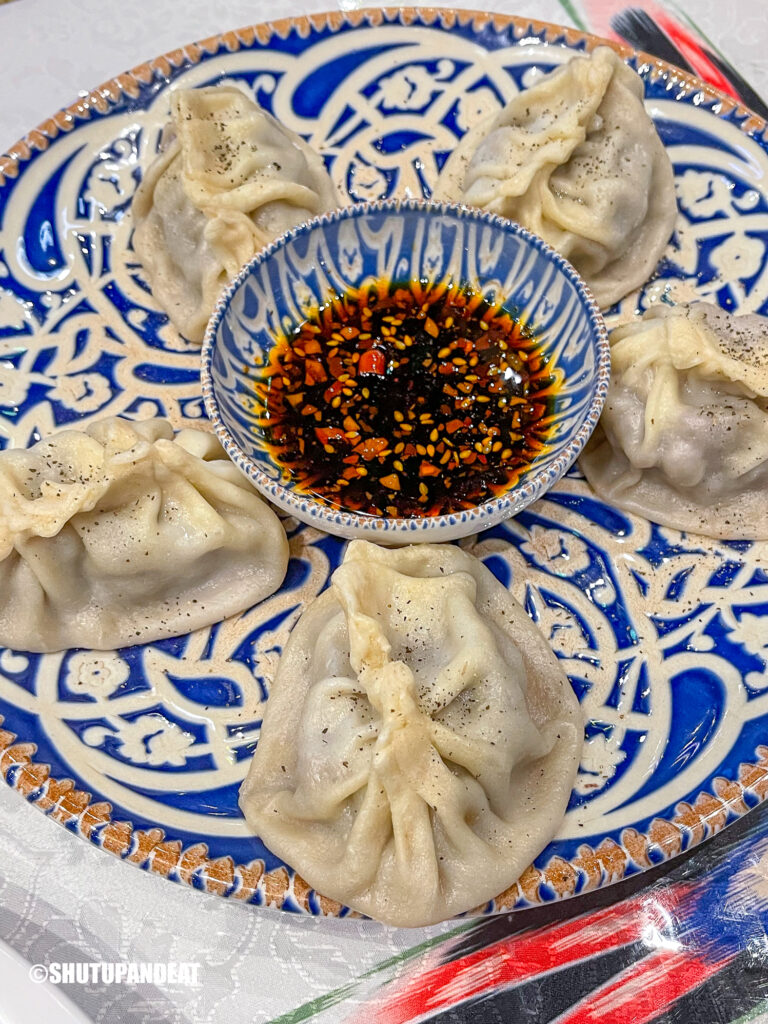 The manta are lamb stuffed dumplings spiked with an array of spices that include, cumin, fennel, Szechuan peppercorn and cilantro. The meat is hand-chopped. Large pearl sized fatty pieces of diced lamb wrapped in a thick and chewy hand-rolled dumpling skin. Served with a spicy black vinegar dipping sauce. 6 to an order, be prepared to want to order more.
Samsa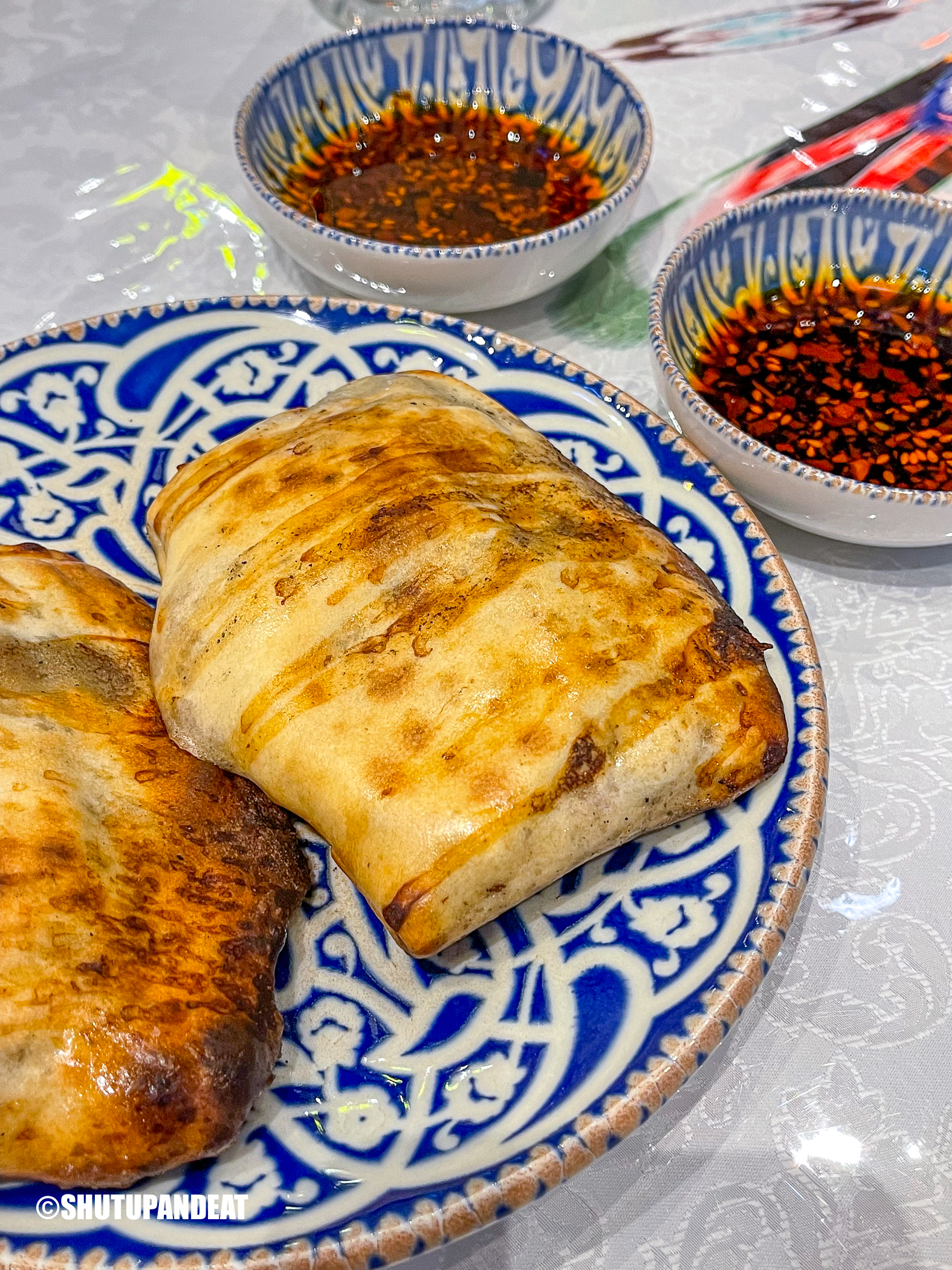 Thin dough stuffed with the same filling that's in the mantas, these lamb samsas are the hot pockets you… we all missed out on as kids. Cooked in their tandoor oven, the bottoms of these hand-pies were crusty and crunchy. The dumpling dipping sauce was addictive and I found myself spooning it into these. So good.
Spicy Beef Tripe Salad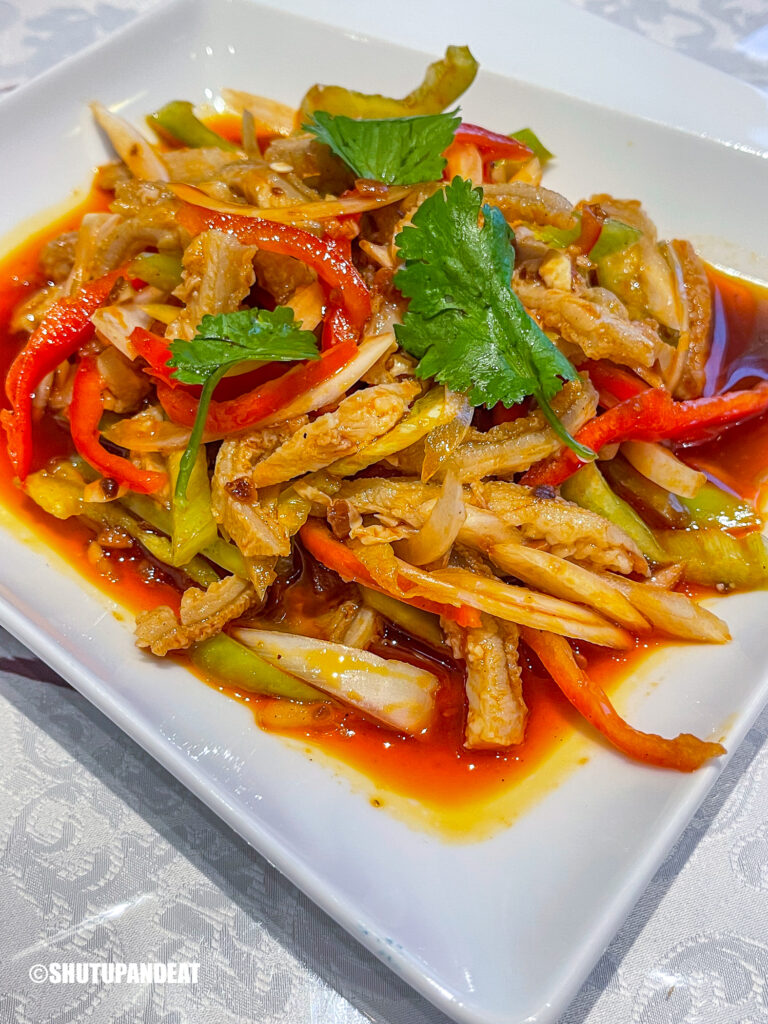 This chilled dish consisted of incredibly tender slices of beef tripe, peppers, celery, onion and tossed in a spicy and tangy sauce. Not as spicy as the brightly coloured dressing would indicate, but it definitely had a kick to it.
Lamb Brochettes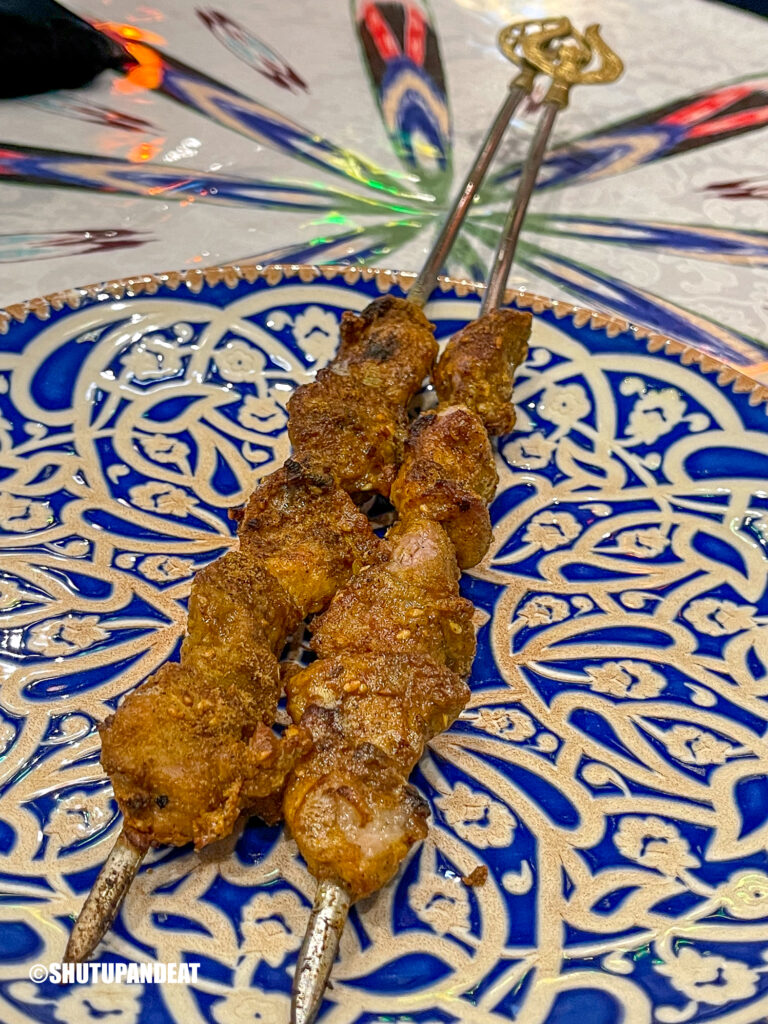 Succulent morsels of tender lamb dusted in holy trinity of seasoning dust; Szechuan chili flakes, cumin and fennel. Aromatic, fragrant and numbing, the lamb was juicy and perfectly lean with little nuggets of fat. The ornate spears the meat was skewered on was so badass and metal. Each mouthful directly eaten off the lance was more and more delicious with each bite. Amazing.
Miran Special Big Plate Chicken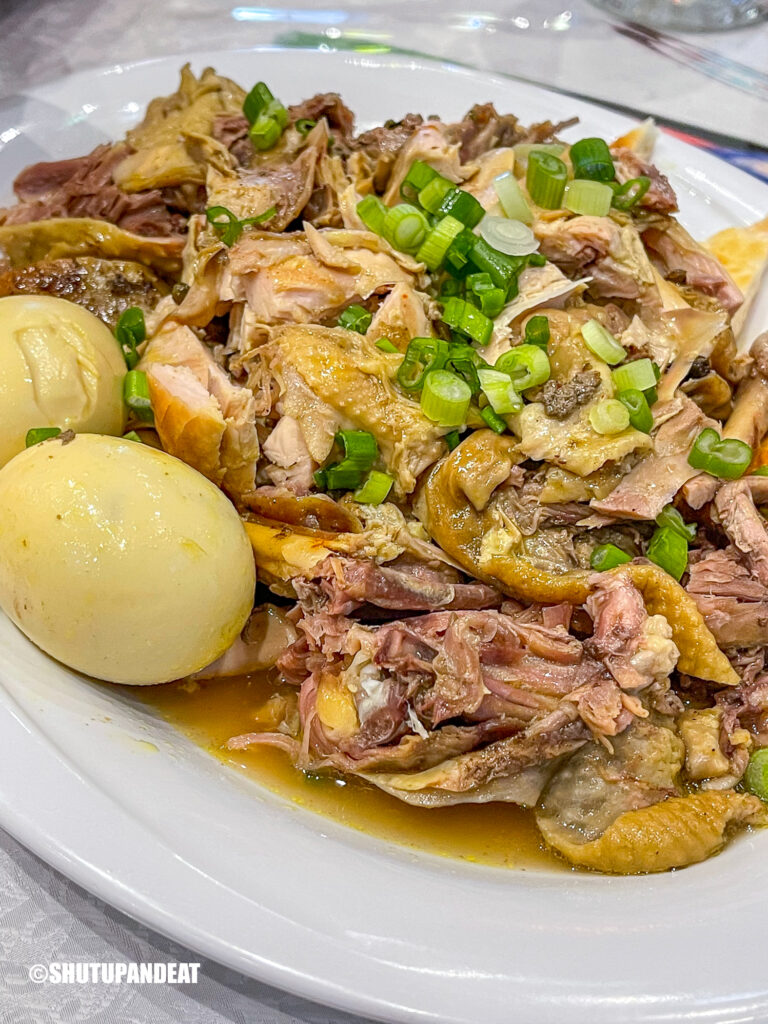 Miran has several "large plates" which are their signature family size dishes. Protip: depending on the day, they have daily specials that are half portions of these dishes. We got the "big plate chicken". A half chicken poached in a master stock, served with hard boiled eggs and potatoes. The chicken was perfectly cooked and herbs and spices from the soup permeated the meat.
Lamb Qordak
The Lamb Qordak is stewed lamb with potatoes, carrots, long peppers and served with slices of naan. Dishes at Miran are heavy on the lamb side. It's not a favourite for many people because of its gameiness. Although not as strong as you might think, the meat did taste like lamb, but was not off putting in any way. So much so that we got an order of noodles to do with it.
Pilov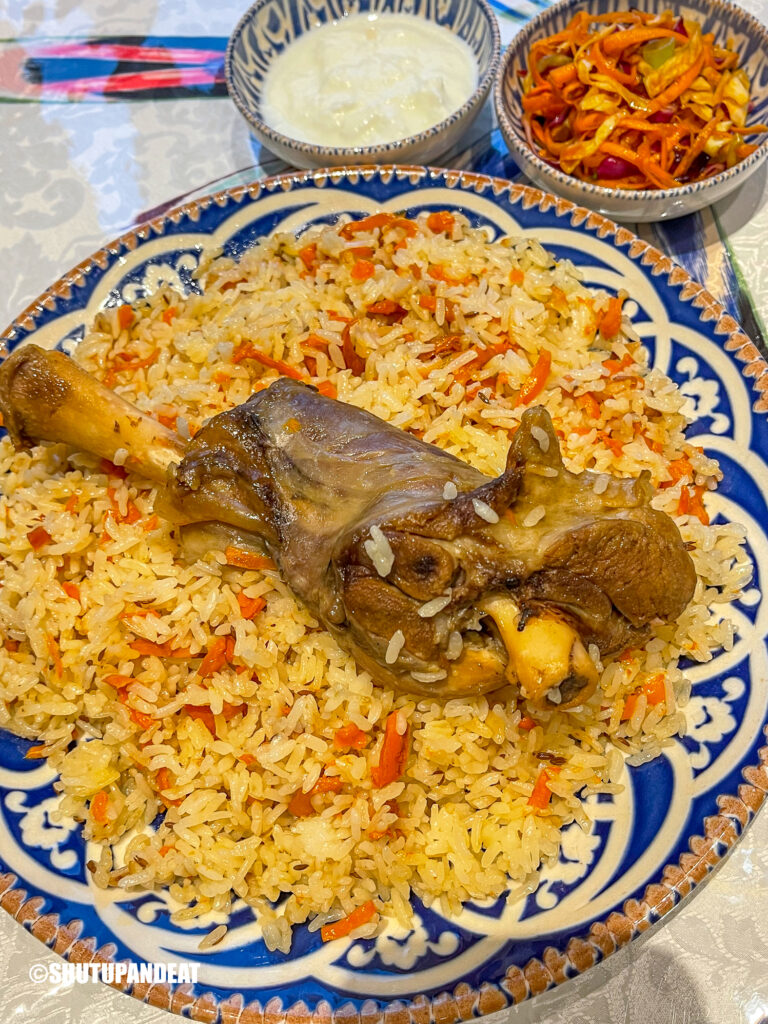 Beautifully cooked rice with a lamb shank. The rice was mildly spiced with cumin and caraway and deliciously buttery and oily from the lamb. Served with yogurt and shredded pickled carrots and cabbage this dish was extremely comforting and easy to eat.
Miran Special Laghman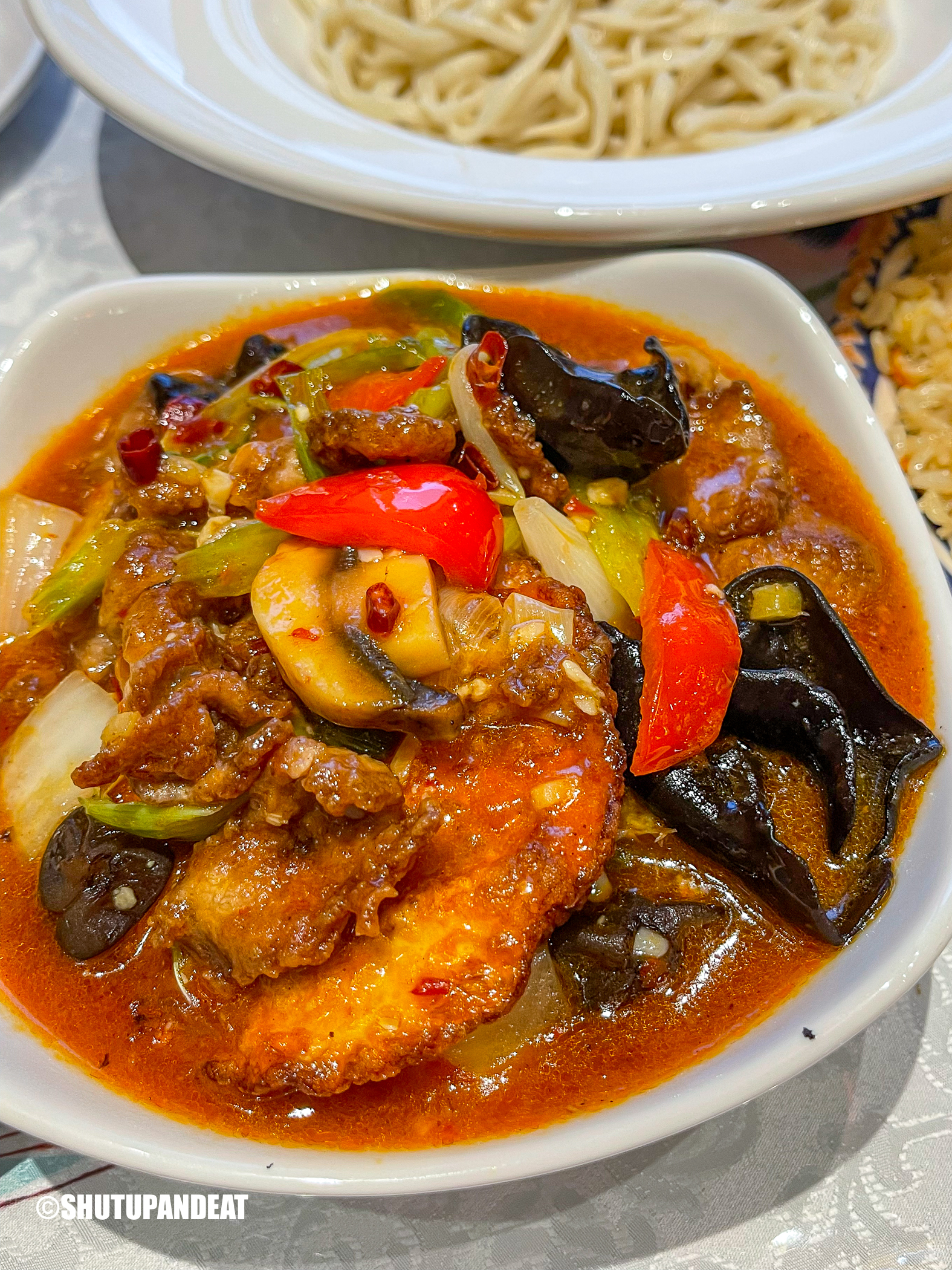 The Miran Special Laghman is fresh hand-pulled noodles served with saucy lamb stir-fry mixed with mushrooms, woodear mushroom, celery, onion, peppers in a luscious spicy sauce. This is probably my favourite noodle at the moment. The combination of the thick chewy noodles and the incredibly fragrant sauce that's deep in flavour will leave you craving the next bowl.
Restaurant Miran is a unique spot specializing in a cuisine that is not very common in Montreal, Uyghur. I'm not about to sit here and regurgitate the wiki page and act like I'm well versed in the social-cultural background of the Uyghur people. I'm not the right person to educate you on that. My limited knowledge of their plight would be a disservice to their situation. But what I can do is tell you about the amazing food, service and people I encountered at this spot over several visits. The owner and staff are incredibly welcoming and will guide you through their menu. Their enthusiasm to share their food and culture is warm and welcoming. I've had great discussions and conversations with the staff and you will too. This multiple-family run restaurant is serving up the most wholesome, heartfelt food cooked with love. The tastes and flavours will leave you looking forward to your next visit.
Restaurant Miran
1803 Rue Poirier, Ville St-Laurent, QC, H4L 5K8
https://www.miran.ca/