I know I often talk in superlatives and hyperbole. Likening something to a mind shattering experience of epic proportion's or comparing something to the warm embrace of your mother. I mean, both statements could be true. I've eaten a lot of things so if I tell you something is awesome I'm usually right. Also your mom's hugs are A1, trust me. So, when I tell you that this place serves the best French toast you'll ever have in Montreal you'll have to believe me. And I'm not even a fan of French toast. This week I visited a local café that if you closed your eyes and concentrated hard enough, you'd think you were transported to a quaint Parisian neighbourhood. You need to go to Les Bourlettes Café in Ville St. Laurent.
Breakfast sandwich
I've been coming to this little spot on the Decarie strip for a while to grab quick cups of great coffee on the go. But it was only recently that I stopped in for food. Why it took me so long? I don't know, and I regret having waited so long. Their daily menu consists of a handful of sandwiches, tartines of the moment and a few heartier classic dishes like beef bourguignon and daily specials. Their weekend brunch menu is where it's at.
The breakfast sandwich is an impossibly high stacked sando guaranteed to fill you up then knock you out. It was freshly sliced avocado, thick-cut bacon, greens and a fried eggs. All precariously piled between thick-sliced pain de mie with a perfectly cooked runny egg. All seasoned and balanced. Literally and figuratively.
Croissant sandwich
Fluffy scrambled egg with emmental cheese, roquette, and confit tomatoes in a buttery and flakey croissant. Not as substantial as the breakfast sandwich, but not everyone is glutton for AM cramps like me. Great option for those who want so gently wake up their gastrointestinal tract vs. slapping it across the face first thing in the morning. Great snack!
Strawberry French toast
Read this slowly and carefully; the french toast at Les Bourrelets Café is the best in the city. Don't walk, run. Thick slices of brioche pan-fried to perfection. Crispy on the outside and deliciously fluffy on the inside. Almost like… cake.
The combination of the sweet maple, tart strawberries, smokiness of the crumble and its texture that makes each bite, the perfect bite.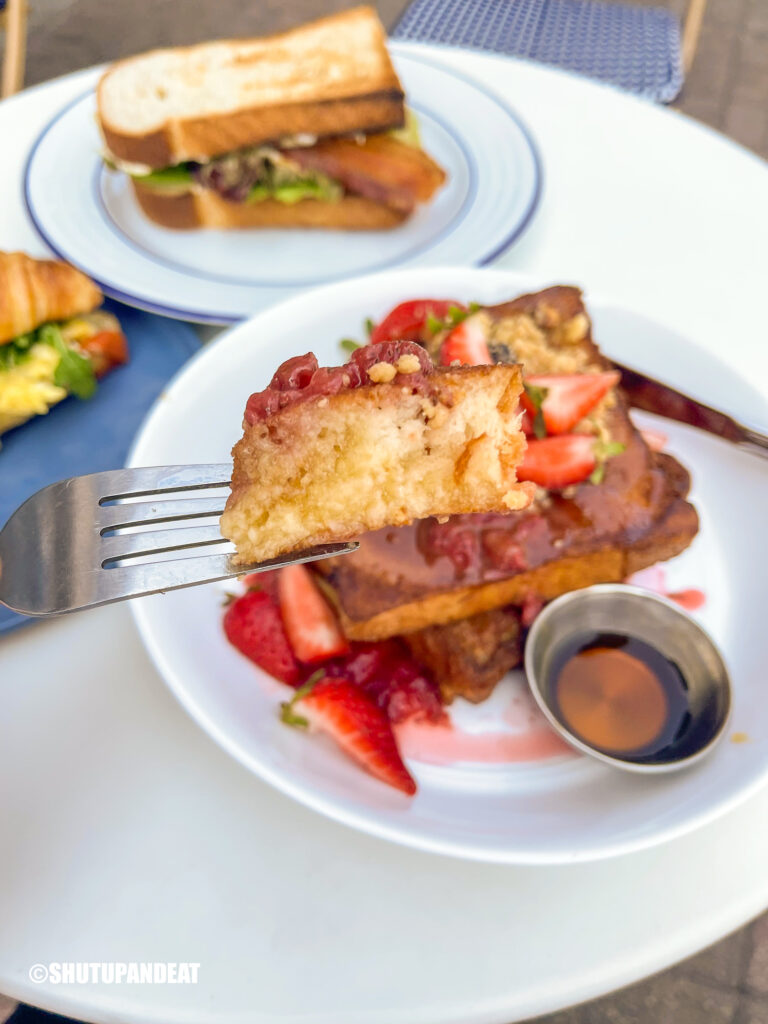 Topped with a crunchy pecan and walnut crumble, strawberry preserve and slices of french Quebec strawberries and maple syrup. I want to say it's the bread that makes this dish. The thick-cut bread is generously sliced to order that undoubtably hits different. Different than the kind of bread that comes in a bag. I also want to say that it's not only the bread, but the combination of the sweet maple, tart strawberries, smokiness of the crumble and its texture that makes each bite, the perfect bite.
Chef and owner Jess is classically trained and spent most of her professional career in French fine dining. Like many, after years of working for someone, she took the plunge and pursued her own endeavour. The humbleness of the dishes should not be confused for being simple. From the treatment and sourcing of ingredients to their thoughtful combination, balance of flavours, accents and textures; skillful, deft, and deliberate.
You can tell that the chef is cognizant of her ingredient's potential considering specials pop up on the menu often. Not to mention the rotating roster of coffee beans they use.
Neighbourhood cafés are a dime a dozen. Great ones are hard to come by. This one is great. I love it and think you will too.
Les Bourrelets Café
908 Decarie Blvd
https://www.instagram.com/lesbourrelets.cafe/
(514) 748-1033