Your favourite secret Chinese restaurant is back at it again with an undercover (well not anymore) DAILY dim sum service. I first wrote about this place eight years ago. For those who don't know about this Chinese restaurant speakeasy, it's in the basement of an all you can eat sushi spot. When you walk into Kanda Sushi on Decarie, disregard the hostess station and walk past the sushi bar towards the spiralling stairs. Pass the high chairs and random pile of table linens, the stairs will give way to an alternate universe, a second restaurant – a restaurant within a restaurant – Oriental Fuzion.
Unlike other places in the city where you're serenaded by the calls of aunties singing the contents of their carts, the dim sum here is ordered a la carte.
Oriental Fusion or Fuzion as it's written on their signage, recently launched their new dim sum service. The menu is broken down into six sections, traditional steamed dishes, steamed buns, rice noodle rolls, fried dishes, congee and lunch specials is varying prices depending on the dish. We ordered a variety of dishes from each section.
Shrimp Dumpling
Like going to a hockey game and not getting an overpriced beer, it's not dim sum unless you order shrimp dumplings. Plump crystal skin wrappers enveloping a generous mixture of large shrimps and bamboo shoots. Pretty solid. Pretty standard.
Fried radish cake with XO sauce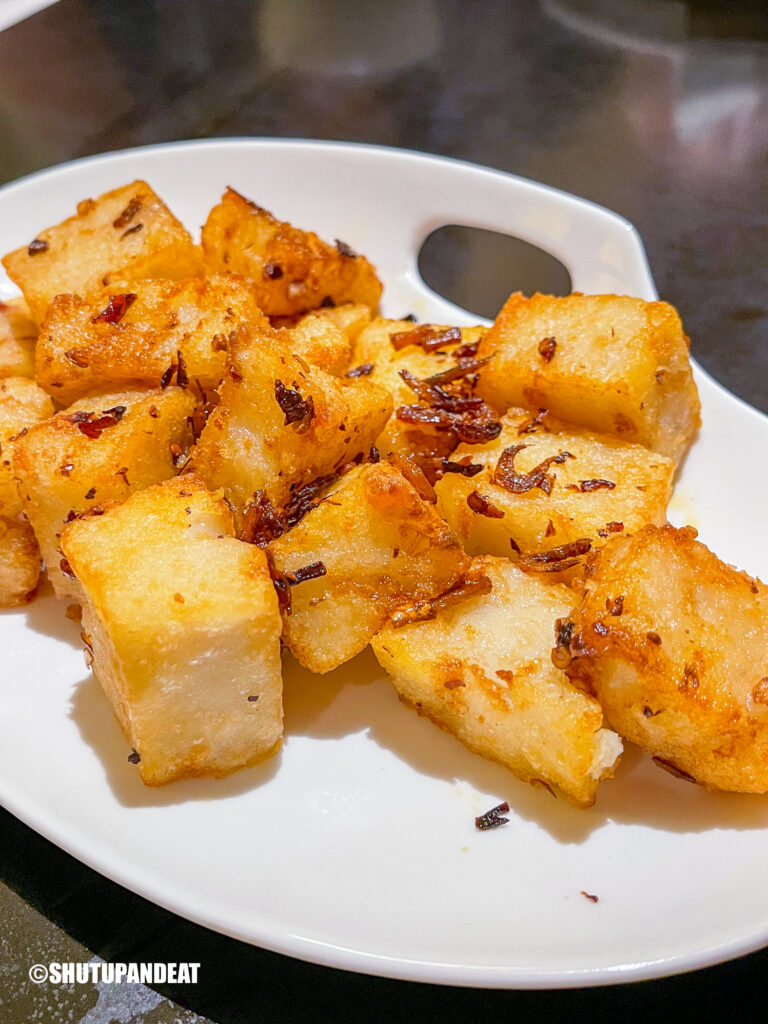 Cubes of radish cake fried with XO Sauce. If you've never had XO sauce before, it's an umami bomb that you eat. Follow the link for the ingredients and you'll know why. The bites were crunchy but not radish-y in flavour enough for my liking. But still good.
Rice noodle rolls
The rice noodle rolls were labeled as "Guangdong style". Opposed to the very Hong Kong style that we're accustomed to in Montreal. The filling is different and it was apparent when we bit into the BBQ pork cheung fun to find preserved mustard greens in the filling. A first for me. It was interesting, not in a bad way. It was nice to get thrown a curveball. It's weird to expect one thing and then get something completely different. Served with warm sweet soy sauce.
This rice noodle roll with Chinese doughnut is my favourite. A crunchy savoury cruller wrapped in a silky smooth rice noodle roll then topped with sweet soy sauce. The doughnut was a bit hard – as if it was sitting a while before it was wrapped. These are definitely not fried to order, but I would have expected it to still be warm.
Chicken feet
Here is where I'll lose some of you. The chicken feet. A crowd favourite for the initiated. These "phoenix talons" (which is the literal translation and coincidentally is a nicer way to call this dish instead of chicken feet) are deep fried, then braised in a sweet and savoury sauce, then steamed. This technique allows the skin and cartilage to separate from the bone to make it easier to eat. This particular version was overcooked and falling off the bone. As delicious as they normally are, the texture was a bit off putting.
Congee
Classic congee – century egg with pork. Made with jasmine rice, the base was fragrant and creamy, something that is indicative of a properly made congee. The rice is broken down to give each mouthful a silky texture. The century egg was acidic and contrasted the sweet porridge. The slices of pork was tender as well.
Salted egg fried rice
Don't let the idea of salted fish deter you away from this fried rice. It's funky, yes. But it's also delicious. Pieces of chicken tossed together with shredded egg, scallions and pieces of salted fish that gives this dish a distinct aroma. I would have liked more salted fish.
Snow-capped BBQ pork buns
The 雪花包 buns are bbq pork buns topped with a thin layer of a sugar and flour mixture which is supposed to give it a snowy-like look and texture. These were a bit overcooked and apparently our snow-capped buns took the wrong turn through the sub-saharan desert.
The filling was sparse, but it still tasted good!
Black pepper short ribs
Black pepper short ribs are one of my favourite dim sum dishes, so it's always a must order for me. The ones at Oriental Fusion were thick and generous in portion which was served with a few slices of taro root. The flavour was salty and peppery, exactly the way it should be. My only complaint was that they were fatty. But it's not like they raised the cows.
Unlike other places in the city where you're serenaded by the calls of aunties singing the contents of their carts, the dim sum here is ordered a la carte. All dishes vary on price as well, regardless of them being from the same section of the menu. I went on the first weekend they started serving dim sum. I'm giving them the benefit of the doubt that they are working out some kinks as there's room for improvement. My experience was great, the staff was helpful and friendly. A great addition to Cote des Neiges for those who want dim sum and are in the area!
Dim sum daily, Monday to Friday 11am-3pm, weekends 10am to 3pm. CLOSED ON TUESDAYS
Oriental Fusion
7373 Bd Décarie, Montréal, QC H4P 2G8