Have you had hot pot before? It's often referred to as "Asian fondue". Which technically isn't wrong. The principle is the same. Things dipped in a simmering liquid and eaten with a sauce. When you think fondue, you picture a pot of simmering tepid broth heated by a can of sterno. Different color-coded two-tined prods sticking out holding on to thin slices of meat or vegetables. The main difference between hot pot and western or French "fondue" is that Asian hot pot is better. PERIODT. I recently had the opportunity to check out one of the hottest hot pot spots around, Liuyishou Hotpot in downtown.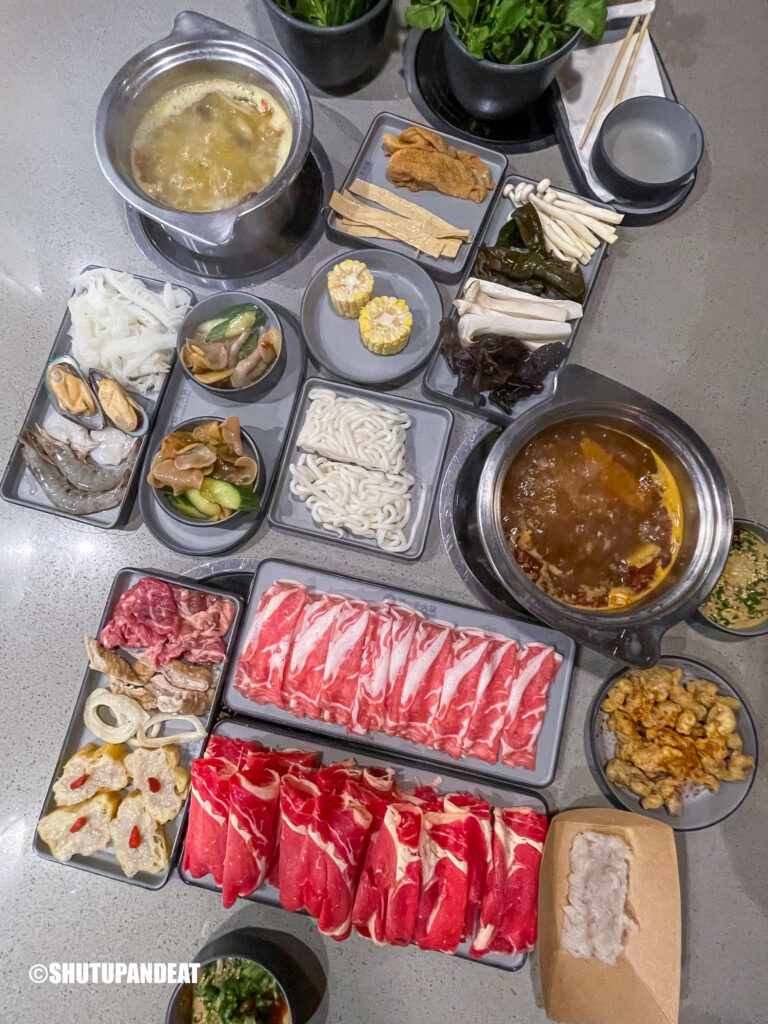 From one humble location on a small street in Chongqing, China, Liuyishou Hotpot now has over 1,200 locations in China, Canada, U.S., Dubai, Singapore, Australia, Japan, Thailand, Indonesia, France, and Spain. It's become one of the biggest hotpot chains in the world!
The procedure is simple. You start off by picking your broth. Depending on which table you're sitting at, you'll be able to either pick a personal pot or a larger communal pot. We were sitting at a smaller table and were able to choose two different soup bases. We went with the house special soup at a medium spice level.
The spicy soup was made with beef tallow (rendered beef fat) which gave it a rich depth of beefy flavour. It was also incredibly aromatic with all the difference spices used. Various chili peppers, peppercorns, clove, anis, coriander, cinnamon will assault your taste buds. The other was the signature white pepper chicken soup. The chicken was peppery and light and fragrant. A winner.
Dipping sauce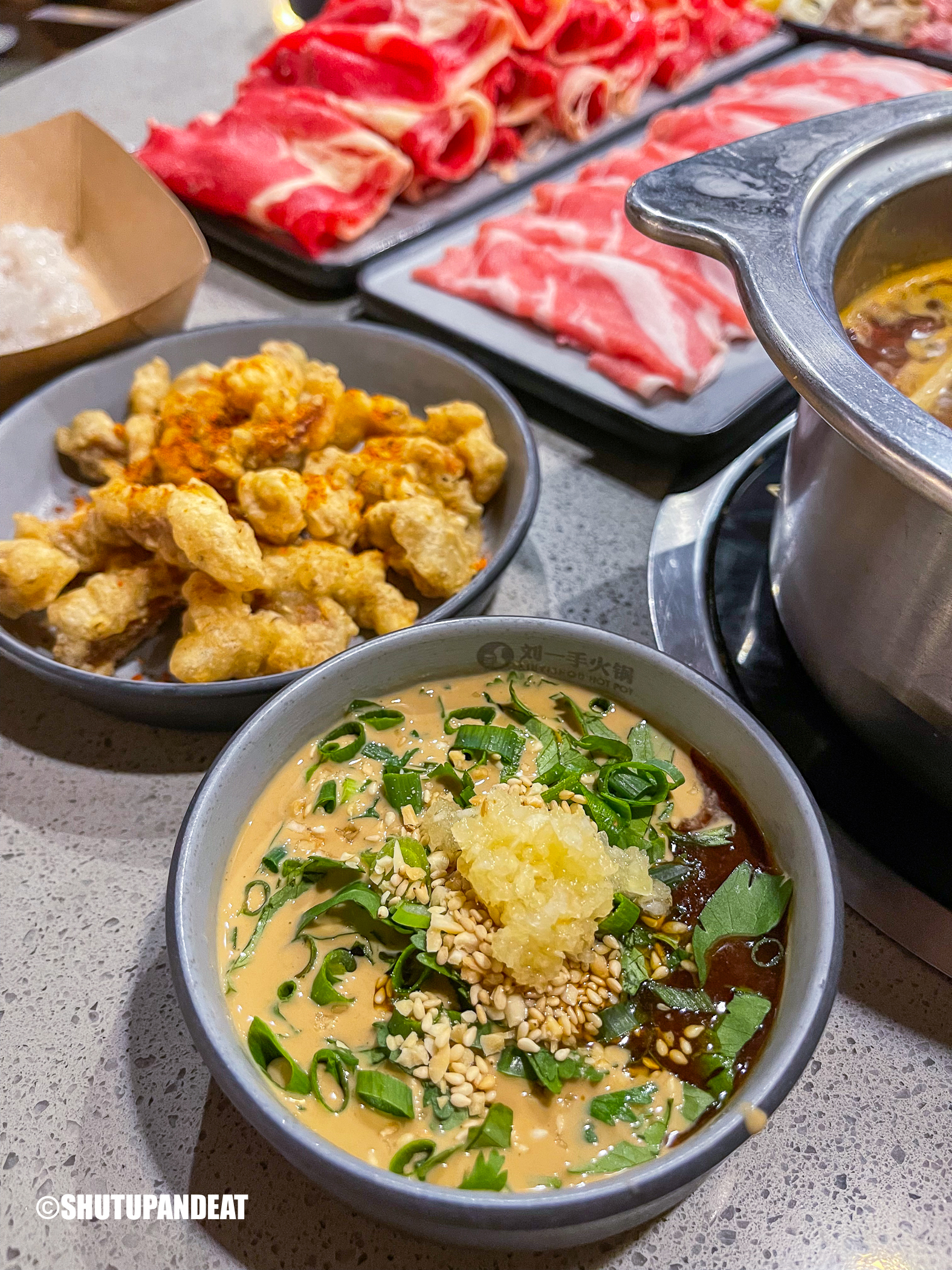 Before you food arrives, the server invites you to the self serve condiment and sauce bar, where you'll find a handful of pickles, salads and a wide selection of condiments to make your own dipping sauce. Mix and match your favourite to create your own signature sauce. I always do the same thing, it's a tried and true recipe. Sesame paste, satay sauce (often called bbq sauce) hoisin sauce, chili oil, black vinegar, ginger, garlic, scallions and cilantro, A+. Try it and let me know how much you love it.
Meats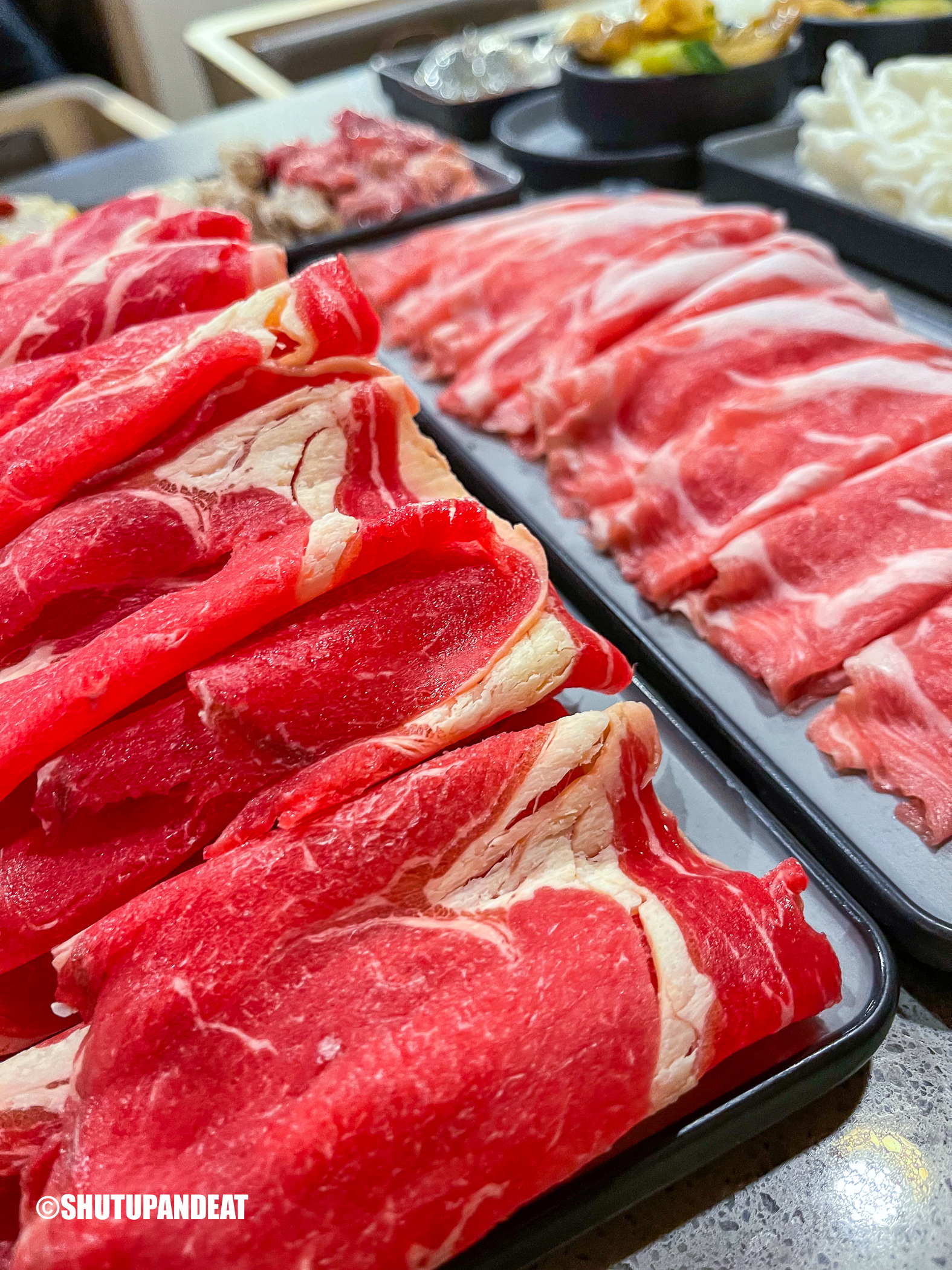 The menu consists of several sections; Liuyishou's signature items, meats, specialty items, chef's recommendations, "Liu's handmade items", seafood, vegetables and snacks. The meat dishes are plentiful. Thinly sliced beef and lamb that were deliciously fatty that cooks in mere seconds.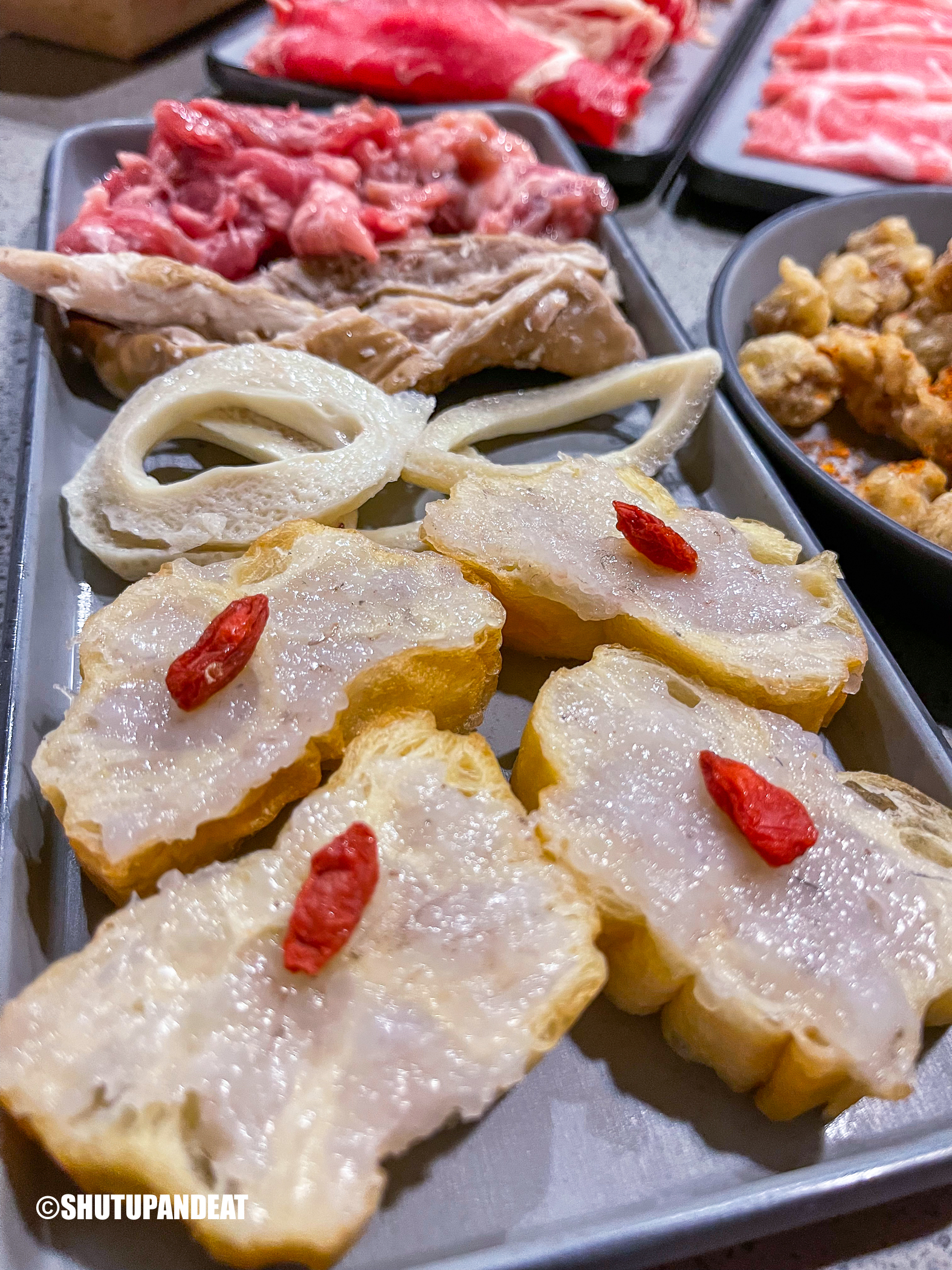 Since it was my first time here, we tried a little bit of everything to get an idea of what Liuyishou is all about. The shrimp paste in fried bread stick was something I've never tried before. It was interesting! As was the "homemade beef". It translates to "tender beef" and was just that. Slices of thick-cut fatty beef which was tender when cooked. We also tried the pork intestine and beef heart. They were clean, but you still get a little reminder of what you're eating – if you know you know.
Spicy chicken gizzard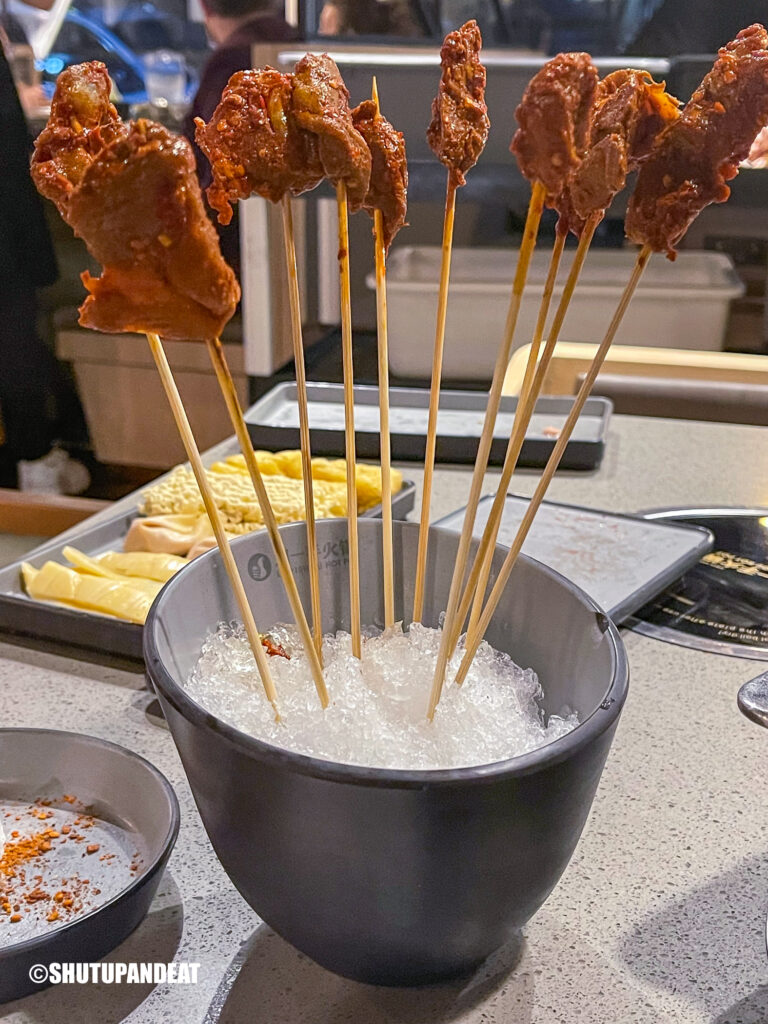 The marinated spicy chicken gizzards were tasty. They were sliced thin and cooked relatively quick – fun crunchy bites.
Dessert
Dessert consisted of various traditional sweet cold soups and puddings and fresh fruit. Coconut sago with tapioca and sweet snow fungus and goji berries. These types of desserts are meant to neutralize the "internal heat" caused by spicy foods. A concept widely recognized in Chinese medicine.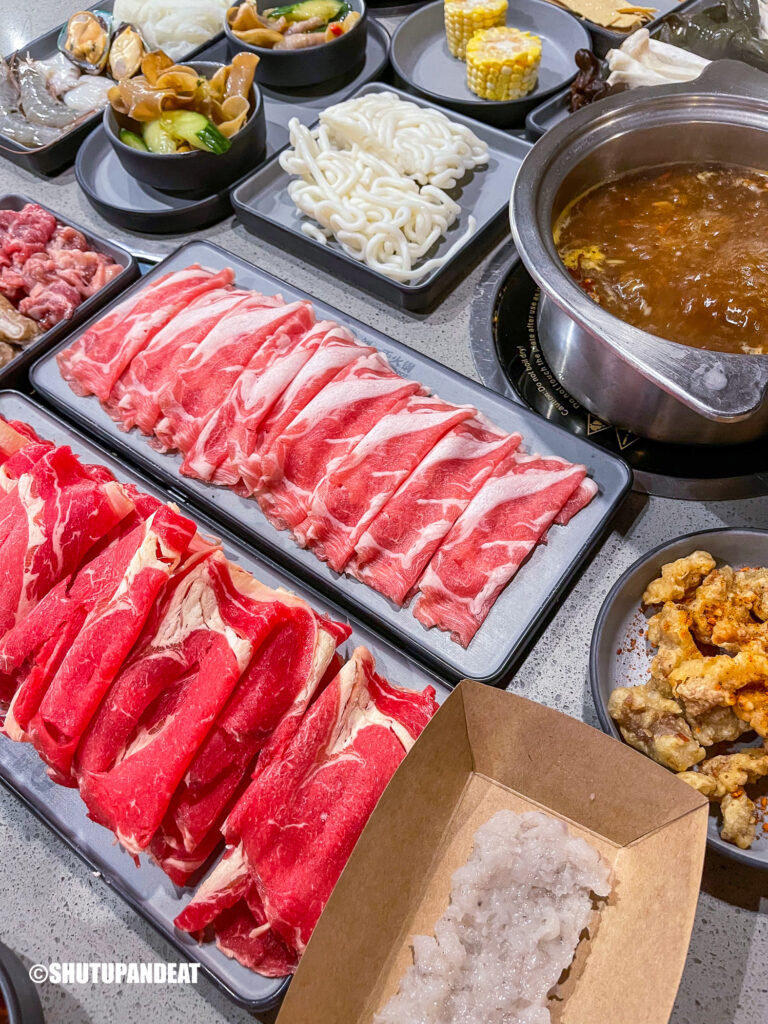 The menu can be a bit overwhelming for the uninitiated. Go slow and ask one of the servers for suggestions. The service was quick and courteous and extremely friendly – I'm talking about the human ones. They've got the robo-kitties that actually meow at you if you get in their way.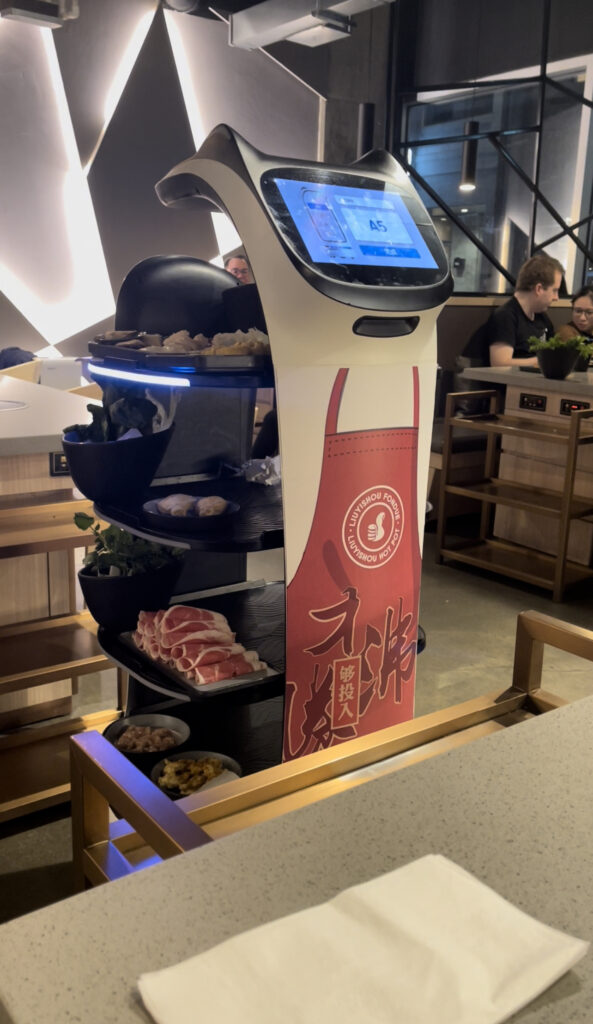 Beware, if you think you can handle spicy, order medium. Order hot only if you don't have plans for the rest of the night and the following day. My first experience at Liuyishou Hotpot was a great one. The variety of choices on the menu was staggering. The quality is equally as impressive. The meats were sliced to order, the seafood was chilled and the vegetables were crisp. Make reservations. I went on a random Tuesday and the place was happening. I'm really glad this chain made its way to Montreal to give locals a taste of what authentic Chinese hot pot is like. With a reputation of quality and service, you can see why it's acclaimed by celebs in China.
Montreal location is running an autumn special, all you can drink if you're a table of 4! Grab three of your friends and to go hot potting!

Liuyishou Hotpot
1224 Crescent St.
https://www.liuyishouna.com/
---
I was a guest of Liuyishou. Thoughts and opinions are my own.