Quick, name you most favourite Japanese restaurant in Sainte-Anne-de-Bellevue. As we all know this area of the city is a bustling hub for fine Asian cuisine. Jokes aside, if you know anything the current Montreal restaurant scene, you would not be surprised to find hidden gems in any corner of the city. Blue-collar neighbourhoods like Verdun or Ville Émard or Côte-Saint-Paul once known for their greasy-spoons and casse croutes are now home to awesome Asian restaurants like Comon, Les Street Monkeys and casual fine dining with the likes of Joe Beef's McKiernan. Or maybe Laval which was once a baron wasteland of anything delicious is now home to fun drinking and food spots like 123Dzo, Gon Bui and modern Italian at Gatto Matto. The list goes on. This week we're going to the way West Island to check out your new favorite Japanese restaurant Mont Brise serving Teishoko style dining.
Located in the Saint-Anne village, Mont-Brise is a quaint Japanese restaurant serving "teishoku" style meals. Translation meaning "set lunch" (set menu), these meals are in the spirit of Japanese cuisine served in a modern style of eating. It highlights a balanced meal of the right amount of meat and vegetables. Each set includes a main course, side dish, soup, salad, marinated vegetables or pickles and dessert. Similar to bento, teishoku is more formal in presentation and preparation whereas bento is more casual.
Chirashizushi
The chirashizushi or "scattered sushi" was a large bowl of beautifully seasoned sushi rice topped with fresh seafood, tomago and ikura. When I say thick slices of fish, I mean thiccc. The kind of slices you say to yourself, "If I was a sushi chef, these are the kind of slices I would selfishly slice for myself."



The kind of slices you say to yourself, "If I was a sushi chef, these are the kind of slices I would selfishly slice for myself."
The toppings: salmon, tuna, surf clam, sweet shrimp, crab, salmon roe and sweet egg omelette, and edamame. The fish was served at a perfect temperature for its natural sweetness to shine through.
Sushi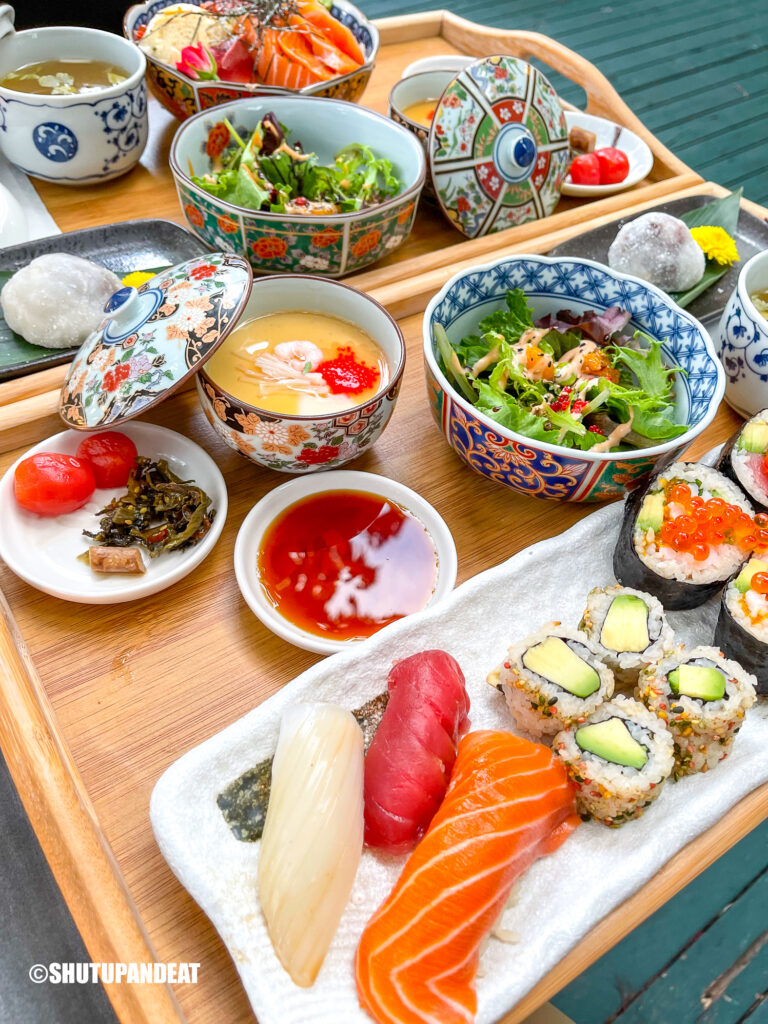 The sushi platter was a combination of nigiri and maki. Squid, salmon and tuna nigiri, avocado roll and a chef's maki roll which consisted of fatty tuna, avocado, sweet shrimp, cucumber topped with salmon roe.
Like the sushi bowl, the fish (and quality of it) was front and centre. The texture was buttery and flavour was clean. Each bite had me wanting to slow down and enjoy each mouthful. Coincidentally had me consciously taking smaller bites to prolong the pleasure of this sushi. Rare. Coming from a big family has trained me to inhale my food before someone else has a chance to eat it. One of the rare times I went against my instinct. Nice.
Side dishes
Like every traditional teishoku meal, it encompasses all food groups in perfect proportion to offer a well rounded meal. A salad with tart grated carrot dressing, a light pork-bone miso soup and pickles; pickled mustard greens, and umeboshi (plum).
Chawanmushi
The sides dishes also included this amazing steamed egg custard "Chawanmushi". It was incredibly light and delicate in texture, like silk. Made with dashi and topped with crab, tobiko and a shrimp, the custard was warm and flavourful.
Mochi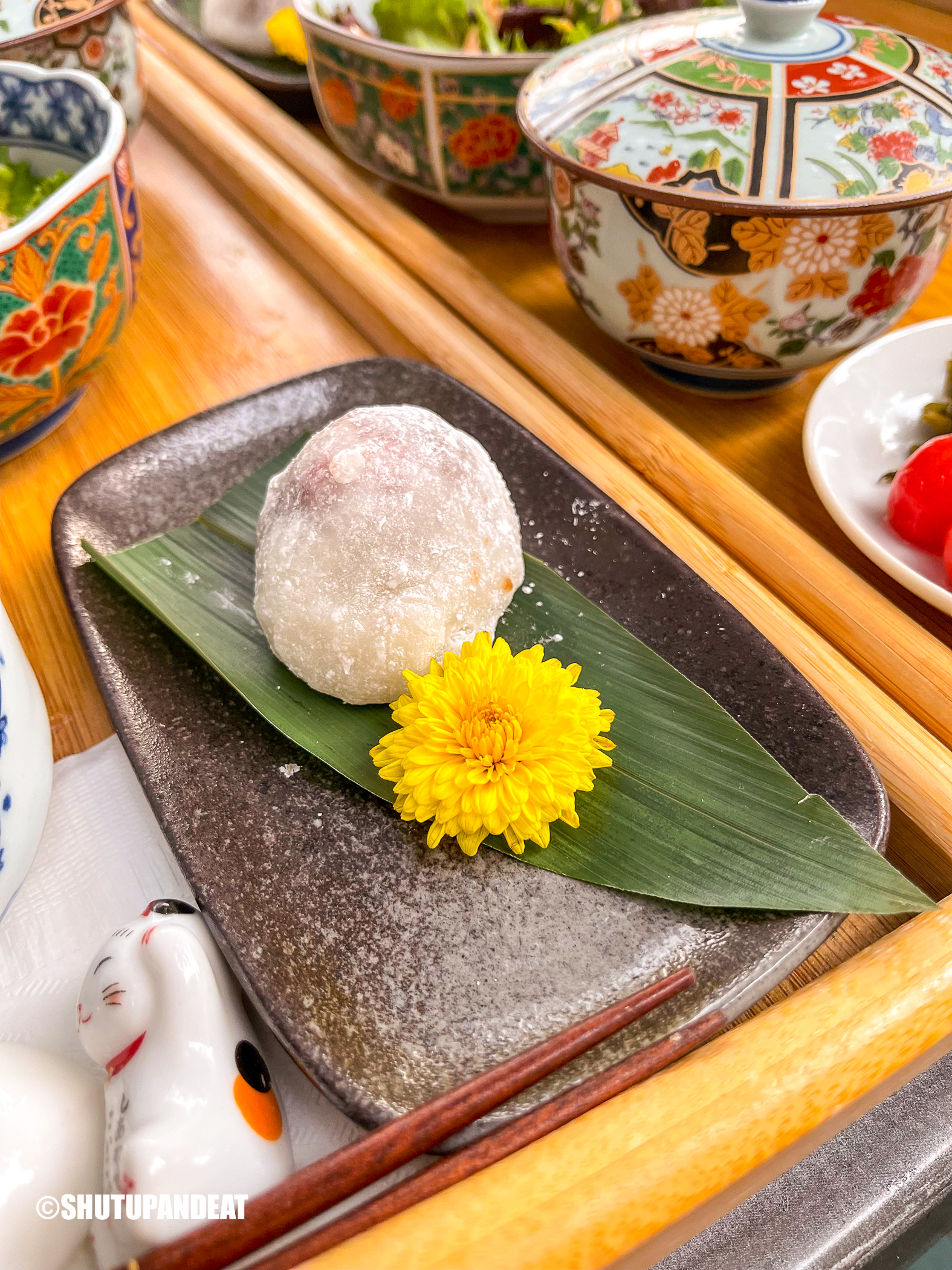 Dessert was a sweet strawberry and red bean mochi. I wouldn't call it a dessert dessert, only because I'm a gluttonous jerk who likes ice cream and cake, but it was just enough of a sweet bite to round out the meal.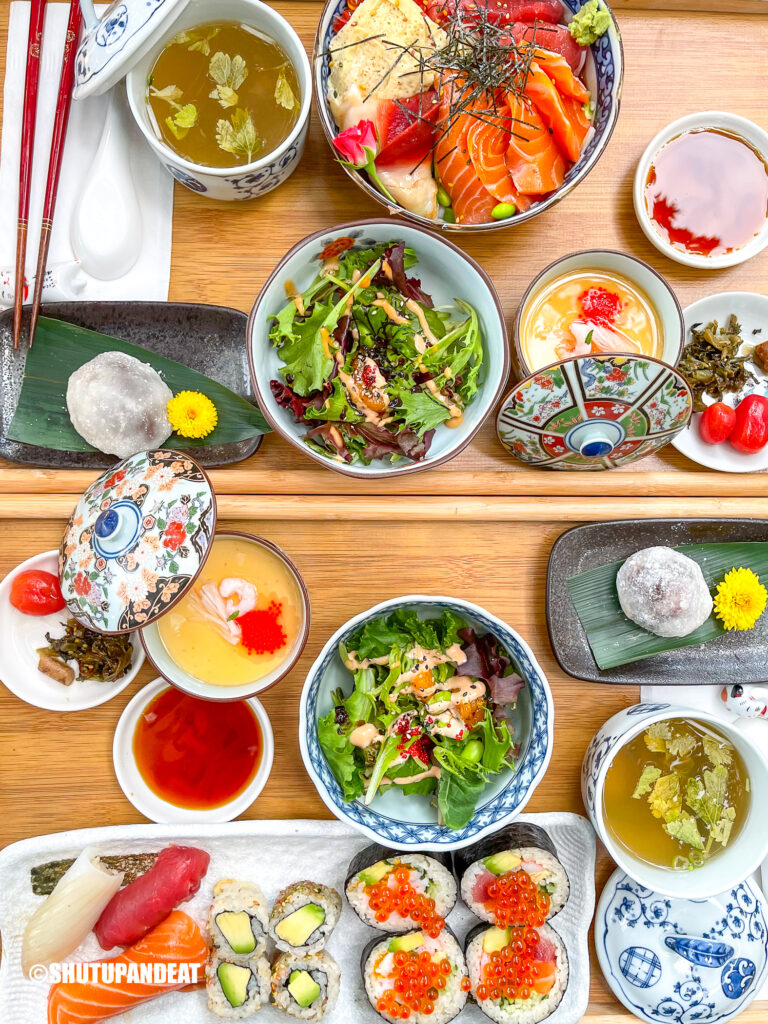 On a good night, the amount of sushi offered on the platter would be enough for a pre-appetizer for me. But with the accompanying side dishes, the teishoku stayed true to its concept and consisted just enough of everything to provide a perfectly portioned meal. I wasn't overly full, but more importantly, I was satiated.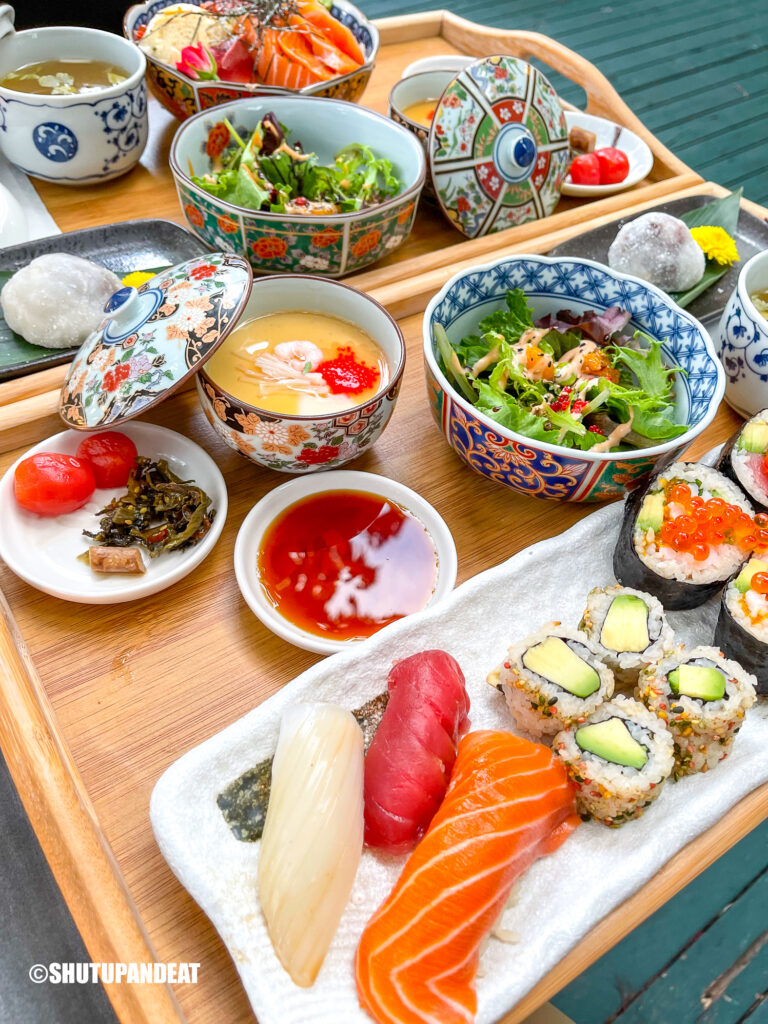 As I said, this meal forced me to slow down and take my time to eat. Maybe it was the delicateness of the dishes that made me want to treat each bite more carefully. To recognize the quality and attention given to all the ingredients. Maybe it was the ritual of opening the ceramic lids to the different elements of the meal and using different utensils to eat is what made me enjoy it that much more.
Don't get it wrong, this spot isn't a sushi restaurant. We went just before Mont-Brise announced their winter menu which also features an a la carte menu. So some of the side dishes may be different as well as the mains, but I'm convinced, food quality and service remains the same; impeccable.
Mont-Brise Cuisine Japonaise
130 Sainte-Anne St, Sainte-Anne-de-Bellevue
https://www.facebook.com/montbrise/