When I first heard about Picks, I was sold the moment I heard about kimchi on a burger. Just the idea of it sounds like it's either some avant guard chef trying to be cutting edge, or a bunch of guys daring each other while under the influence, or something so simple and honest that in some strange way makes sense, and questions the idea of not having done it sooner. That's right, the same delicious foul mixture of chili powder, fish sauce, pickled Korean cabbage topped on a thick home-made hamburger patty.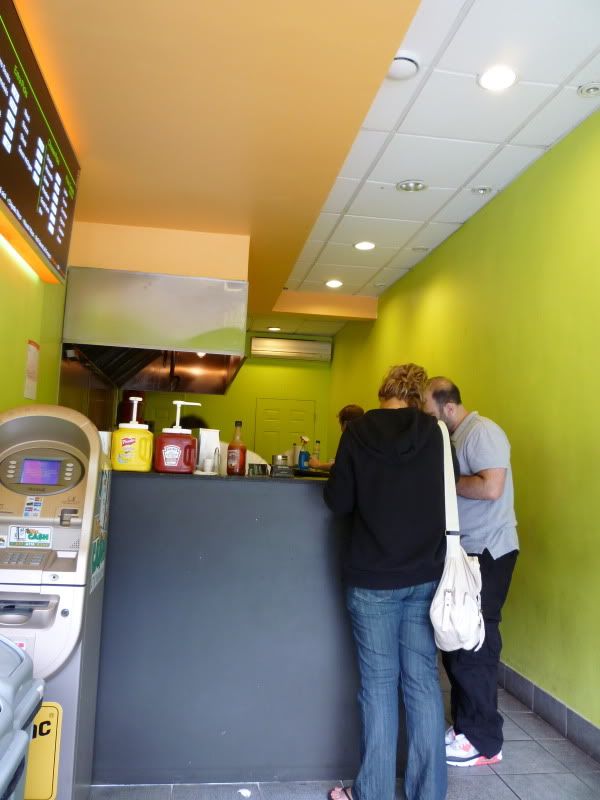 Located on St. Marc around the corner from St. Catherine, Picks is a tiny hole in the wall joint specializing in burgers and "Kogos" (which I will explain later). Picks has a staggering seating capacity for three adults, but no one really cares because the lack of chairs is made up by with the food. You could tell me that the seating is squatting over an open fire wearing a grass skirt only and I my only concern would probably be if i have enough napkins to wipe off the burger sweat.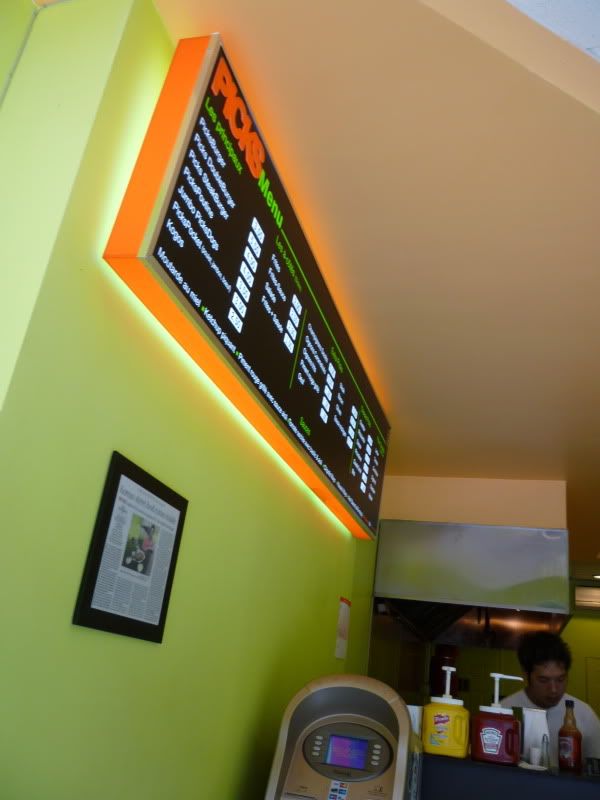 The way you order is you pick your burger, then pick your toppings and then pick your optional sides or drinks – the system in which Picks gets its namesake… duh. Since it was my first time, I let the chef do the ordering for me. Normally you'd pick up an ordering slip and highlight the items you want. And this is what he decided what we wanted.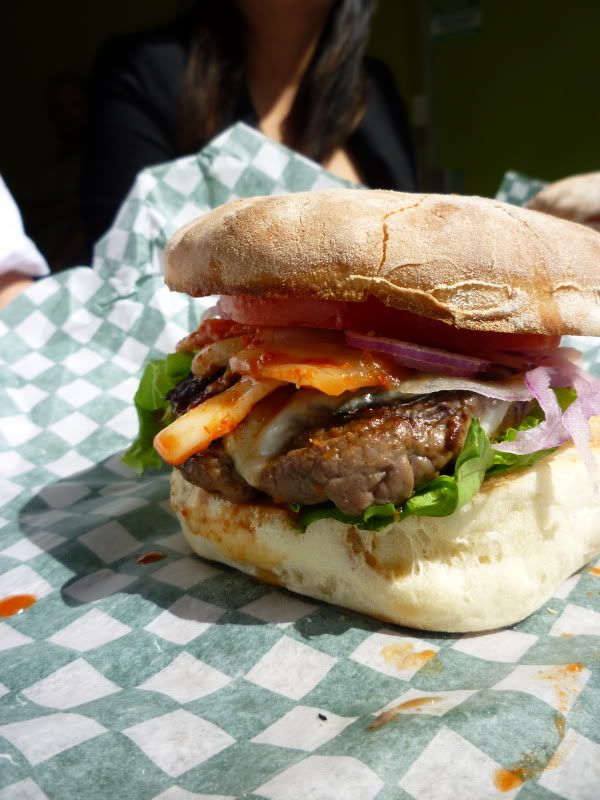 This burger DID.NOT.MESS.AROUND. A steak patty, with provalone, lettuce, tomatoes and onions, slathered in a sun-dried tomato mayonnaise and topped with KIMCHI. Kimchi on a friggin burger makes as much sense as wrapping cantaloupe with prosciutto. Sounds weird but tastes delicious! The funny thing is that the kimchi 'pick' isn't on the menu and is one of those back-alley, sliding peep-hole options where you only know about it by word of mouth.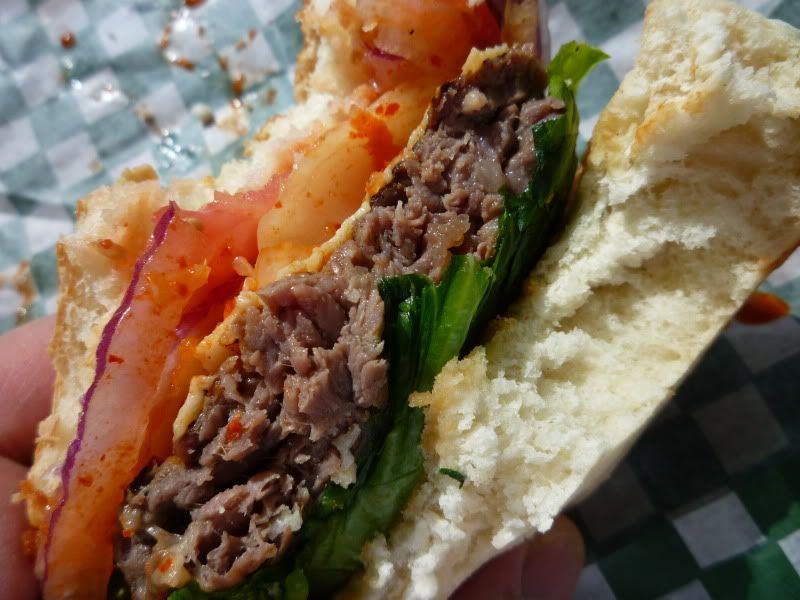 Speaking to the owner, I find out that he makes all the meat patties fresh, never frozen and he bakes the bread as well. Which might I add were thick enough to sop up all the drippy goodness, chewy on the inside and crunchy on the outside.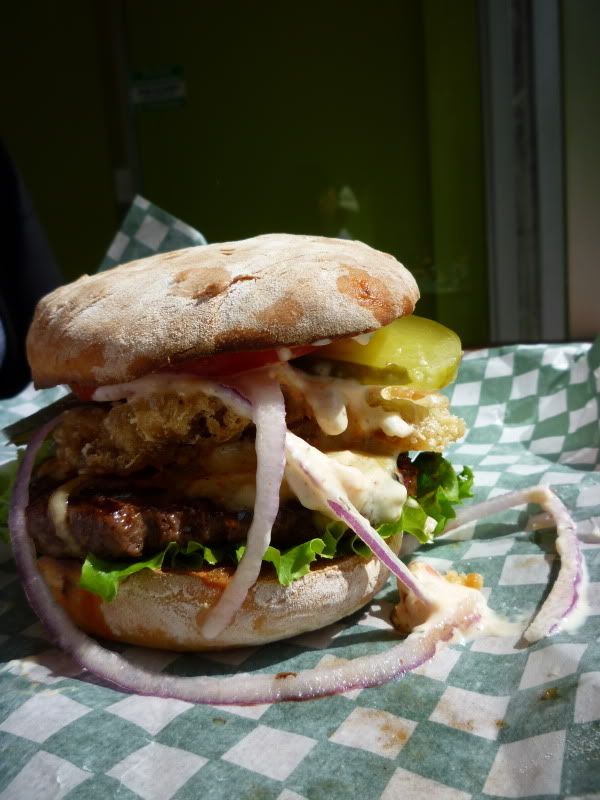 The second burger was with lettuce, tomatoes, onions, pickles, caramelized onions, and ONION RINGS and a spicy garlic and chili aioli mayonnaise. This burger as an entity has the power to end civil wars and right injustices in the world.

I'm being straight up honest here… I want this burger to have my children.
When I first asked the owner for help in ordering, he really took the time to make sure the prospect burger was going to be a good one. He meticulously picked the toppings to ensure maximum burger enjoyment satisfaction – made sure to not pick the spicy mayo with the steak burger in fear of it taking away from the taste of the kimchi – this guy knows what he's doing.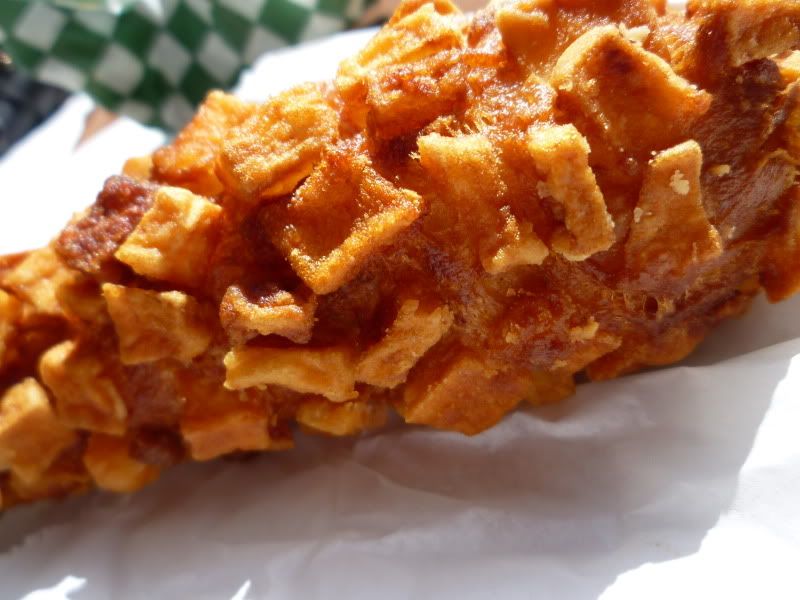 The KOGO. Ok, let's get serious for a minute. A Korean twist on the corn dog (I'm so hesitant to disgrace this gift from the heavens by comparing it to its ugly little American version). A hot dog, covered in a dough (not corn flour) encrusted with potatoes (fries) then battered and deep fried.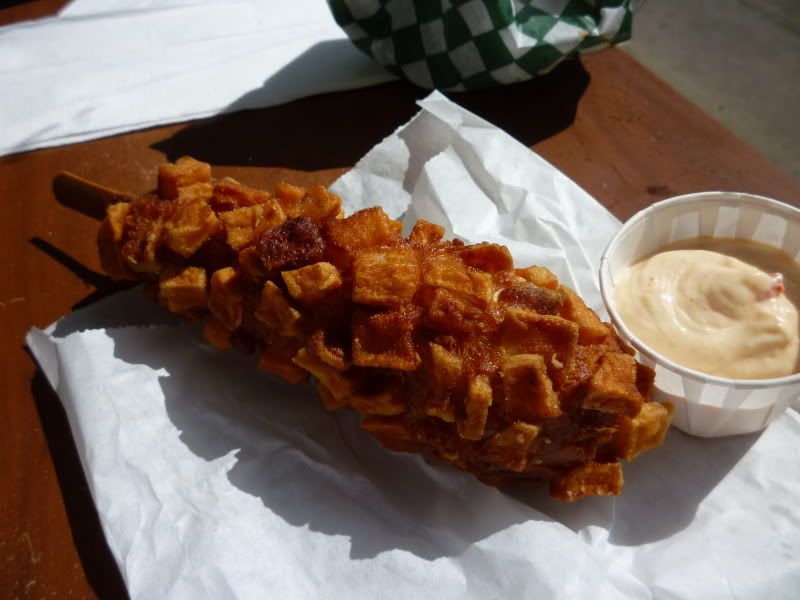 Seriously, I'm sure that at one point they've dug up some sort of ancient Mayan ruins and the Kogo was atop of some altar to Atlantis, because the human brain does not have the capacity of such genius to think of something like this, trust me, I was the one that thought that cream glazed grill salmon was a good idea. I went with the sun-dried tomato mayo dipping sauce.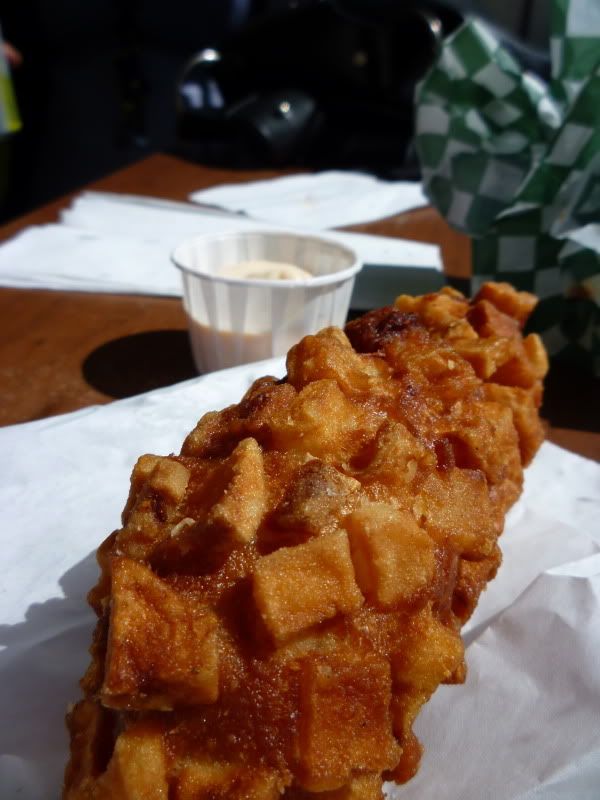 Remember kids, a cool mouth is a happy mouth. As with all deep fried foods, take your time, the skin in your mouth takes 2 days to grow back.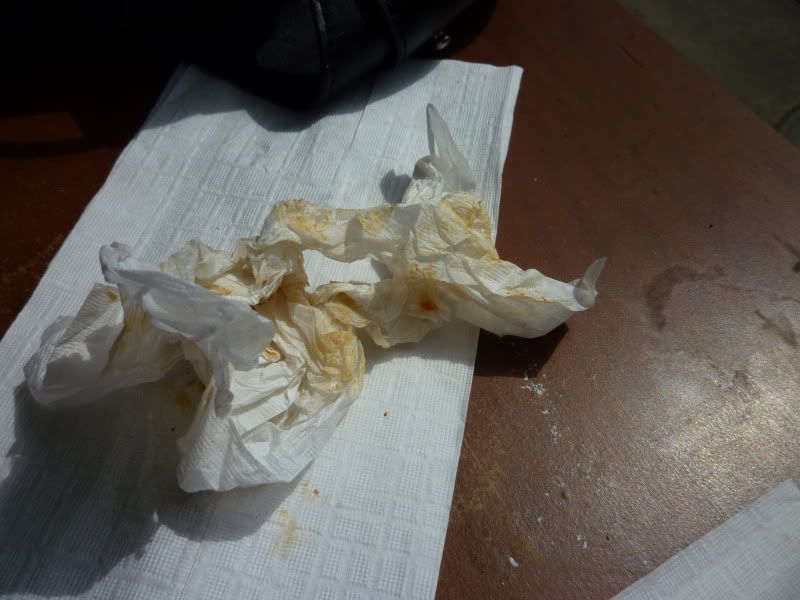 Mission accomplished. Nothing says a delicious meal like a beat up and defeated napkin that's been to hell and back.
Of all the burger joints around town, Picks is one that you are NOT ALLOWED to pass up. It's simple, straight forward, and honest food. With so may options of toppings, the mathematical combinations are endless; there's no such thing as a regular burger here. The food here is so good. So good, that I left here angry… I wanted to spit on people and hit things as a result of the food being THAT good.
Labeled as "street food" by other reviews, I think it's a circumstance rather than category that renders Picks as "street food". The fact that they only have three seats and people only have the option of crowding around the counter – if the three seats are already taken – or take their food on the road… which let's face it, aside from gum, food tastes better when you're walking and eating anyways.
Sidenote: the Kogo is a total legit Korean street food.
Picks
1407 St. Marc / St. Catherine – Next to the shark mural
514.758.4665
CASH ONLY