There's nothing that pisses my dad off more than the AC NOT being turned on before he gets home, the idiot neighbours who like their park their ugly shitbox in front of our house… and trying to find parking in Chinatown. I have to admit, fighting over parking spots, let alone trying to navigate orange cones, reserved bus lanes and dodging falling concrete overpasses can get strenuous when all you want to do is eat. We were told about this Chinese spot way up-town a few years ago and we have been going there each time hunger wins over the desire to put ourselves through anxiety and headaches.
We hit up this spot, Maison Foo Lam on L'Acadie for some awesome Chinese grub. Since the day we had our first meal here, we knew that this restaurant was going to be a favourite amongst our family. Comparable to Chinatown, we always go in knowing exactly what we want to eat.

We started off with a few fresh monster sized oysters steamed with fermented black beans, garlic and scallion oil. Although oysters isn't for everyone; I believe that an oyster in this context is a great opportunity to be re-introduced to greatest, hornifying molluscs. Usually the preconceived "sliminess" of the oyster meat is a turn off, however, when cooked, the meat is tender and substantial. The fermented black beans and garlic lend an earthy aroma while the scallion oil, cuts through the thickness with a sharp bite.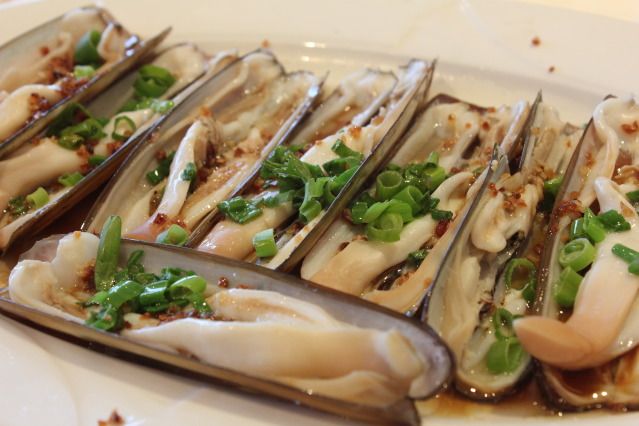 Next to show up was the razor clams steamed with soy sauce, and oil fried garlic and topped with scallions. If you've never had razor clams before, they taste the same as your ordinary clams, only they look like two people fought for the last one and stretched it out and it got stuck that way… Kind of like that face your mom told you not to make and look at you now… oh, never mind. Foo Lam doesn't receive razor clams on a usual basis, so you will have to inquire about them, or the waiter might tell you that they have them in on special that particular day.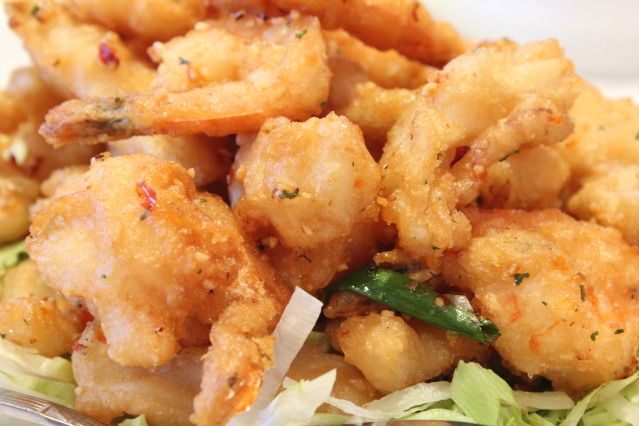 We also ordered the salt and pepper fried three seafood. Shrimp, squid and scallops, battered and deep fried with chilli pepper and bell peppers. Extremely crispy and SPICY, I suggest you find and eat the squid first. With this dish, I've always found that the squid retains the most moisture thus being the first to repel itself from the batter like you do from your mom's good-bye hug at the drop off in first-grade. So I would highly suggest you try rummage for them bad boys first.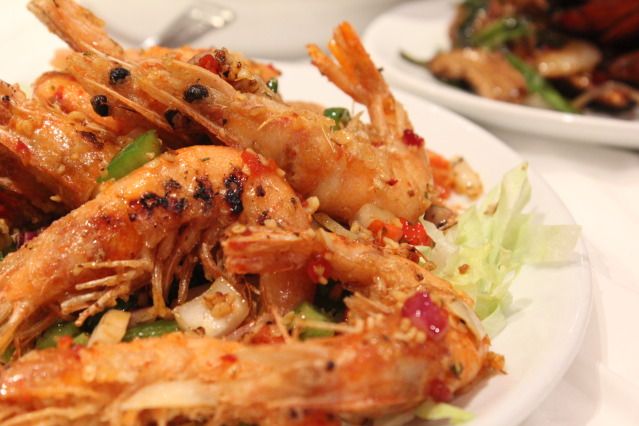 Next was the salt and pepper fried shrimp. Similar to the previous dish in preparation, the taste is comparably different, as the shrimp weren't coated in thick batter. The best part of this dish was the fact that the heads are left on; with each decapitation results in a mini version of that scene from indiana jones where they're sitting in front of a monkey skull devouring its brain, but in this case, you're pinching the shrimp head and sucking its brains out. Spicy and bouncy, the heat from the chili and salt permeated the shrimp shells and made the meat flavourful. I've always found that the shell is dehydrated and fried to a crisp enough that it's pretty much edible, so what ever bits of shell that I can't be bothered to remove, I'm not worried about eating it.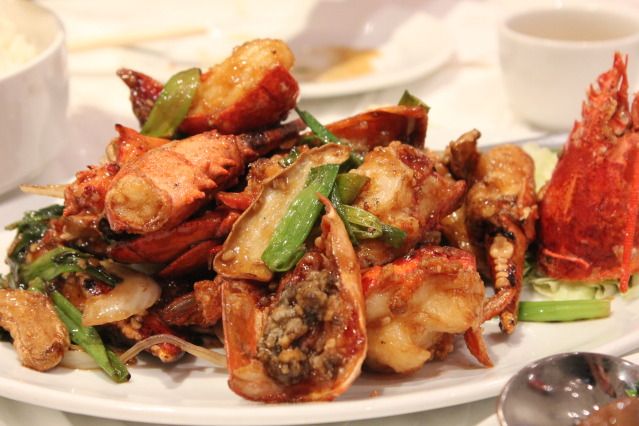 Ginger scallion lobster. Most Chinese restaurants will offer lobster in just a handful of preparations, this being my favourite. Coated in a thin layer of corn starch then stir-fried in a wok, the lobster takes on the incredible smokiness of the "wok-hei". The addition of the scallions and ginger make the lobster extremely aromatic while contrasting and bringing out the lobster's natural sweetness. Take your time and do this lobster justice, explore every nook and cranny for all that crustaceany goodness.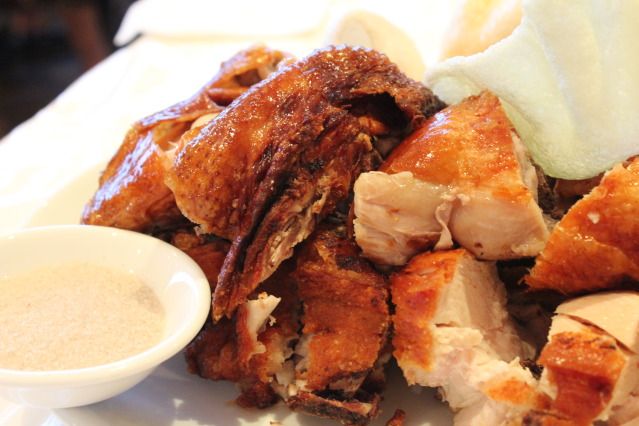 We also ordered a whole crispy skin chicken – this dish is available in half and whole chicken. The chicken is brined then let to air dried before it's fried in oil. I was told that the key to having super crispy skin was to let the chicken dry as much as possible, drawing the moisture out will react better when it meets the oil to foster a optimal crispy skin. The dark meat was flavourful as always, the white was a bit dry. This dish is served with a dipping dish of Chinese five spice powder and salt and topped with fried prawm chips.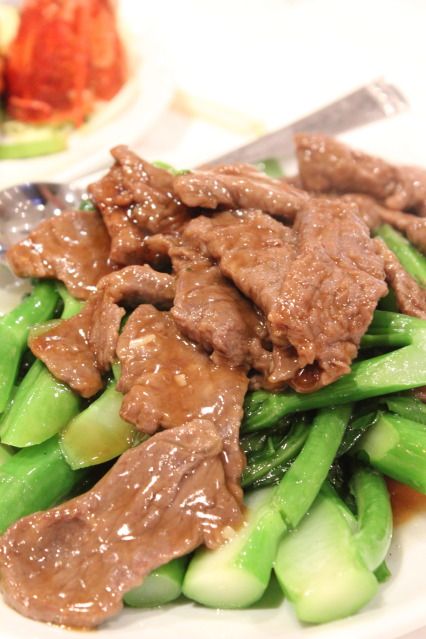 When the waiter came to take our order, and we got to the end of the list of things we wanted to eat, he noticed and interjected that we didn't have any vegetables. It's customary in Asian culture to have some sort of vegetables for each meal; so because we didn't have any vegetables, we ordered the beef… with Chinese broccoli. Thick-stemmed and leafy greens, Chinese broccoli (gai lan) is one of my favourite greens; nicely underdone the leaves were soft and the stems tender and snapped. As with most Chinese prepared beef, the beef was quickly marinaded in corn starch and cooking wine and soy sauce, rendering it tender when cooked. The dish was dressed with a gravy made with the jus au wok.
Like I said, I've always considered restaurant Foo Lam comparable to Chinatown, it's a bit out of the way, but at least you don't have to compete for parking. They have a pretty eclectic menu – as it has Thai and Vietnamese items on the menu. Not to cause any confusion, they have different chefs in the kitchen that specialize in the different cuisines. With live seafood tanks in the dining room as well as a bunch of tis showing different news stations in various Asian languages, the atmosphere is a bit unique. Restaurant Maison Foo Lam shares the same entrance as Sharky's Pool Bar, so fret, just follow your nose.
Restaurant Foo Lam
(514) 383-7878
9394 Boulevard De L'Acadie