I'm not a big fan of DIY anything let alone when it has anything to do with food. Having to put together my girl's Ikea closet unit last week, I went through six different tools, an extension cord, two t-shirts and googling the instruction booklet (having ripped it when it got trapped under the stupid thing and when I brilliantly tried to pull it out.) The shit said that two people would be able to assemble this two-metre tall unit, but they failed to mention only if your names and Bjorn and Sven and are 7-feet tall and can bench a deer. So imagine my dismay when I was expected to cook/assemble my own food… especially when I was a paying customer at a restaurant.
I say this because I found myself sitting in front of a bunch of ingredients which would be my dinner… if I were to put all the pieces together. This is how it went down; my friend J and I hit up this Vietnamese spot in Cote des Neiges – Hoai Huong.

We split an order of Hoai Huong's specialty spring rolls. A bundle of rice noodles, grilled pork, mint, thai basil and shredded lettuce. "But what makes this spring roll so special" you ask? The fact that they use finely shredded pork skin dusted in roasted rice powder. For the added obvious texture, the roasted rice powder also ads a totally heightened level of smokeiness to the grilled pork. Served with a side of fish sauce – tangy and sweet, the dipping sauce is not what is typical of fresh spring rolls (peanut sauce). Remember – Vietnamese: spring rolls are fresh, imperial rolls are fried; Chinese: spring rolls are fried with rounded ends, egg rolls are fried with flattened ends… then to the left, to the left, to the right, to the right, do the tootsie roll.

I make it a point to try and order this dish every time I hit up this spot. Bo Ba Muon – beef served three ways. Tender sliced of beef either wrapped around various fillings then grilled and topped with a sweet soy sauce. Thick slices of caramelized onions wrapped in beef, slices of steak wrapped in wild betel leaves, Vietnamese beef balls wrapped in slices of beef. This dish is served with a side of vermicelli noodles topped with peanuts and scallions and on the other side, a flourish of fresh herbs and vegetables – which included, mint, Thai basil, cilantro, Vietnamese coriander, lettuce and pickled carrots.

This dish is served with a stack of softened rice paper wrappers for you to make little bundles of beefy and noodley goodness to slam into their fragrant lemongrass, ginger and garlic dipping sauce then smash into your face. Ideally, this dish is a great option to split with someone, the portion is huge.

My homegirl J ordered the sugarcane shrimp paste. This dish is eaten like the previous – served with a side of noodles, fresh herbs and vegetables and softened rice paper wraps, to make your own rolls. The shrimp is mixed with garlic, lemongrass and scallions, takes a ride in the food processor and is whipped up into a frenzy (like how I like to heavily dose my nieces and nephews with sugar and get them all nice and belligerent right before bedtime as I'm stepping out the door).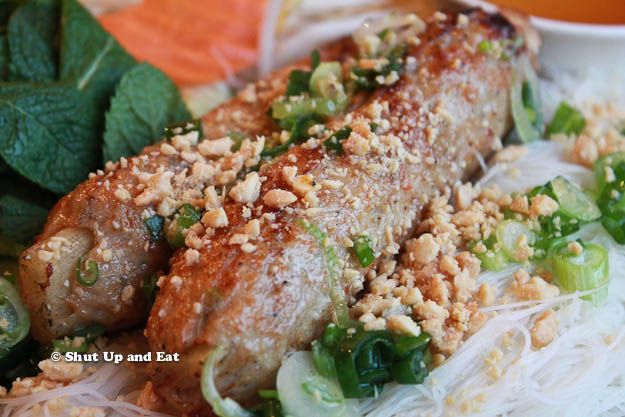 The paste is is then packed on sticks of fresh sugarcane and then grilled. The overt natural sweetness from the sugarcane is apparent in the shrimp paste and is balanced with the tart dipping sauce. Once you've cut off all the shrimp, remember to chew on those sugarcanes! The burnt tips are the best!
Normally I'm a firm believer of not having to work for my food – as in, I'm paying for it; Why you gotta have me all up in your spot rolling my own dinner? Now if these dishes were served up pre-wrapped, on point and ready to eat, it wouldn't be the same. I would forego any type of pageantry and show in my meals to facilitate the eating, but it's the ritual of this dish that makes it special. Taking the time to meticulously pull apart the noodles, slice up the beef (or de-cane your shrimp paste) then place it in the rice paper, gives you the opportunity to experience it.
Hoai Houng is a place for Vietnamese food, and by food I don't mean pho. I'm not going to front and gush about their fragrant pho or "tokinese soup" and how this and that and spices and shamalama ding dong, spatula, bananas and humidifiers… their pho game is whack. Clear and simple, I'm not afraid to say it – the people know it and is pretty much evident by the fact that 11 times out of 10, most of my Asian peeps aren't copping spoonfuls of their soup noodle. But hey, if you've had it… by choice and by your own free will and you like, then it's all good.
Restaurant Hoai Huong
5485 Avenue Victoria
Montreal
(514) 738-6610