This fall season marks the first edition of Chef (and diabolical genius) Martin Picard's apple harvest season version of his Au Peid de cochon's Cabane a sucre – which is aptly called "La Cabane aux pommes". Like geeks flocking to get in line for the newest iBoner gadget, foodies and fans alike, patiently wait for a phone call confirming email reservations to this mecca of duck fat and temple of porky goodness.
A group of us trekked 20 minutes north of Laval to see the call that Martin Picard was making to challenging his public to see if they were ready for what he had in store for us. Having looking forward to this day since my reservation confirmation in May, I for one already had my legs spread ready in anticipation for what was about to come, especially after reading the official release of their menu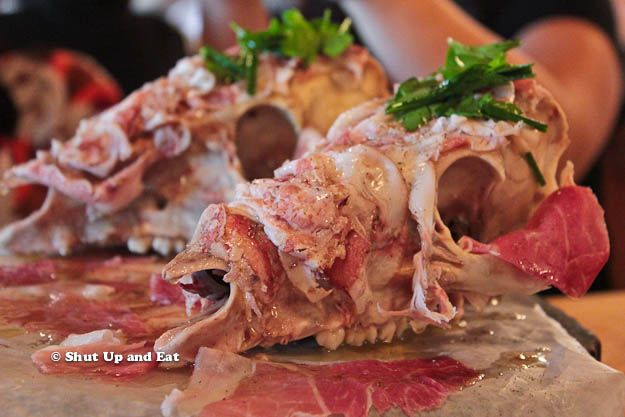 First course was blatant "What's up now, bitch?" prelude of the meal to come. Cured ham and headcheese served on the skull, drizzled with with a complex vinaigrette of olive oil and souls of vegans. Nice appetizer to evoke our inner neanderthal as we sat on a long table grunting in celebration of the autumn harvest. I paired each bite with one of the jarred pickles that greeted us at the table when was arrived – a corn relish, sweet cucumber pickle and an eggplant pickle – the garnish of parsley and pickled shallots also made each forkful lighter cutting through the unctuousness of the pork.

Goat yogurt with honey on the comb topped with grated foie gras. A far stretch from goat cheese and its discernible tang, the yogurt – firm and velvety – was in itself muted in flavour but was sweetened overtly and predominately by the generous cubes of honeycomb. The grated foie gras added a completely different dimension of richness and deepness in savoury flavour.

To round out the appetizer course came a gigantic bowl of cream of squash au gratin garnished with thinly sliced apples, and topped with crushed Amaretti cookies. This impossibly smooth soup left silks of melted cheese dangling off your bottom lip with every spoonful as you played with it in your mouth as you tried to decide whether to swallow it or paint a room with it. The apples added a tart sweetness to the soup and texture – as did the crushed cookies – which was reminiscent of crumble, making each bite taste like eating an apple crumb pie chased with a shot of cheesy soup. AWESOME.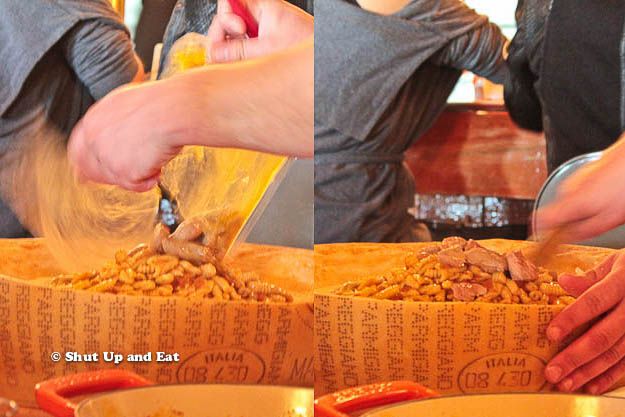 The first of the main courses was a show. Half a wheel of parmesan was pushed out on a red metal tool bench. Our waiter lovingly dumped homemade cavatelli and chicken liver ravioli and doused it with a piping hot apple and Calvados sauce and began to scrape the sides and grate the cheese into the dish. He then emptied a sous-vide bag of confit apples and a bag of confit foie gras into the mix and folded everything together. With a dash of the apple mustard condimented on the table, each bite was tangy and sharp.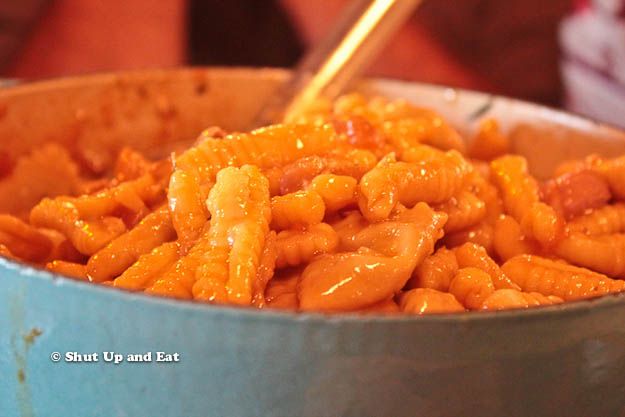 This was the turning point in the meal… the point where I knew I had the distinct responsibility to get the passengers of my car and myself home safely without falling asleep. This, my friends, is the architect of the greatest nap you will ever take – the old guy that sits in front of the vintage television screens in the Matrix of your afternoon – because when it decides to flip the switch, you will be sleeping, whether you see it coming or not.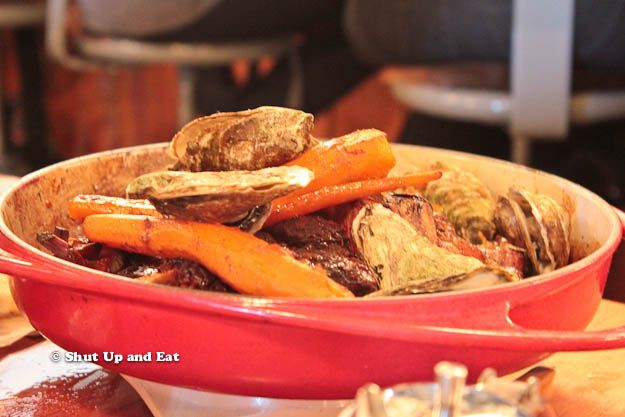 Next course came in as a trio of Au Pied de Cochon's sinister interpretation of "Surf and Turf". Apple glazed beef roast with roasted carrots and oysters in the shell. The beef was tender and the bone was removed with little effort. The open sweetness that the apple glaze lent to the beef was evident and helped with the caramelization of the roast.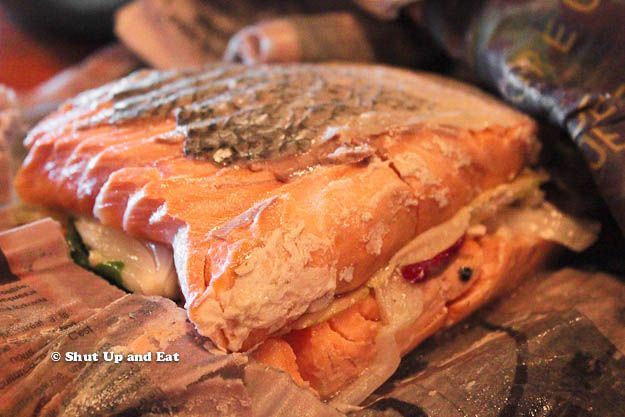 With the beef, came a salmon "en papillotte" – (wrapped in newspaper and twine) stuffed with onions, apples, baby bok choy and basil. Their steaming procedure is a science, as our fish was perfectly cooked when unwrapped at the table – a blushing pink in the centre, paralleling the shade of skin tone on my stomach under the tightening of my belt buckle.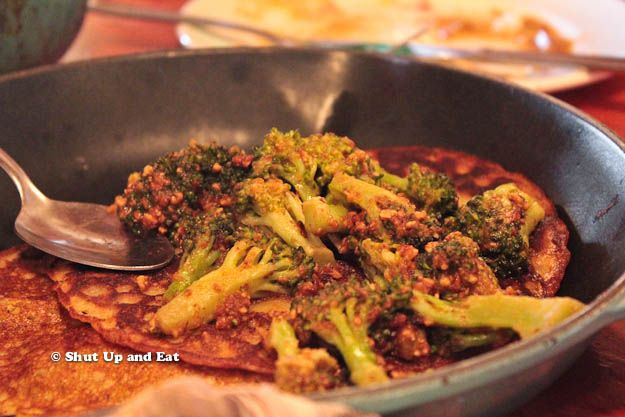 Served with a side of two different kinds of crepes, eggplant and hazelnut broccoli, we were instructed that the ideal way to eat this dish was to get a little bit of everything in the crepe and eat it all together. I never knew how delicious a broccoli and hazelnut pancake would taste – let alone one made with eggplant. It goes to show that unique flavour combinations that come out of Picard's kitchen is faster and easier than people learn how to dance the Gangman Style.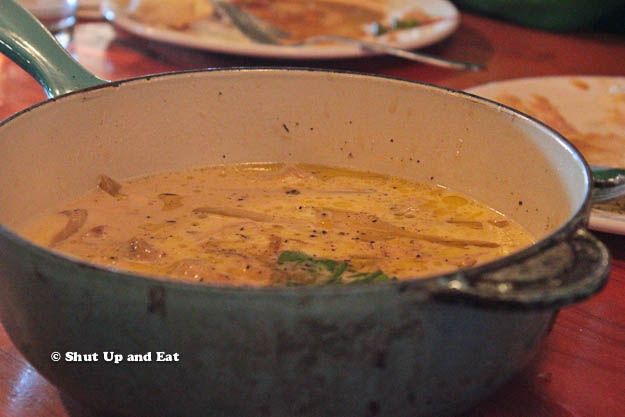 The sauce for the fish was a cream based apple cider sauce with clams and escargots. Yeah, I know right?! When over the top isn't "over" or "top" enough, throw some escargots in there and serve it with pancakes – Just when you think Martin Picard couldn't be outdone… Martin Picard got out Martin Picarded by Martin Picard. P.s. the pancakes were, yes, fried in duck fat.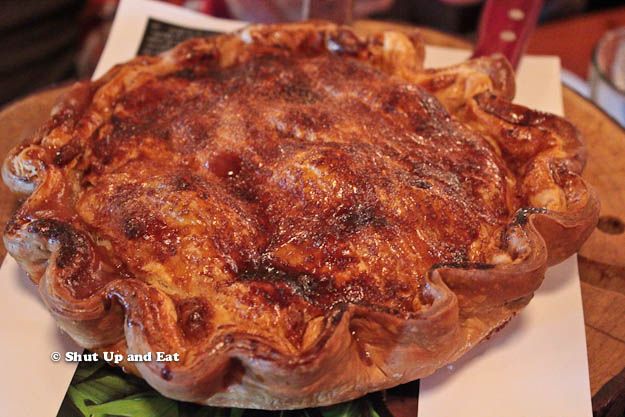 First of the dessert course was what else? LASAGNA! Yes, a lasagne that was actually an apple pie. Impossibly flaky crust gave way to buttery and tart apples swimming in a caramel sauce.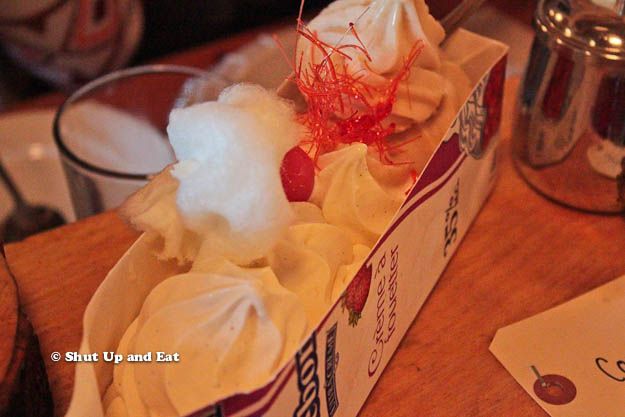 Paired with the pie was three mounds of vanilla ice cream, apple and cinnamon sorbet, whipped cream, homemade maple cotton candy and shards of sugar tuile. Doesn't get much more classic than that, apple pie a la mode – should be mentioned that the pie was screaming hot straight out of the oven and was served on glossy test prints of The Au Pied de Cochon book.

Finally, approaching the half way point of our lunch before the intermission and then the rest of our marathon meal (not really) came the caramelized apple soufflé. Light and fluffy soufflé perfectly risen out of its baking dish, the meringue fostered a creamy taste which was complimented well with the smokiness of the apples. We each had a taste, and left it barely touched – by this point of our meal, our pancreases probably looked like a prunes, squeezing out every drop of insulin it could muster.
Going to the Cabane a sucre aux pommes was a great experience. For they first year of this event, I look forward to the upcoming ones as they've had the luxury of practicing with the spring time maple season gluttony meals. I know that reservations for this year's apple season harvests are closed. I write this review and recap to inform… not to rub it in… well yes, to rub it in just a little – But more importantly because I want you to get involved and get in on this opportunity and absolutely amazing dining experience and sensory gang bang.
Only word of warning, drive carefully… or bring a designated driver – preferably a vegetarian and be conscious of the mass exodus of the apple engorged zombies rolling out of the parking lot looking for a place to nap.
Keep yourself informed on the official Au Pied de Cochon website and Tumblr. Check out my review of this past spring's Cabane a sucre here or read about my review of Au Pied de Cochon – home of the foie gras poutine here!
Maple season reservations start on DECEMBER 1st! MARK it down NOW!!!