Writing a food blog is sometimes good, and then sometimes it can be as awesome as tagging your buddy in the nuts with a Kinder Egg from accross the room. I get to taste some of Montreal's most interesting dishes, in the most peculiar of places and explore neighbourhoods I would not normally get to see or experience. So I'd like to thank YOU, my readers, for your continued support as I discover new and exciting things in our city, as it is your interest in what I eat that keeps me motived to share Montreal's tastiest meals.
I hit up this Indian joint in Cote des neiges the other night called Thanjai who brands themselves as the "First authentic south Indian restaurant" in Montreal. I walked in and had a feeling that this was the best Southern Indian food I'll ever experience in Montreal. The menu was an extensive lesson plan in Souther Indian cuisine history, flavours, cooking technique, etymology, phonebook, lawnmower manual and part script of the Twilight prequel. Being a table of four and on a mission, we order from multiple sections of the menu and we order hard.

We started with a handful of appetizers – Masala Vada. Best described as a "bean-cake", made with black chickpeas and black lentils, chilies, onions and rice, fried into a fritter served with a tangy tamarind sambar. A larger and flatter, Indian version of a falafel, only more aromatic and completely different.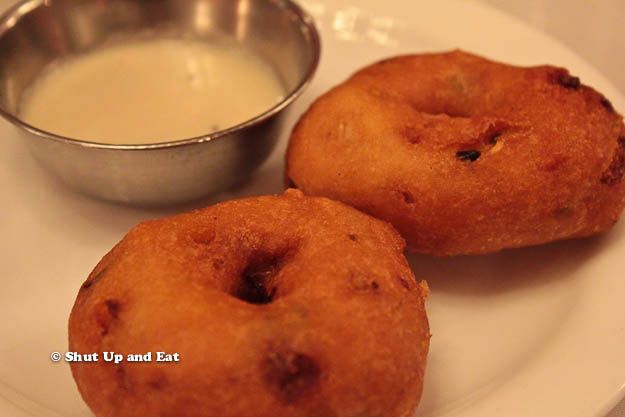 Next appetizer were the Medhu Vada – a savoury doughnut made with dal and lentils served with a mildly sweet coconut sauce. What stuck me first was the texture of the doughnut, dense, and gritty, it took to the dipping sauce very well. A completely difference experience for me, being use to the idea of doughnuts being sweet, the medhu vada had savoury qualities on your palate.

We also had an order of mutton rolls; eggroll skin filled with spiced potatoes and mutton, which is rolled in breadcrumbs and fried. Basically an Indian egg roll… an Indiroll. Served with a sweet and tangy tamarind sauce, conflicting sensory signals traveling from my mouth to brain was telling me that this was an egg roll – something that I've grown up eating – but the old olfactory system was in overdrive telling me I'm being lied to.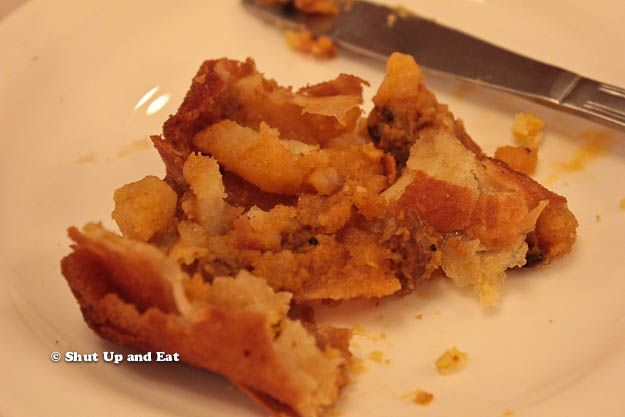 The mutton wasn't super noticeable amongst the cubes of potatoes and the subsequent mushy starch paste or in the flurry of flavours from the spices used, more than it was treated like filler "meat", but was tasty none the less. This roll comes in a chicken option as well.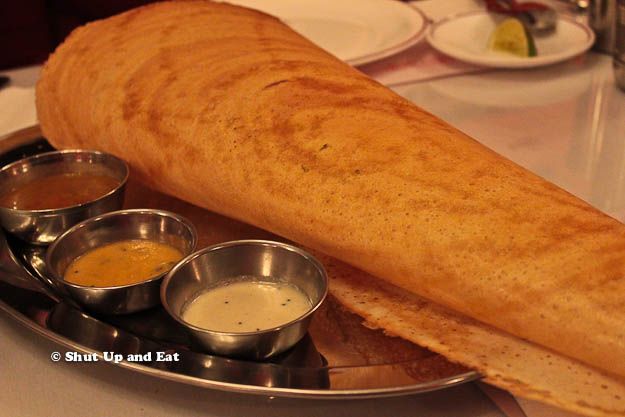 As our mains, we went wild like it was our first time at a southern Indian cuisine restaurant and ordered a bunch of stuff to share amongst the four of us. We started with the "Paper dosa"; as explained on the menu was an "incredibly large thin crepe". We asked the waiter for clarification to which he explained was a "large thin crepe". So if the detailed explanations weren't clear enough, we were presented with a big thin crepe. Served with mango-pineapple chutney, a coconut sauce and nostril hair singeing sambar, this crepe was… large… and thin. Not overtly sweet, it was treated like a base and excuse to eat the sauces and chutney.

The palak paneer dosa was the crepe stuffed with "palak paste", a spread made with fresh spinach, herbs, and cottage cheese. We soon realized the the dosa (crepe) is used as the vessel for the filling ingredients. Obviously not as crispy as the mothership paper dosa, the palak paneer dosa was wilted and softer where the filling laid, but held its crispy structure along the outter edges. The saltiness and texture of the cottage cheese was went well with sponge-like constituted crepe.

We also ordered the chicken Masala Dosa. The chicken filling was fragrant and spicy. A melange of complex spices cooked with pieces of chicken was highlighted by peppery coriander. My table mates were too busy wiping their brow of sweat cause by this dish and taking straight shots of yogurt to put out the fire; I for one didn't feel a thing, and contemplated wiping my face with the dosa.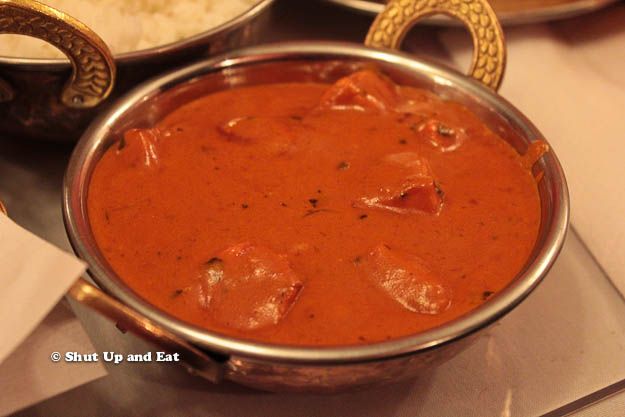 Being non-Indians in an Indian restaurant, we ordered the Indian version of General Tao Chicken… the butter chicken. Generous portion and rather large pieces of tender and moist chicken bathed in this pink and buttery sauce. Key: the chicken was tender and juicy – did not turn into a mouthful of sawdust like a lot of other places.

The naan was somewhat uneventful as was the rice, but it sufficed to sop up most of the butter chicken sauce… until we asked for straws and turned the metal butter chicken dish into a peudo-communal tiki drink.

Thanjai has a notable Hakka section to their menu – something that I have yet to see in any other Indian restaurant in Montreal. Albeit only three dishes, it's their humble nod to the Indo-Chinese Hakka population in India.
Being my first experience with "southern Indian" cuisine, I'd say it was quite successful. We all learned something new as well as experienced fragrant dishes that would clear most head-colds. The service was a slow at times and inattentive, but the gentleman who brought us the bill was clearly the owner and his smile reinforced the notion of hospitality and pride in the establishment.
Thanjai Restaurant
4759 Ave Van Horne
http://www.thanjairestaurant.com/


Very vegetarian friendly.