Unless you live under a rock or somewhere where technology and print media hasn't been invented yet like Chibougamau, then you would have gone through the entire first week of September not knowing it's Burger week. So consider this the morse code beeping telegram to inform you that in less than a week, rheumatologists around the city will be swamped with appointments and gout medication will skyrocket at your local pharmacy. In honor of this week of beefy gluttony, I'm putting out a couple of awesome burger recipes that not only can you make at home, but flood Instagram with food porny pictures of your creations.
On today's menu is… THE RAMEN BURGER.
Invented by chef Keizo Shimamoto of Go Ramen (http://www.goramen.com) sees a soy glazed burger with topped with green onions, boston lettuce and a bun that's made of ramen. Shimamato states that he uses a high quality ramen to make the "buns" and the technique used is a closely guarded secret. I take a crack at tackling the ramen burger.

Ingredients:
½ lb of medium fat ground beef (makes 2 burgers)
1 1/2 tablespoons Fish Sauce
2 cloves Garlic, minced
1/2 teaspoon Sugar
1 teaspoon fresh ground Black Pepper
1 stalk of green onion
1 bag of ramen – cooked and drained (I like Nongshim's Shin Ramyun, but use whatever you like)
1 egg
2 tablespoons vegetable oil
Mayonnaise (I like Kewpie mayo, but use what you have on hand)
I know the novelty of the ramen burger lies in the ramen being the "bun", but I realized that the burger itself needs to be tasty. This is why I've used and am giving you the recipe for my Umami Burger – I guess it's sort of fitting.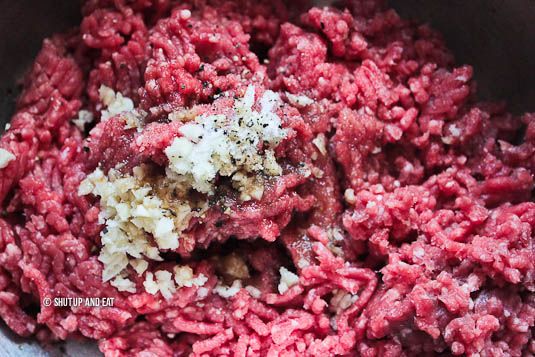 1) Mix the ground beef, fish sauce, minced garlic, sugar, and black pepper in a bowl, form into patties (the size of your palm), place them on a pan and place them in the fridge to set.
2) Cook the noodles as directed but don't add the soup powered to the water. In the same breath, don't throw it out either, add it to a cup of sour cream for a tasty dip for chips or veggies!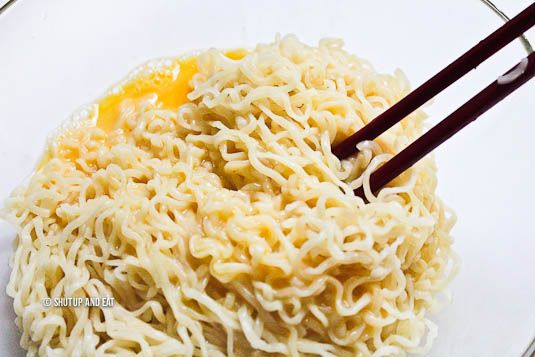 3) Crack and beat an egg like it stole something from you in a bowl then add the drained noodles and coat well. Remember to use chopsticks for this step like me… only if you sexy.

4) You will need to identical containers to form your ramen bun – you can use ramekins or takeout containers like I did. Line each of the containers with plastic wrap and portion your noodles in half. Fold the remaining plastic wrap over the noodles and press firmly. Do this for each of the buns. Weigh them down with a can and place them in the freezer for about 10 mins while you prepare your burger.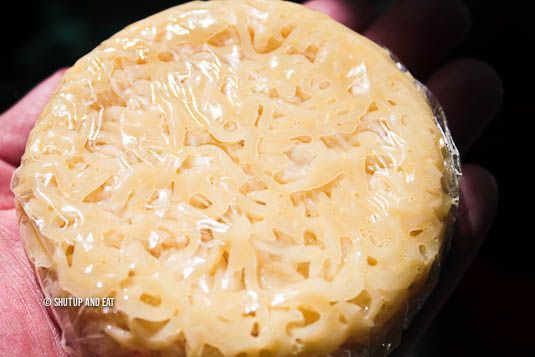 5) Once your burger patties are ready, oil a pan and take your ramen buns out of the freezer. You will need to move quickly and handle the noodles as little as possible. Unwrap the top of the package, flip it over and place directly on the pan and peel off the remaining plastic.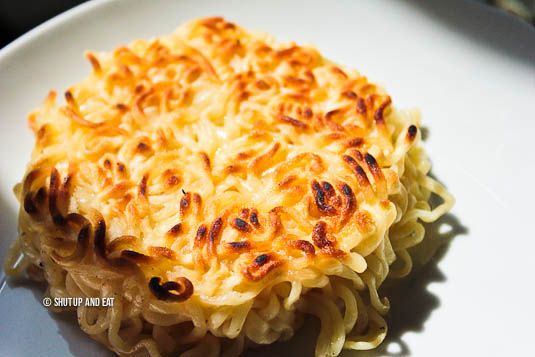 5.1) Fry for about 2-3 minutes or until the ramen bun can be moved without falling apart, flip gently and repeat until all are done.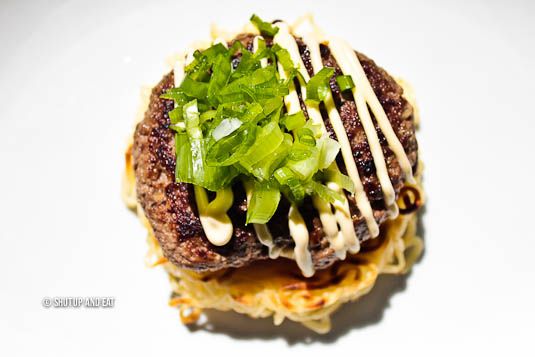 6) Dress with sliced scallions and drizzle of mayo, lettuce and tomato.
7) Enjoy!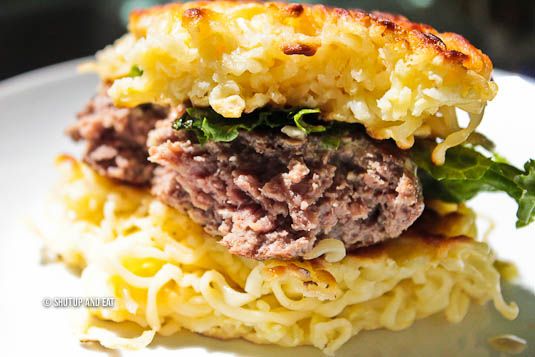 I'll be the first to admit the process to make this ramen burger is quite laborious and time consuming, but the payoff in the end is worth it. I wouldn't see myself making these often, but on occasion when the time is right, I would definitely whip this out of my cooking arsenal if I had some time to do it. To say the least the burger in its entirety is heavy and very substantial. The burger recipe has been a favourite of mine for a long time and is often a hit at bbqs. It does without saying that you can substitute the recipe for your own, but I found the flavours worked well in this context.
I think the next time I make this burger, I'll omit any recipe for the beef and just add the powdered soup packets into the beef to really get the ramen experience.
If you try out this burgers, make sure to tag me at @shutupandeatmtl on Twitter and Instagram! I want to see your creations!