On my never-ending quest to find Montreal's best Pad Thai, I found myself at this place in Ville St-Laurent called Sawadika. Ever since my favourite Thai restaurant closed a while back, it left a Pad Thai void in the city – every Thai restaurant that I've been to (so far) has failed in comparison. To perfect the combination of flavours and tastes to tantalize all areas of the palate isn't easy. The mastery of the taming of ingredients and having them succumb to the will of a fiery hot wok isn't a skill every chef possesses and it was very evident when I had lunch here.
We walked into a large cavernous dining space accented with golden palm tree lamps and decorative statues mimicking some 3-star Caribbean resort. Hot pink, purple, blue, green, and every colour L.E.D in the colour wheel lit up the walls in five-second nauseating intervals. We passed on the lunch table d'hôte and ordered form the regular menu.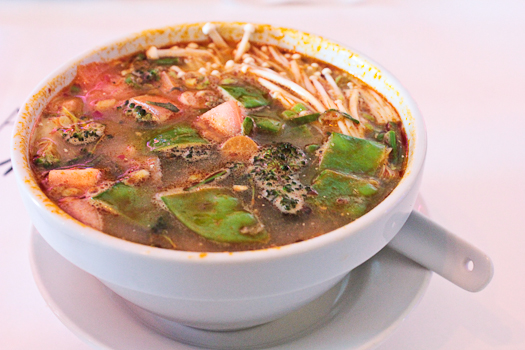 The Tom Yum soup lacked in the "yum" department. Ok, I'm exaggerating, well, actually no; the soup was alright and should have been called, "Tom Just-Ok". A savoury and sour soup filled with vegetables. Vegetables which were half cooked and seemed like they were grabbed from the same bin as the stir-fry mise-en-place and tossed into a pot of hot soup. The flavour of the soup itself was good, a nice balance of sweet, sour and savoury – which coincidentally is the name of my next boy band.

The green papaya salad was refreshing; thin sticks of julienned green papaya, tossed in a vibrant lime juice and fish sauce dressing peppered with garlic and chili. The roasted peanuts added a nice smokey element to the salad. Looking back, it's funny to think that the highlight of my meal consisted of something that wasn't even cooked, but more importantly… a SALAD.

We ordered the stir-fry beef and eggplant with thai basil. Swollen slabs beef tossed with what seemed to be five pieces of eggplant, and plate filler of peppers, onions, and snow peas. The sauce was sweet and was tasty over rice – plain jasmine rice, as they didn't have sticky rice at lunch.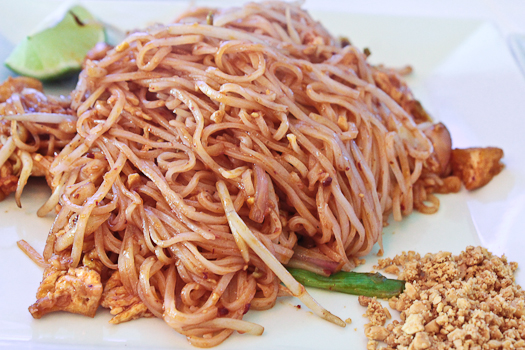 Remember in elementary school when the librarian set up a haunted house in the library and one of the games was you had to feel around in a box and try to guess what it was, and it was a "brain"? It was this. This large globule of jiggly congealed noodles looked like a nest from a sci-fi flick where "Patient Zero" becomes a host to some alien parasite. Ok, I know it's not fair to go on looks alone. But the taste and flavour of this dish paralleled the presentation struggle.

There wasn't any pooling of sauce on the bottom of the noodles – which was a good thing. The flavours were muted if not absent that a fresh spritz of lime juice couldn't even awaken. Fresh crunch from raw bean sprouts was almost completely missing as they were already mixed in with the noodles and became fully cooked by the time we got our plate. The chicken pieces were sparse as was the tofu.
Taken from Sawadika's website:
"A symphony of flavors combines the classic bistro cuisine prepared with a touch of Thai and Szechuan authentic dishes that consist of a harmonious blend of spicy, sweet and sour."

WAIT. Authentic Thai AND Szechuan? I would understand if the countries neighbour each other and there are cross-cultural culinary influences, but the two countries are so far removed from each other that even at Thailand's northernmost city, it's still almost 2000km away from Sichuan AND separated by two countries. Maybe the chef/owners have roots in either country… who known. Sawadika also calls themselves a "bistro"; I'm completely lost.
Again, disappointed by another Thai restaurant in Montreal. Seriously considering changing the name of this blog to "Shut-up-and-be-disappointed-by-the-state-of-Thai-food-in-Montreal-because-our-pad-thai-game-is-weak"… but it just doesn't have that certain ring to it. Maybe I expect too much? But I love Thai food. Don't say my standards are too high or this is just in my head because I feel this shit in my soul.
Bistro Sawadika
1800 Boulevard de la Côte-Vertu
(514) 339-1188
http://www.bistrosawadika.com/