Everyone has their own indulgences; some like fine imported wines, or Cuban cigars or even PVR-ing Keeping up with the Kardashians to watch alone at night under a blanket of shame. I on the other hand, like cake and sushi, both of which I'd love to eat more often but they are indulgences for a reason. Sure, if I could, I'd eat cake all day every day, but because, duh, common sense, and sushi because proper sushi is expeeeeeze. That's why when I find out there's a place to go for sushi that not only serves unique modern takes on Japanese dishes and traditional specialties, but who's chef is a noted up-and-comer in the culinary scene in Montreal, I knew I had to check out Sogen – Sushi Restaurant in La Prairie in the South Shore.
I had the chance to check out the new sushi restaurant Sogen – the newest endeavour of the Chef/Owner of Le Red Tiger Phong Thach – former chef/owner of Kaiji. Chef Thach could not stay away from his culinary roots in Japanese cuisine (being a disciple of renown sushi chef Tri Du of Tri Express via Treehouse and Kaizen) and jumped back into his wheelhouse when the opportunity arose.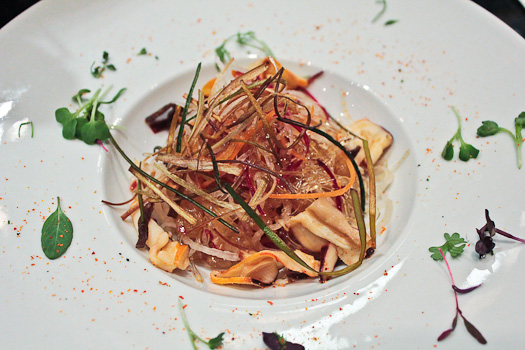 We started our meal with bang and hit the ground running with this shark's fin salad with jellyfish and ika kimchi. A dish that's proverbially marinaded in controversy, Chef Thach does not kowtow to social stigma as he showcased this enigmatic ingredient in an preparation that I've never seen before (I've only ever had shark's fin soup and dumplings.)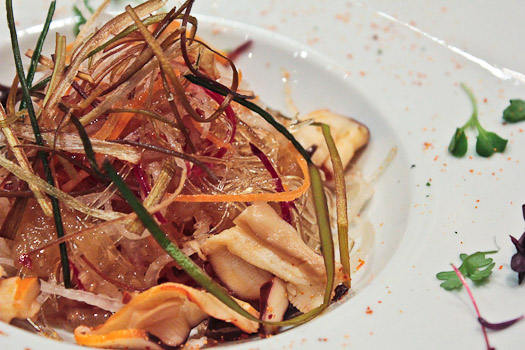 Toothsome strands of crunchy shark's fin topped on briny jelly fish studded with thin slices of squid marinaded in a fiery kimchi paste. The kimchi marinade surprisingly did not over power the taste of the squid; it added a subtle spicy aroma to your palate. When eaten with the smokey garnish of fried leaks, each bite had a deep aroma and umami to it.

Scallop carpaccio in jalapeño ponzu vinaigrette topped with tako wasabi. The muted heat of the jalapeños and wasabi accentuated the natural sweetness of the scallops as well as the raw octopus. Garnished with crunchy tobiko and exploding ikura, this dish is a well composed clinic in textures and flavours. The oily bursts of omega-3s from the salmon roe is luscious and is exactly what luxury tastes like in your mouth.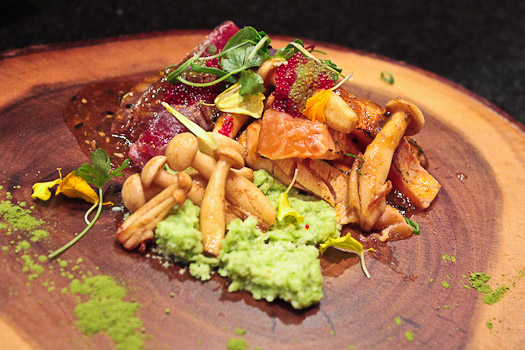 Duo of tuna and salmon, served with sautéd shimiji mushrooms and edamame purée. Gently seared tuna and salmon was served with a slightly sweet ginger and sesame sauce. The natural nuttiness of the edamame shines if you make sure to include a touch of the garnish matcha powder to your bite.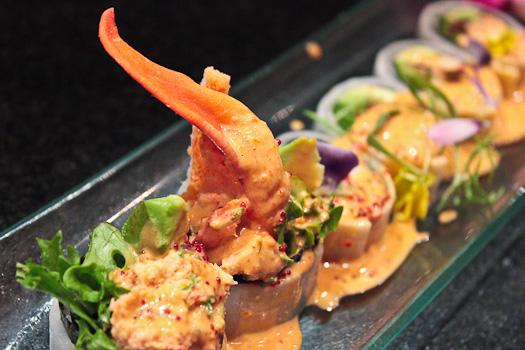 Spicy yuzu lobster rolled in thinly sliced daikon and nori. The bite from the raw daikon wasn't as overbearing as I initially thought it would be. Subtle. It added a different kind of heat to each bite similar to horseradish or wasabi that complimented the spicy sauce mixed with the lobster. I must admit I'm the first one to order spicy mayo when I go for sushi, but with a roll this sumptuous, I would have preferred it on the side as to not take away from the taste of lobster and gorgeous aesthetic of the spiralling sushi roll.

The Volcano roll – smoked salmon, fresh salmon, onion, avocado, caviar, kanikama and cream cheese lightly fried in a katsu tempura batter. A very substantial roll (that was practically a meal in itself) that was served in a spicy cream sauce with teriyaki drizzle. The filling was very generous and it seemed like the rice was there just for formality sake. I've seen similar rolls on menus at other restaurants where a cross-section of the thing sees more rice padding than a bouncy house than actual filling.

Grilled hamachi neck with togarashi served with a ponzu and dill dipping sauce. Pinstriped grill marks added a smokey aroma to each bite of the lightly seasoned tuna collar that was inherently tender and juicy. I could probably eat a pile of these with a big bowl of sticky seasoned sushi rice and a cold one. The best part of the collar is where the meat meets the bone and you get to suck out chunks of glorious fatty bits from in-between the cartilage.
Taking full charge of the kitchen and overseeing the menu conceptualization at Sogen, Chef Thach displays his confident creative fortitude by introducing exotic tastes and flavours to the locals in La Prairie while enticing and winning over the population of neighbouring Brossard. The branding says "Resto bar-sushi-grillades", but it's so much more and the dishes I tried is a testament to that. Sit at the bar and ask the Chef to freestyle for a great overall sense of the menu or even if you're into having the chefs prepare off the menu specialties à la minute.
170 Taschereau Blvd.
La Prairie, Quebec
(450) 444-7878
http://www.sogen.ca