Get focused immediately because your strict salad regimen starts TODAY. Dust off your gym pass because you're going to be upping your cardio in preparation for one of the most anticipated festivals of the year: La Poutine Week. Next week, February 1st to 7th, Montreal will be celebrating our unofficial-official national dish, the poutine. This fourth annual week-long festival will see over 40 restaurants in Montreal serving creative takes on the humble poutine!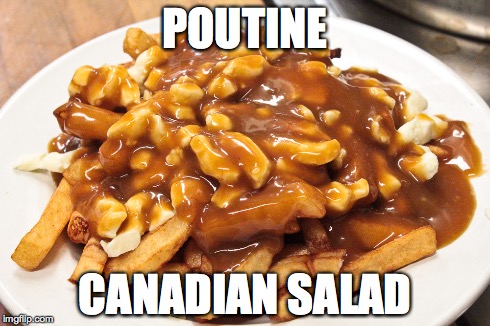 The 2016 edition of La Poutine Week will feature the introduction of La Passe Poutine – a bracelet that will entitle you to a 15% discount off of all specialty poutine dishes at select partnering restaurants.
Download the app, 'La Poutine Week' from the iOS and Play store, to keep track of where you want to go and what you which poutines you want to eat and use the app to scan the special code to cast your vote in the categories such as, "The Peoples Choice Poutine", "The Healthiest Poutine", "The Most Original Poutine", and more.

Do you like poutine? Of course you do! That's why I've partnered with La Poutine Week to give you the chance to win one of three "La Passe Poutine 20" packs! All you have to do is leave a comment below answering,
"Where do you like to go for poutine?"
Register your entry through the contest app below!
The Passe Poutine 20 includes:
-La Passe Poutine Bracelet (it can be used for an unlimited amount of time over the course of the festival)
-La Poutine Week tuque (value: 25$)
-15% off certain La Poutine Week Poutines* with the bracelet
-25% off your next Just Eat order
-$20 Uber credit for your first ride
A chance to win one of the following prizes:
-100$ President's Choice Gift Card
-Fitbit Charges
-Champagne and poutine dinner with your friends
-Gift certificates
So get your gym on! Here are some of the poutines you can expect during the 2016 edition of Poutine Week:

Bar Brutus – "Old Fashioned Poutine"
A classic poutine made with Jim Beam bourbon-infused cheese topped with Jim Beam bourbon poutine sauce, Angostura and orange zest.

Baton Rouge – "Lobster Poutine"
Signature fries, lobster chunks and cheese curds.

Brit and Chips – "Fish 'n Chip Poutine"
Poutine battered sole with chips smothered in gravy and cheese curds.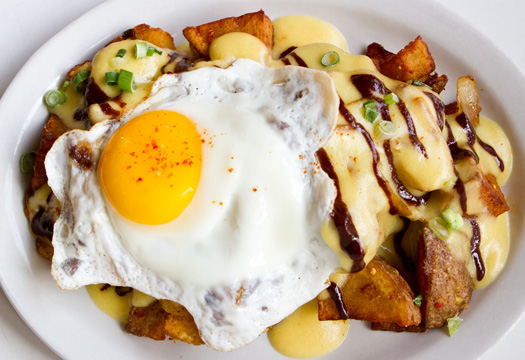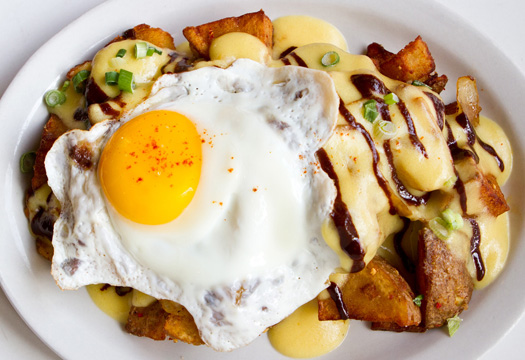 Faberge – "Chocolate Breakfast Poutine"
Potatoes, cheese, hollandaise, mole and coffee-rubbed macreuse steak topped with a perfectly poached egg.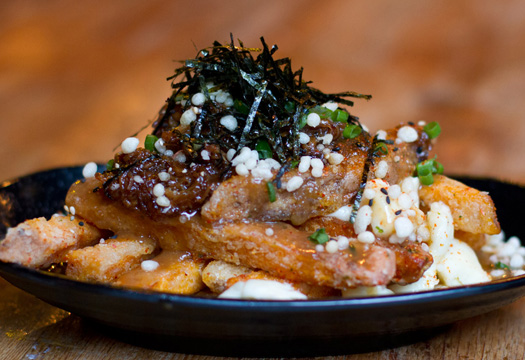 Biru – "Hyottoko's Poutine"
Sweet potato fries, white miso gravy, cheese curds, tempura flakes, teriyaki-glazed pulled pork, toasted sesame oil, kizami nori and togarashi.

Dirty Dogs – "The Mac Attack"
Fresh cut fries, homemade gravy and cheese curds, topped with their famous four-cheese mac & cheese, fried smoked bacon and green onions.

Bofinger – "Bo Poutine Burger"
A grilled triple-A beef patty, sandwiched between two French fry "buns" topped off with cheese curds and their signature peppercorn poutine sauce. Vegetarians may replace the beef patty with a Portobello mushroom cap at no extra cost.

Le Gras Dur – "Le Poutine Tousqui"
Fries, cheese curds, homemade sauce and smoked bacon stuffed with Swiss cheese, chicken schnitzel and braised cabbage.

Les Soeurs Grises – "Poutine LA TOTALE"
Potato hash browns cooked in duck fat, mixed with pulled pork barbeque sauce and maple syrup, with a slice of Charlevoix cheese and sour cream.

Les Enfants Terribles – "Poutine Bourguinon"
Fried baked potato mixed with beef bourguignon short ribs and truffled cheese.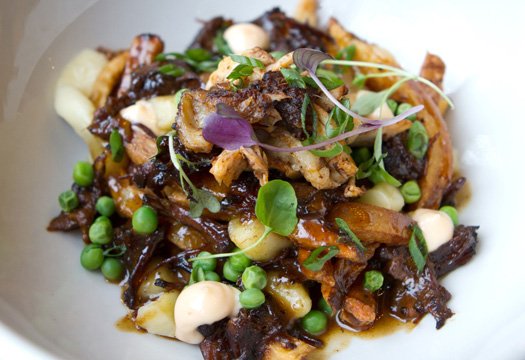 Rosalie – "Jerk Chicken Poutine"
Jerk spiced organic chicken, Québec cheese curds, braised oxtail gravy and scotch bonnet aioli.

Pub Brewskey – "BreWskey Poutine"
Yellow and sweet potato fries and cheese curds covered with veal and beer gravy, topped with caramelized onions, pulled bison braised in dark beer, and finished with beer-fried shallots.

Restaurant Chez Chose – "L'Expos-Go"
Homemade pogo on Yukon gold fries and award-winning Zacharie Cloutier cheese topped with yellow mustard gravy in honour of the Montréal Expos.