Every neighbourhood likes to have things to call their own. Like a watering-hole for a casual 5 à 7, maybe a boutique specializing in incense and dream-catchers or even the dep that sells loosies and wine coolers to under age kids. But most importantly, any neighbourhood worth their weight in pot-hole fodder has a local pizza joint. I recently hit up a local pizza place – Bacaro Urban Pizzeria for some delicious traditional thin-crust pies.

What does "Bàcaro" mean? According to their website, a "bàcaro" is Venetian slang for a place where locals go when want to have a quick bite or simple drink. They have two locations and I visited the one in the Monkland village in NDG.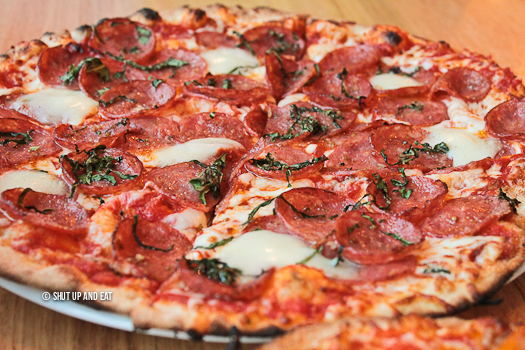 They offer a modest sampling of snacks, pastas, salads, desserts. But at the heart of their menu is great pizza cooked in a wood-burning oven. We started with a simple pepperoni pizza with fior di latte and basil. The best part about small slices of pepperoni is when it to cooks and the little discs start to pucker. Why is this a good thing? It leaves the rendered fat and oil pooling in the centre that when you bite into it, the intense heat of the oil singes the roof of your mouth making it hurt so good. You can't go wrong with a classic pepperoni pizza.

The Capricciosa – mushrooms, artichokes, olives, mozzarella, topped with prosciutto. The slices of earthy mushrooms and tart artichoke gave this pizza great depth of flavour. The two lonely slices of proscuitto really didn't cut it for me. Although they added the needed saltiness to the pizza, it was literally gone after the first bite of your slice. Maybe I'm saying this because I love proscuitto, and would probably find any excuse to eat it on its own, or maybe there really just wasn't enough.

The Zaza – crumbled sausages, mozzarella, roasted peppers and topped with basil. YES. A million times yes. The pizza was bold and flavourful. The crust on it (like the others) was thin and typical of traditional Italian pizza. The basil accented the fennel in the sausage and sweetness of the peppers. I personally would have liked a little more chew to the dough, but it was substantial enough to hold the sauce and toppings to not get limp and soggy.

As I said, Bacaro serves other things on the menu but specializes in pizza – which is a good thing – you won't wait long for your pizza. But because they specialize in pizza, other parts of the menu may be missing some love – which is a bad thing. Example, the frozen chicken in our Rucola salad. The mix of arugula and pine nuts drizzled with lemon olive oil vinaigrette and dusted with parmigiano ground our meal to a halt when I bit into a semi-frozen piece of chicken. Albeit, fully cooked, there is nothing like a soggy piece of chicken inundated with thaw-water to put a literally damper on your somewhat very enjoyable meal. The salad was large and substantial and could have eaten as a meal on its own though.
The place is good. They have a great dessert section that we didn't get a chance to check out. Options like Homemade brownie served with caramel sauce, Nutella cream cake and Nutella fritters, you know I'll be back. When I read "Urban pizzeria" for the first time, I didn't know what to expect. Were the wait staff flossing gold-fronts, peddling their mixtapes, wearing Timbs and starting every sentence with, "Yo, yo, check it"…? Maybe they're using the concept of urban as an insinuation of being hip and trendy and the place to be? A spot to enjoy some drinks and a few bites? Not fully subscribing to tradition while leaving room for interoperation? Who knows? Or maybe a mix of everything… just like a real bàcaro.
Bacar Urban Pizzeria
5950 Monkland Ave.
514.303.9303
http://bacaropizzeria.com