What's your favourite comfort food. Mine has to be the sandwich. It's so versatile. Every culture and cuisine has a version of a bread-like carb vessel that holds meat and vegetables. The Chinese have baos and roujiamos, Vietnamese have banh mi, Middle-East has pitas, Venezuela, arepas, the list goes on. I grew up on sandwiches and I like to consider myself the King of Sandwiches. I can turn anything into a sandwich. Perhaps my affinity for leftovers comes from the fact that I kind of look like a sandwich myself. I have a soft and fluffy interior covered by a hard crusty shell. I'm often slathered with a slippery coating and stuffed with meat with some vegetables thrown in for decoration. Being said of how much I love sandwiches, you can imagine my excitement when I found out that Boucherie Marchigiani finally reopened.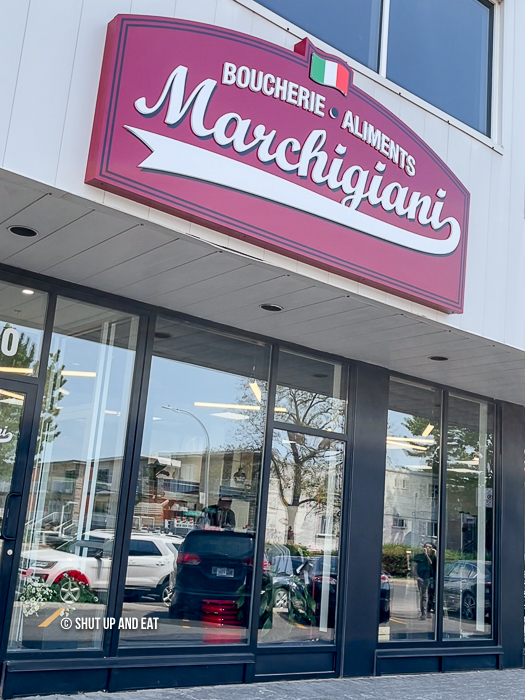 This iconic Lasalle Italian butcher shop sadly closed last fall due to a fire. After a securing a new locale, Boucherie Marchigiani now lives down the street. Same store, new updated look. They've got specialty imported Italian products, a great butcher counter but above all an amazing deli counter serving sandwiches and hot meals.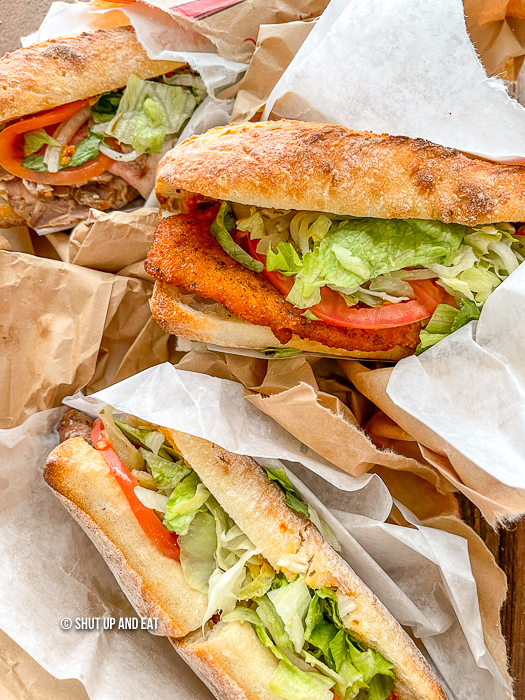 Their hot menu changes daily; osso buco, roast chicken, sausage peppernotta and a variety of pastas fill the roster. But I come for the sandwiches and you should too. Classic sangwiches served on ciabatta with the works is what you're going to get. So after a while of withdrawal I went with the trio of heavy hitters.
Chicken Cutlet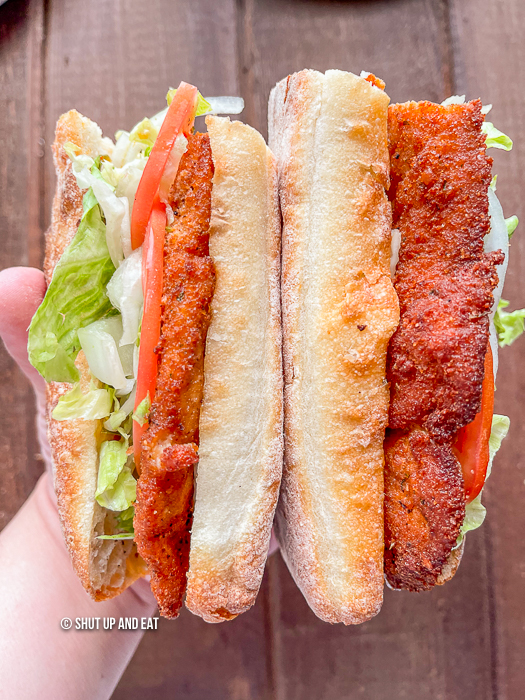 Marchigiani's chicken cutlet sandwich puts the "g" in sangwich. Tender and juicy chicken cutlets breaded and fried the way nonna used to. Please forgive me for using the words "juicy" and "Nona" in the same sentence. Doesn't matter what your background is, but there is something comforting about fried chicken, mayo, crispy cold iceberg lettuce in a fluffy, crusty roll. It's a safe place.
Please forgive me for including the word "juicy" and "nonna" in the same sentence.
Porchetta Sandwich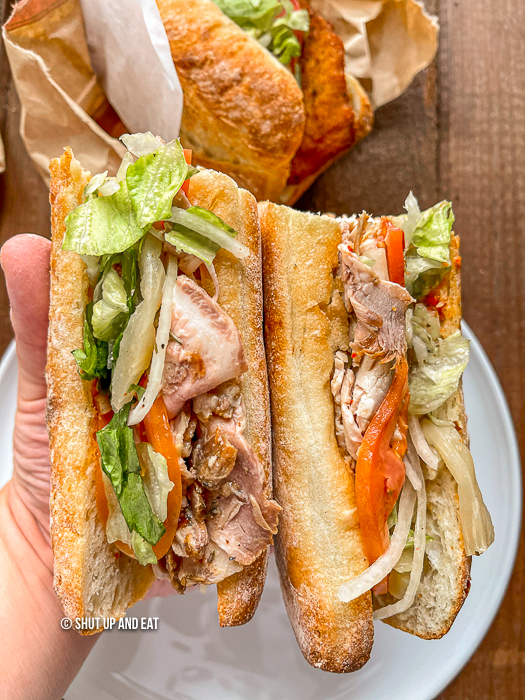 The porchetta sandwich is a staple at Marchigiani. Slow roasted pork belly, thinly sliced and layered between hot sauce and marinaded eggplants both wakes you up then puts you to sleep. Not for the weak, the shaved pork is fatty and unctuous but full of flavour. Feed this sandwich to you favourite vegetarian and change their mind.
Sausage Sandwich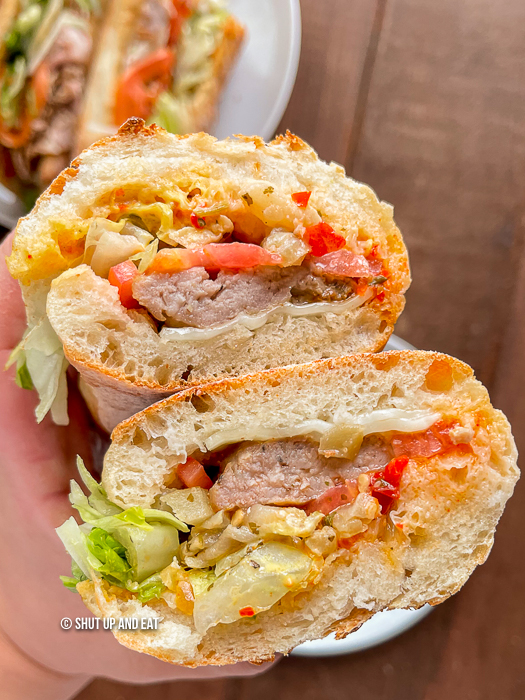 I also got a sausage sangwich. Pressed mild Italian sausage dressed with cheese, mayo, mustard, chili oil, marinated eggplant, onions and lettuce. Great savouriness from the sausage, fragrant in fennel and spices.
I got a "small" car sandwich. You know, a snacking sandwich you eat in the car before you settle in to eat your regulation sized sandwich.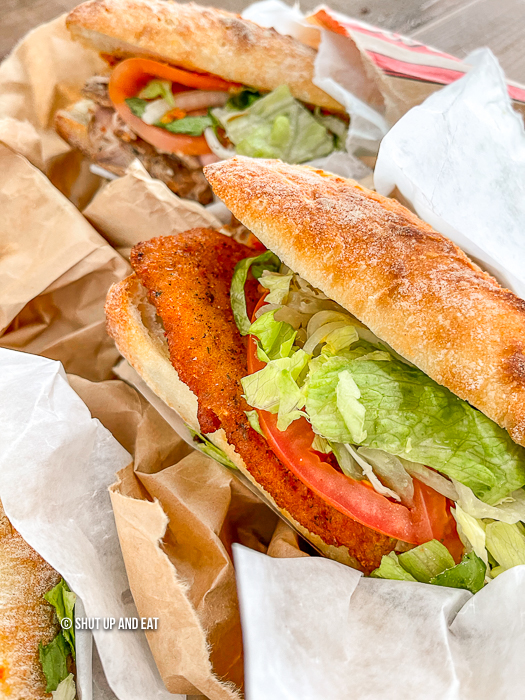 The sandwiches at Marchigiani come in two sizes; small and large. But I like to call them, Regular and Snack. I got a "small" car sandwich. You know, a snacking sandwich you eat in the car before you settle in to eat your regulation sized sandwich. Unfortunately or fortunately, I managed to forget to take it out of the bag and secured it in the trunk. So there was no eating and driving for me.
Like a phoenix rising from the ashes, Boucherie Marchigiani lives again making sandwiches, Italian kitchen classics and providing specialty products for the masses. There's something comfortable about sandwiches. But particularly comforting coming from an Italian deli where the service is hospitable and colourful. Get a caffe crema on the way out.
Boucherie Marchigiani
7790 Rue Juliette
514-489-6819
https://www.marchigianimtl.com/