Have you ever tried Japanese curry? If you've watched enough Japanese anime, you'll recognize it right away. You can't miss it because it pops up literally everywhere. Curry is featured in almost every single Japanese cartoon ever made since the beginning of time. A fried cutlet sitting atop a sauce mixed with vegetables with a side of rice. With the plethora of Japanese restaurants in Montreal from sushi to izakaya to ramen, there has never been a place that specializes in this dish. Until now! From the same team who bring you the trifecta of iconic powerhouse Japanese eateries, Imadake, Ichigo Ichie and Yokato Yokabai, come Taiga Karé. Montreal's newest and ONLY Japanese curry house.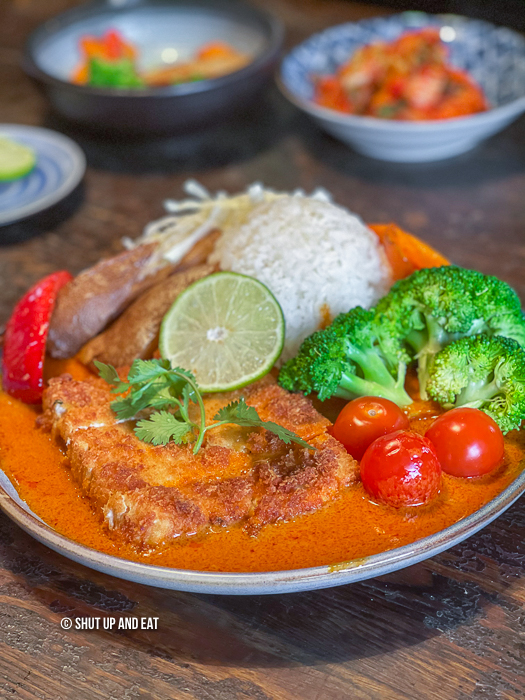 The British introduced curry to Japan in the mid 1800s after adopting the dish from India. Over time, it evolved into an entity of its own shedding any resemblance to its British and Indian roots. It became "karé", the reinvented dish incorporating elements from Japanese cuisine appealing to the Japanese palate. It's "curry" in name, but doesn't taste like what you think it might.
The menu is simple at Taiga Kare. You order exactly what you want by choosing the size of your order, a choice of four curry sauces, four cutlets (vegetarian option available), and a bunch of sides including, kimchi, egg, corn or cheese.
Midori Kare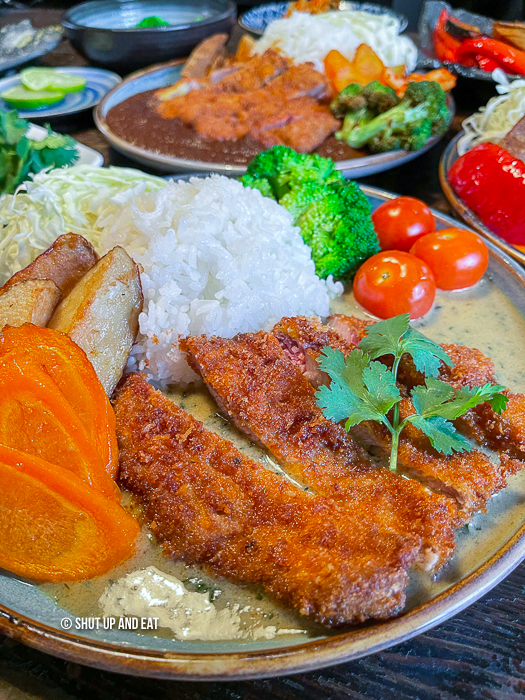 This Thai-inspired Green Curry is the "Midori Kare". It's made fresh green chili (from Thailand), lemongrass, garlic, shallot, galangal, creamy coconut milk, and various spices. For a curry, it was actually light and almost refreshing to eat. Served with a side seasonal vegetables, I got this curry with the fried chicken cutlet. The crunchy strips of seasoned chicken was amazing. Mixed with the aromatic curry and the fragrant jasmine rice, each bite tasted like a trip to Southeast Asia via Japan in your mouth.
Mixed with the aromatic curry and the fragrant jasmine rice, each bite tasted like a trip to Southeast Asia via Japan in your mouth.
Aka Kare
The Aka Kare is Taiga Kare's red curry made of traditional dried red chilli peppers, lemongrass, garlic, shallot, kaffir, coconut milk, lime zest, and spices. The heat level in this dish is higher than the green curry. But it's conscientious-heat. Heat that adds another level of flavour to the dish. It isn't spicy for the sake of burning your face off. It's tolerable and complimented by the bright citrus flavours from the lemongrass, kaffir and lime. Tofu cutlet here. Crispy battered crust holds up to the sauce. Thumbs up.
Kuro Kare
Order this one. The house specialty – The O.G. Kuro Kare with pork culet. This curry is made by roasting 10 Japanese spices and simmering them in a mix of chicken and pork broth for over six hours. This laborious process is what produces this rich, brown roux-like sauce. If you're a person who's able to tolerate heat, you'll know that chili peppers are inherently sweet – it's just that spiciness overwhelms your palate to decipher it.
The deep rich blend of spices mixed with the bone broth unlocks t depth of character to a curry I've never tasted before. The heat is overt, but in combination with the spices, you can taste the sweetness and chili heat in unison. It's at that crossroads where magic happens. The strips of juicy pork cutlet battered in panko was a delight to eat. They need to make "pork fingers" a thing… in concept, not in name.
Taiga Karé is operating out of Imadake and is providing the Japanese curry experience exclusively for take out and delivery (obviously) until pandemic protocols are lifted. Subscribing to the same food philosophy as the rest of the restaurant group, everything here is preservative free and certified organic. All dishes have vegetarian options available (including the curries themselves).
I don't know what took so long for someone to open a Japanese curry house and it took a pandemic to do it. But if there was anyone to do it, it would be the team behind this group of Japanese restaurants. Reputation, quality of food, hospitality and service has always been the right recipe for a successful restaurant. The recipe this team has been using for years.
Taiga Karé
4006 Saint-Catherine St. West.
https://taigakare.com/
–
I was a guest of Taiga Karé. Thoughts and opinions are my own.