I'd love to say that the Montreal restaurant scene always finds a way to amaze me, but I won't. Not to say that I'm jaded and blasé, I'm far from it. But with the kind of culinary talent the city fosters, from new, up and coming chefs that are offering innovation, to the stalwart kitchen veterans who've been around for a while, the bar is so high that mind blowing meals are to be expected no matter where you eat. So it's a great feeling when you step back into a place that you haven't been to in a while to find that the spot had not skipped a beat and is living up to their established reputation. I had the opportunity to check out Ikanos again to try out their new dry-aged fish menu just in time for summer.
Dry-Aged Fish
What's dry-aged fish you ask? It's a meticulous procedure of removing the moisture from a fish through temperature and humidity control to yield a unique product. A technique that Ikanos proudly claims to be the first and only restaurant in Montreal to offer in-house dry-aged fish. Their menu is classically Mediterranean (mainly Greek) that incorporates elements of other cuisines in preparation that's heavy in seafood with the few meat options. I checked out the aged-fish tasting menu.
Harimasa Sashimi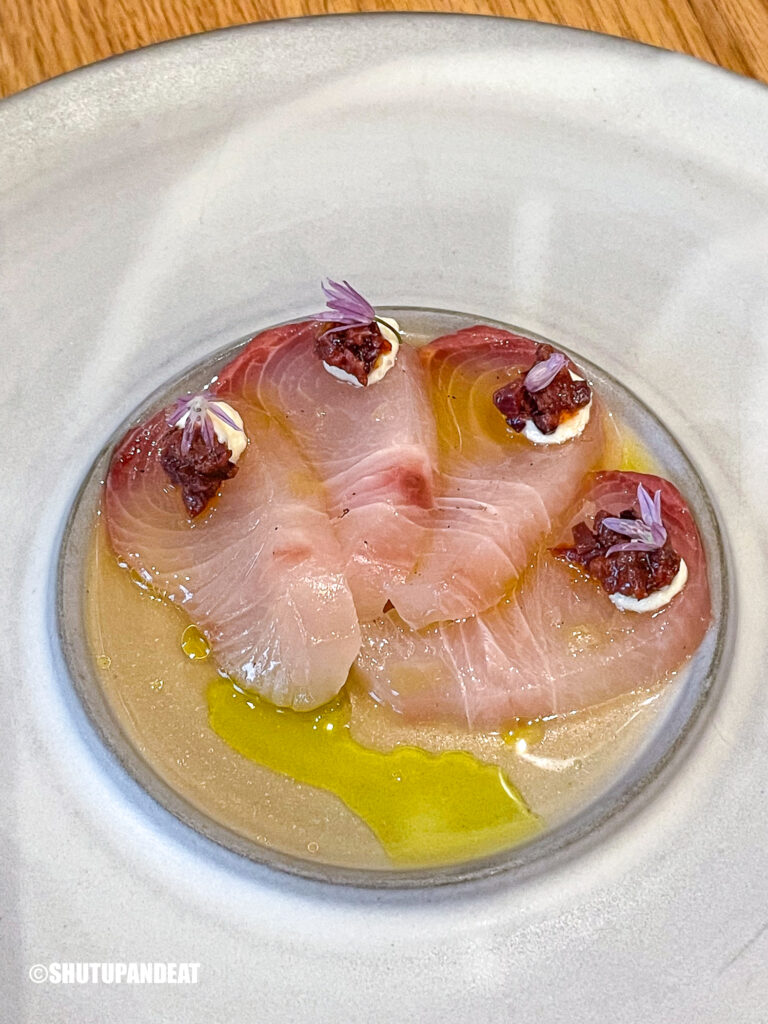 We started with a 21-day aged harimasa sashimi served with a light ponzu, garnished with kalamata and finished with a drizzle of olive oil. The fish was flavourful and inherently sweet and its texture was firm to the bite but buttery on the palate.
Salmon Tartare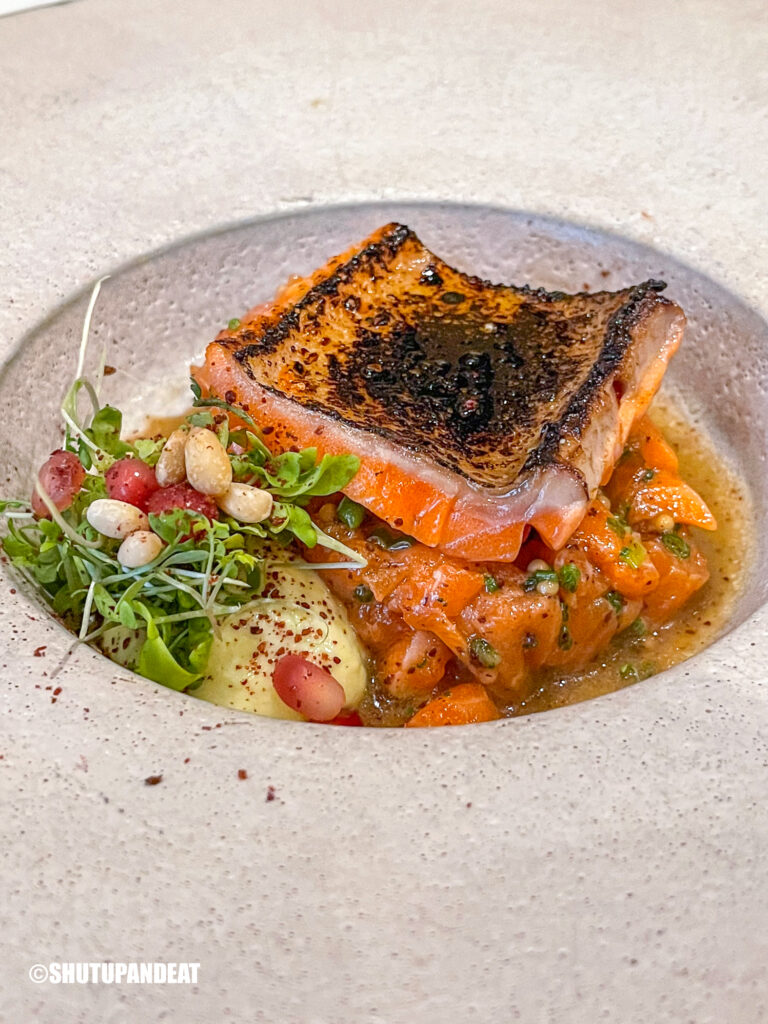 The salmon tartare was bright in flavour. This dish was served with a rhubarb ponzu with a side of avocado mousse garnished with pine nuts, pomegranate and topped with seared salmon skin. The tart dressing made each bit addictive. We fought over the crispy smokey salmon skin.
Snow Crab Salad
The snow crab salad is an experience. Luscious lobes of sweet snow crab surrounded by an oat milk mousse and topped with salty pearls of salmon roe bursting with delicious omega 3s. It was refreshing.
Sea bass
Sea bass served with a side of seasonal asparagus topped with pistachio, pine nuts and capers all prepared on their josper charcoal grill. I got to try the dry-aged and fresh sea bass side by side and wasn't told which was which at first. I noticed that one was firmer and the flavour was muted. Versus the other option where the meat was supple in texture and mildly sweet in flavour. I preferred the second one which was the aged-fish. The seared skin added a great smokey overtone to each bite.
Saganaki
I don't know if a cheese course is a Greek thing, but it's a French thing and we're in Quebec. Kefalograviera, flambéed with ouzo served with pickled fennel, mostarda and homemade bread. Delicious!
Deconstructed Baklava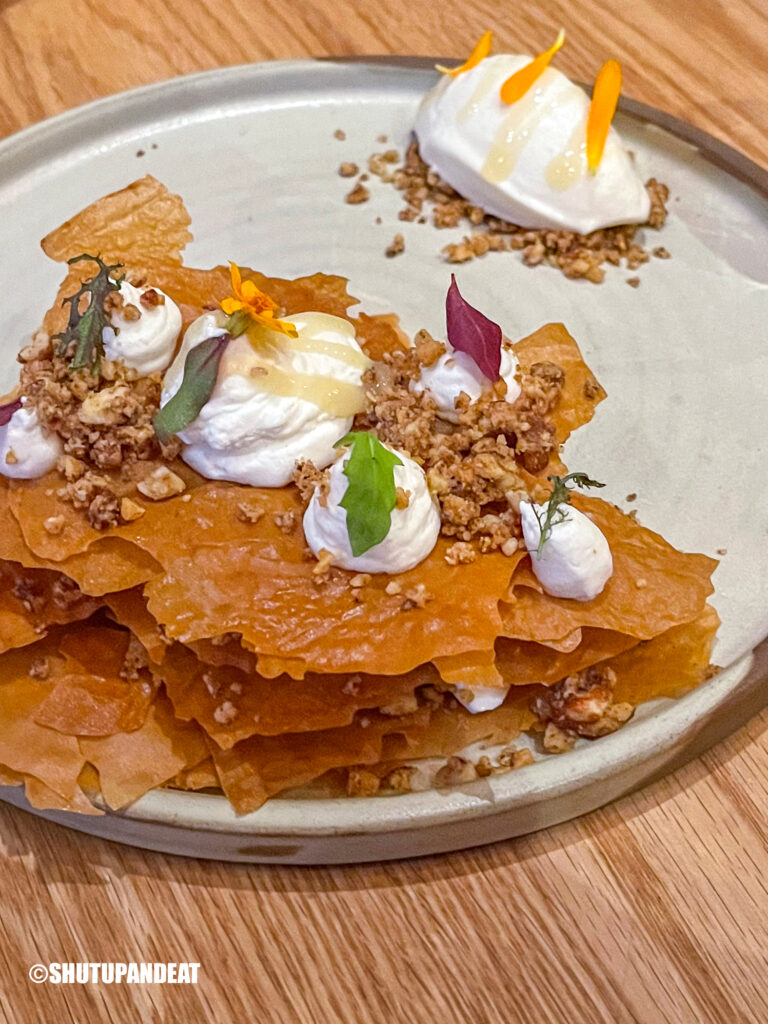 The baklava was tart whipped Greek yogurt layered between delicate sheets of phyllo topped with crushed nuts with a honey drizzle. Every bite was light and inviting. I've never had baklava reimagined like this before and it was extremely fun to eat.
Chef Costa was gracious enough to chit chat with us throughout the meal to explain the detailed dry aging process. He took us through how he selects the types of fish and how he monitors the aging progression to yield this one-of-a-kind product. He recounted the experimentation phase where he basically outlined the procedure but ultimately listened to the fish to hone his process. My first experience with dry-aged fish was amazing. Paired with Chef's deep knowledge of seafood and enthusiasm for his craft, the meal was not only delicious but, incredibly interesting and insightful!
What's that saying about not being able to teach an old dog new tricks. Chef Costa laughs in the face of this adage. To innovate you have to be able to recognize an opportunity. The opportunity arose to introduce something that is yet to be seen in Montreal. That's ambitious. Being around the culinary block for a while, Chef Costa is definitely adding to the restaurant landscape with this feature in his restaurant. A definite must try!
Ikanos
112 McGill St.
Ikanos.ca
---
I was a guest of Ikanos. Thoughts and opinions are my own.