Montreal's fried chicken scene is happening. We've got all types the run the gamut from Korean fried chicken like my faves, Comon, Mon Ami, Corilla, and Dawa, to Southern style at Triple Crown Dinette and Icehouse to everything in between. Now comes a new player in the game. When I first got word of this week's spot, I was excited. Not only because it was fried chicken, but one the kind that is not represented AT ALL in the city. What do you think of when I say Filipino fried chicken? That place with the dead-eye mascot performing a choreographed dance at a children's birthday party? What if I told you, there's a place in Montreal that's comparable… and dare I say, even better. This week I check out Maffeo's Fried chicken.
Located on the border between Ville-Émard and Côte-Saint-Paul, Maffeo's is situated in a the most unassuming of neighbourhoods. Probably the last place you'd think to find delicious Filipino fried chicken. Their menu is concise. It only has six items, but that's all you really want and will come here for anyways. Fried chicken combos that come with fries or spaghetti, a chicken burger, homemade nuggets, poutine, spaghetti and rice.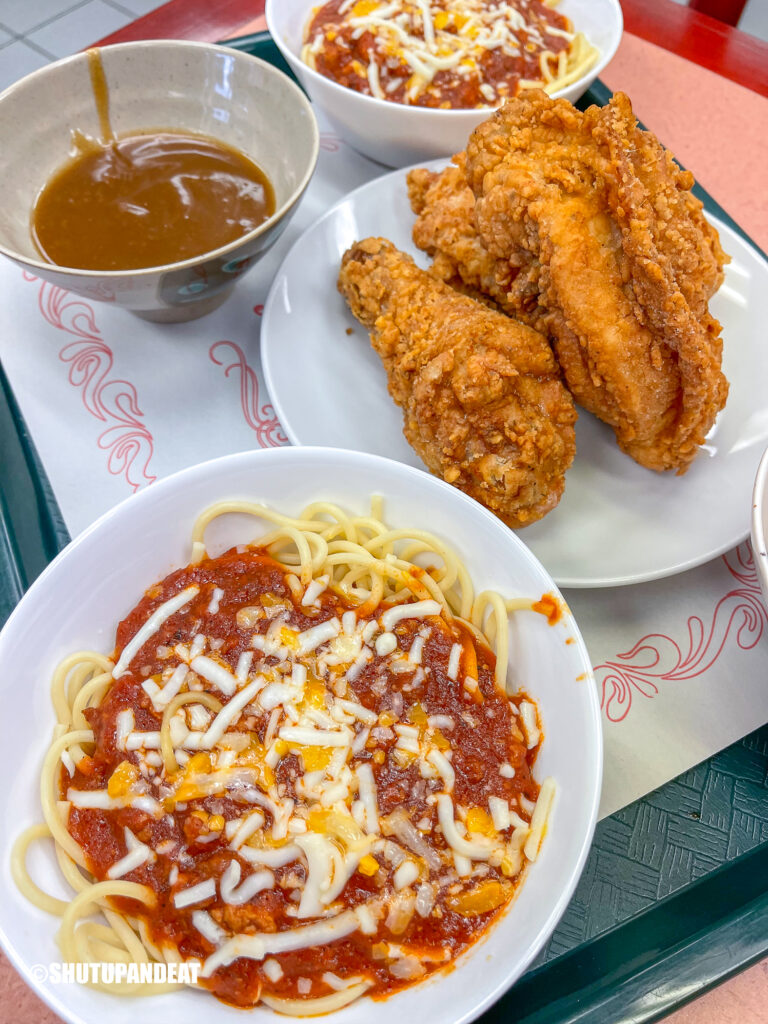 I always write restaurant reviews mirroring the order of the meal; appetizer, mains and dessert. Forget that, I'm starting in the thick of it this time. Peak crescendo right off the bat. I'm not going to waste any time because you need to know what the fuck is going on.
Fried Chicken
The chicken at Maffeo's is unique. The batter is perfectly proportioned that it isn't cakey after being fried nor soggy after sitting out. The seasoning is on point. The first thing I noticed that the chicken wasn't overly salty. Opposed to a lot of other places where you need to top of your cholesterol meds before taking a bite, the chicken here is subtle in flavour so that when eaten with salty and peppery brown gravy, it's perfection.
The second thing you'll notice is how unbelievably moist the chicken is. The chicken is juicier than a carton of Tropicana. Don't get it twisted, it's not greasy. The fact that the chicken is as moist as it is combined with the batter staying crunchy without being steamed off is beyond reasoning and borders on sorcery.
Maffeo's fried chicken is what's missing in your life. People seek spiritual leadership, take on meditation to centre their chakras, sign up to have some lady who believes in crystals rub them down or even take up jogging. Forget that; eat this chicken. Your world will be a better place.
Spaghetti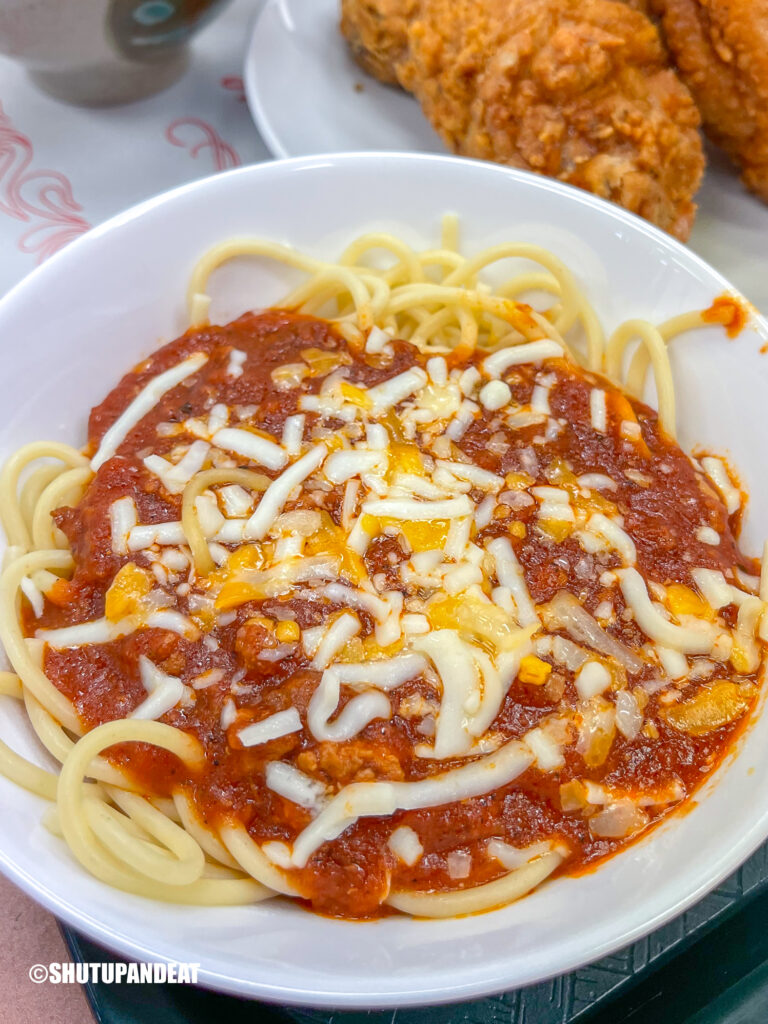 If you've never had Filipino spaghetti before, forget everything you know about spaghetti and get ready to learn something new. I was in elementary school the first time I had this Filipino version. My bestfriend's mom made me a plate and I was hooked. It was different, the sauce was overtly sweet and tangy. I liked it. It didn't become something I sought as an adult, but this brought back memories. Try it. Thanks aunty!
CHicky pop pop – Chicken nuggets
Same famous chicken in bite-sized popper form. Boneless nuggets and served with spicy mayo. Fun and easy to eat, but bone-in is where it's at.
CHicky Bun Bun – Chicken burger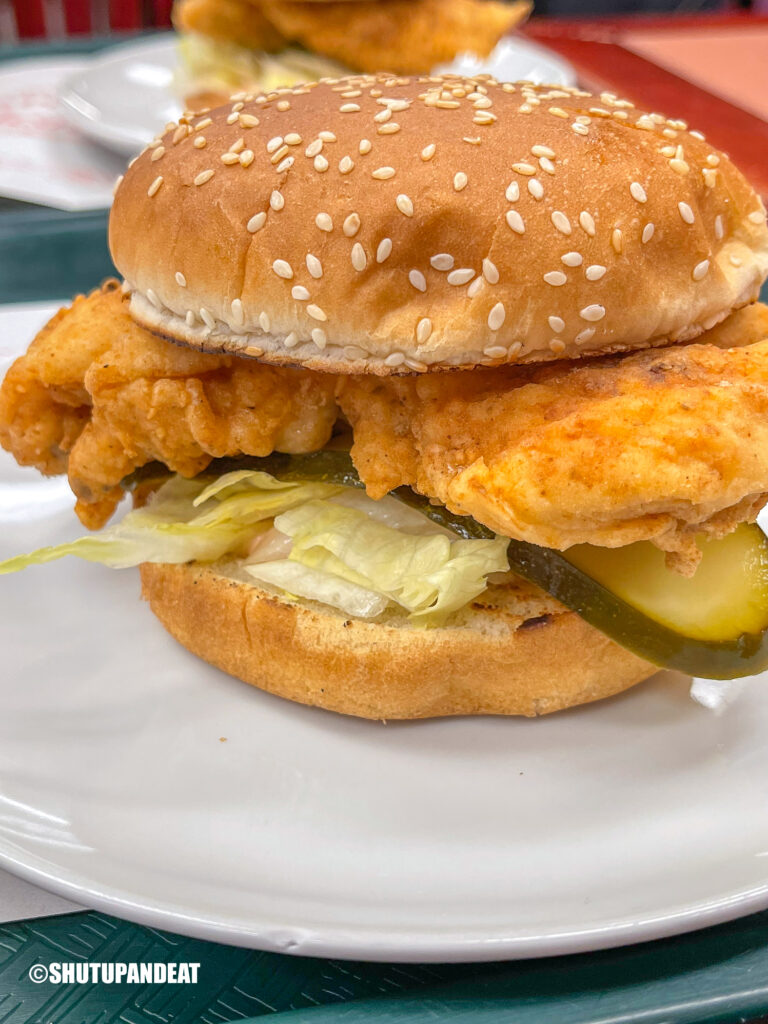 Every chicken spot has a burger, so does Maffeo's. Juicy chicken filet served with shredded lettuce, pickle, spicy mayo in a toasted sesame bun.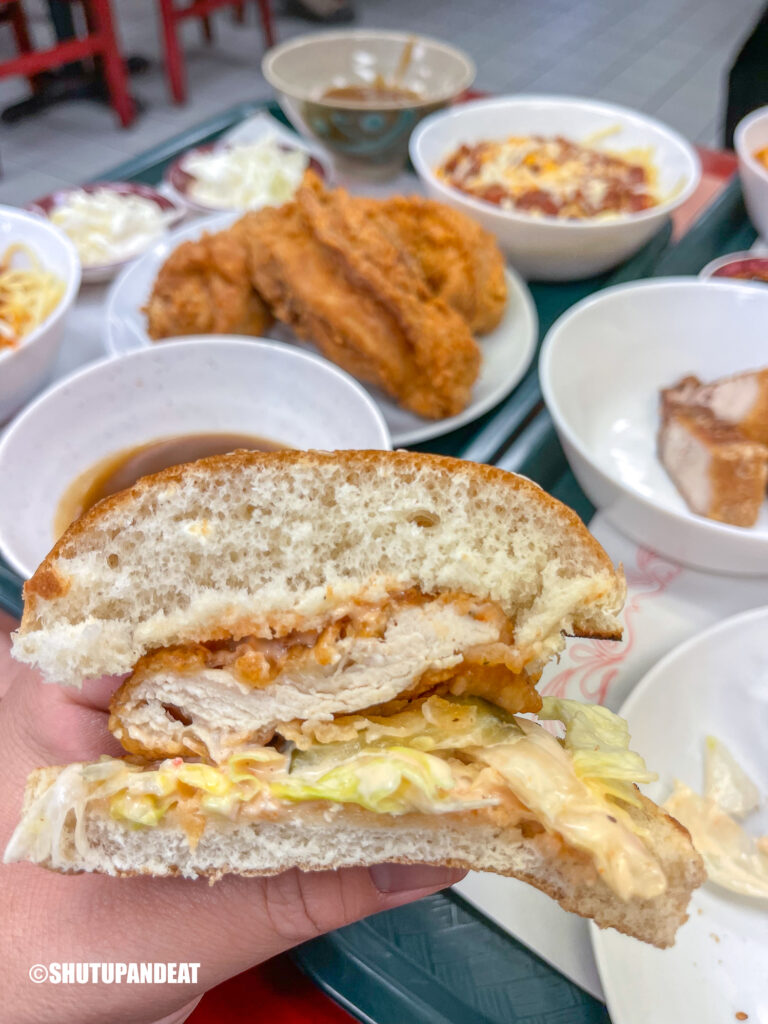 The chicken was on par and the sandwich itself would make a great snack. I can see myself crushing a couple of these for a meal. It was good, but would rather stick to the actual chicken chicken.
Poutine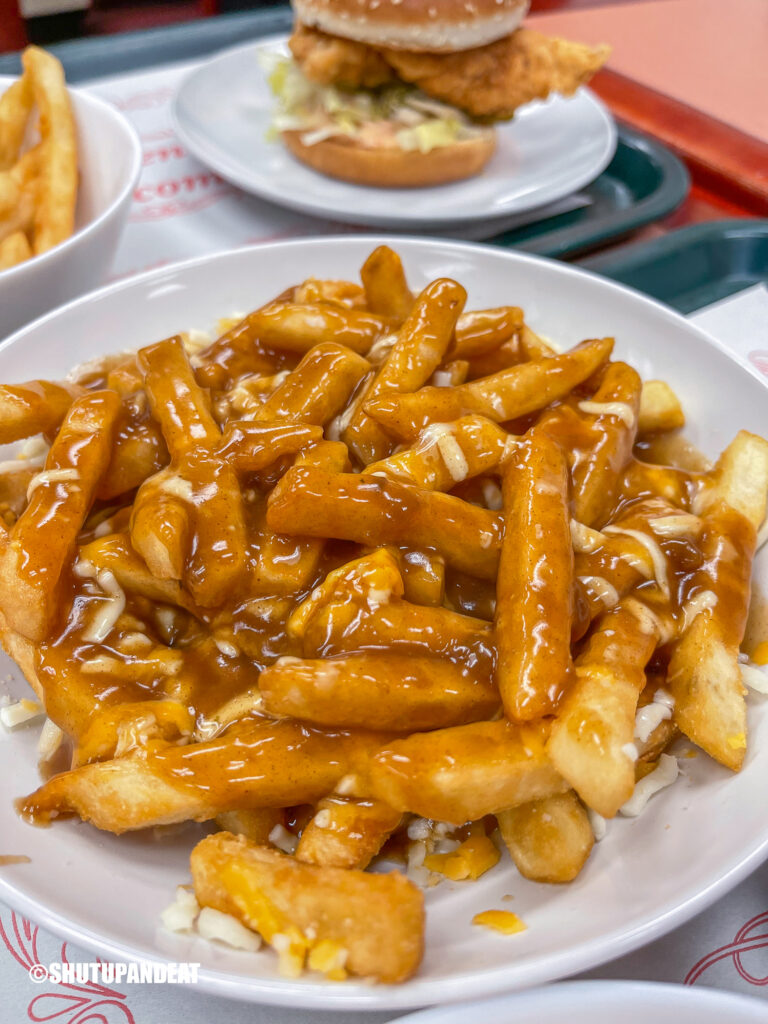 Purists beware: Maffeo's serves their poutine with grated cheese. You're not going to get the squeak but you'll definitely get the cheesy pull and chew. Served with the same chicken gravy. Nice.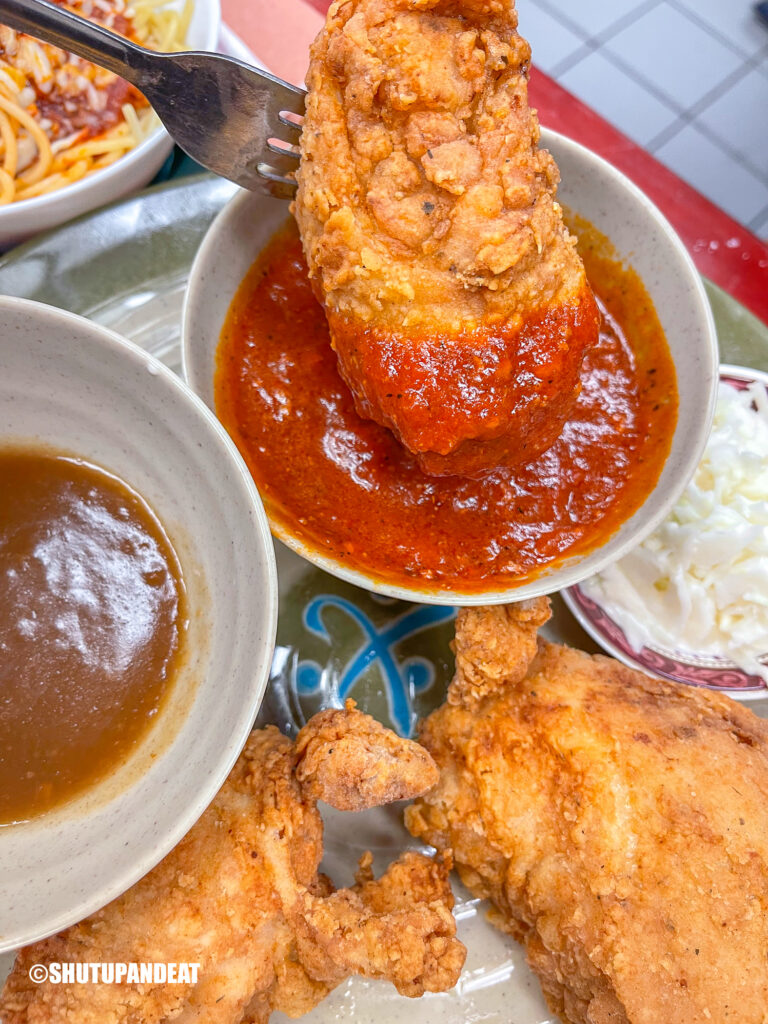 The spaghetti sauce was addicting. Exhibit A) We asked for a small bowl of it to be used as a dipping sauce along with the gravy. Chicken hack? Fat ass move? Who cares, I would drink it with a big bubble tea straw if I could.
We were fortunate enough to be offered a few pieces of lechon kawali that Chef Maffeo was working on. Apparently this will be added to the menu shortly with some other dishes as well.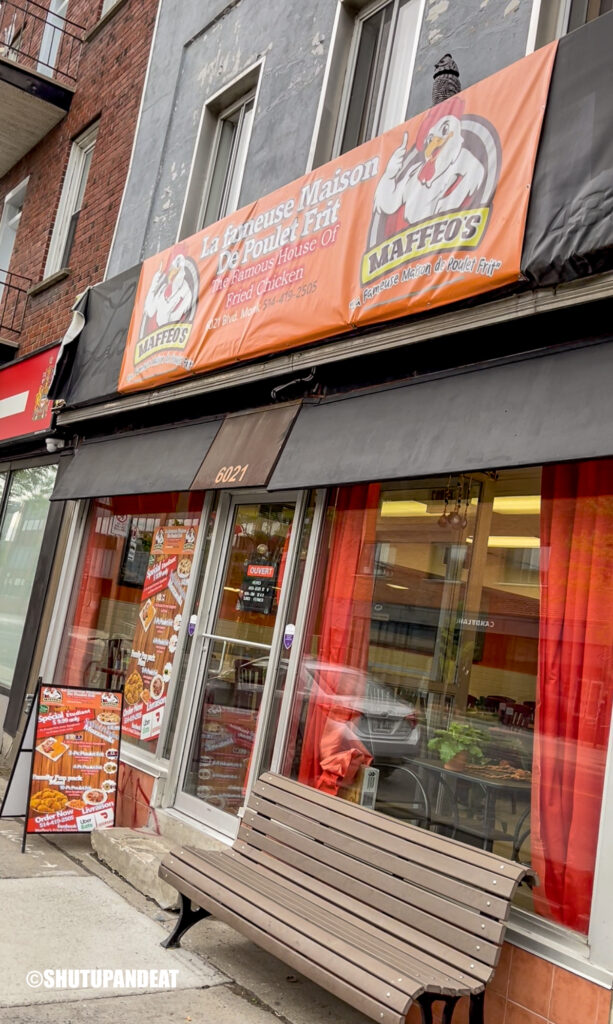 Sure, the fried chicken scene in Montreal is thick, but this spot is right there near the top with the best of them, and rightfully so – 100% organic, grain-fed, free-range halal chickens, fried in a dedicated fryer. Merit is also attributed to the service. Regulars and new customers are welcomed the same way; warm, friendly, like family and that's part of the experience at Maffeo's. You'll feel like you're literally eating in your aunty's dining room with a view of the kitchen, random licks of melody emanating form the karaoke machine and boisterous chatter filling the air.
I had no expectations and thought that this place is your run of the mill generic greasy spoon fried chicken spot. I was wrong. Maffeo's is serving Filipino fried chicken that's going to give that creepy looking bee a run for its peso. I'm going back, who's coming with me?
Maffeo's Poulet Frit
6021 Bd Monk
UberEats