We're going to start 2023 with a bang. Literally. A meal at this place felt like a straight body-shot to the gut. You may not know it but not only does Montreal have great Chinese restaurants, but we are home to restaurants that represent the various regional cuisines of China – as per my article for Tourism Montreal. The majority of restaurants in the city serve Cantonese cuisine- fried noodles, sweet and sour deep this and thats, rice dishes, sizzling platters, dumplings. It's once you get into regional specialties can you tell the difference. The spices, the techniques, the ingredients. The regional cuisine that stands out is Szechuan. I recently discovered the small Szechuan restaurant – Mala Express – in one of the most obvious neighbourhoods in the city… Kirkland.
Mala Express is named after Mala: a spicy and numbing seasoning made from Sichuan peppercorn and chilli. Most commonly, mala is made into a sauce by simmering it in oil and other spices. It's the unmistakable characteristic that gives Szechuan food that fiery flavour and mouth-numbing sensation.
The menu at Mala Express consists of cold dishes, noodles (with and without soup), rice dishes and snacks.
Pan-fried meat pie
This multi-layered folded crepe is similar to a scallion pancake – if you've ever had one. Thin chewy layers of wheat dough sprinkled with spiced ground pork. It was crunchy on the outside and nicely chewy on the inside. A bit dry for my liking (the way it's supposed to be). I preferred dipping it in the chili oil and black vinegar.
"Mouth watering chicken"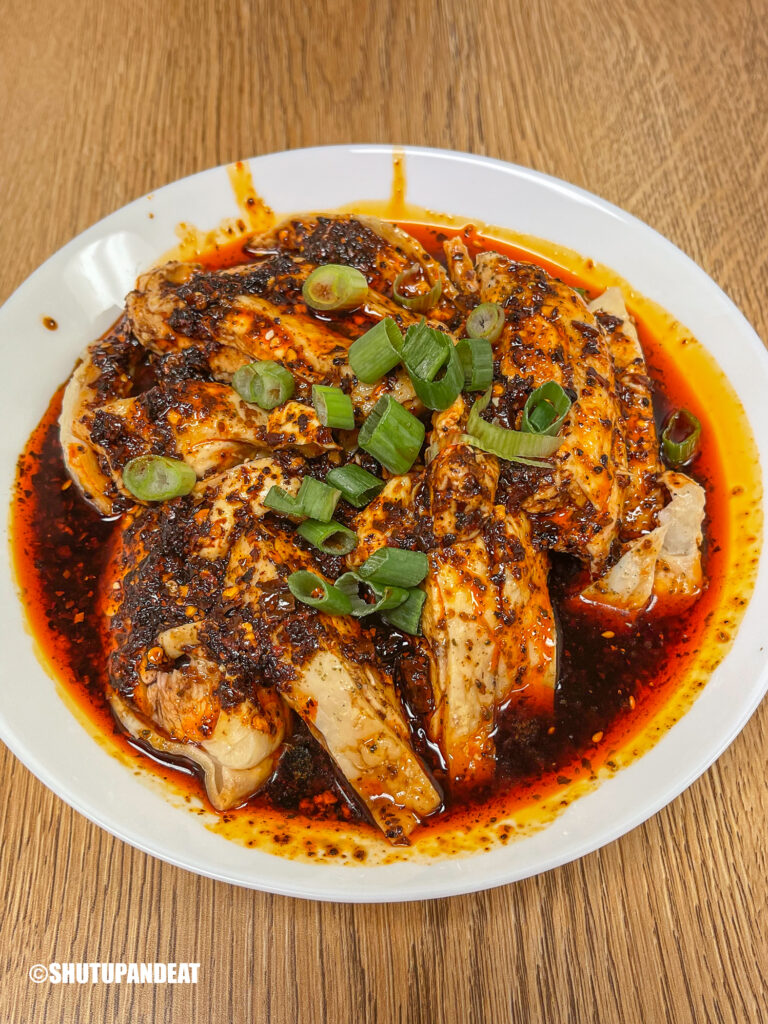 Chilled, boneless chicken served with a mouth-watering sauce. Incredibly fragrant, the frightening sauce was rich in chili peppers, ginger, garlic, chili peppers, soy sauce, sesame oil, chili peppers, sugar and chili peppers. The chicken itself was flavourful and juicy (and not because it was swimming in the oily sauce). Traditionally chicken like this is poached in a stock with cooking wine, scallions, ginger, peppercorns, and sometimes garlic. Not sure of their exact recipe, but I can assume it was a variation of this preparation. I've had a similar dish in the past but nothing like this. Get this. Ask for mild. You're welcome.
Rice noodle with stewed pork intestines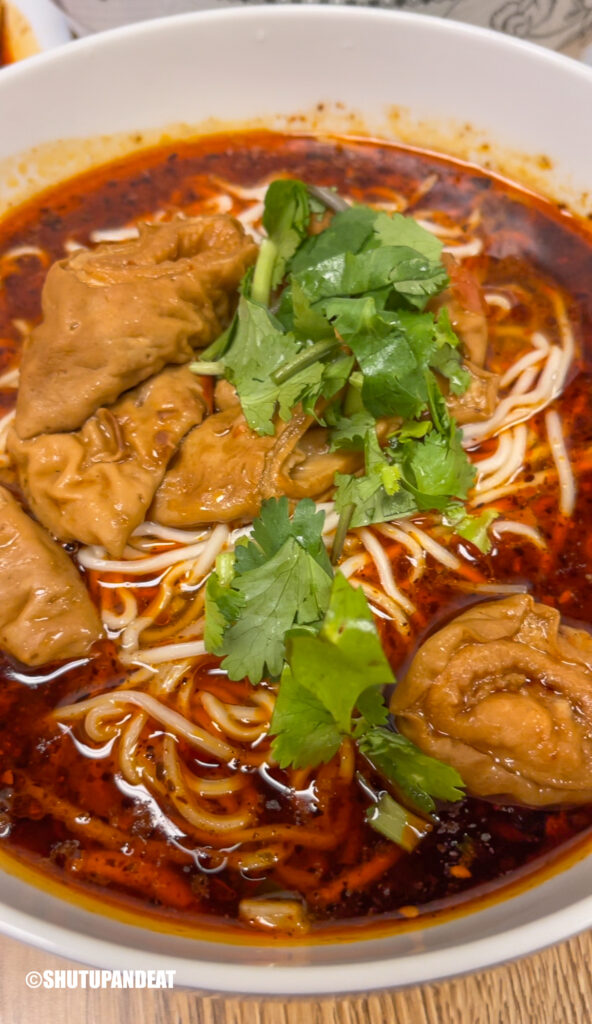 It was my first time at Mala Express and since we were only two people and not wanting to order 95% of the menu, I asked the waiter (who turned out to be one of the owners) what he recommended. He suggested this soup noodle as it was one of the most popular and one of their signature dishes. Stewed pork intestines with rice noodles. Pork intestines… intestines isn't everyone's jam and it isn't often mine, but we ordered it anyways. After the first bite I could tell why this is one of his best sellers.
The pork was soft, tender and flavourful having being stewed in a master stock for what I can only assume was a long time. Although its inherent intestiny flavour was apparent, it was somewhat subdued, but still recognizable. The noodles were toothsome, but the highlight was definitely the soup. It was spicy. Even after being asked how spicy we wanted the soup and we asked for mild-medium, the soup was fire. Literally. PACKED the flavour and chili, it hurt so good. Aggressive hits of anise, clove, garlic, ginger… it was perfect.
Spicy lamb dumplings
Don't let the lack of redness fool you, the house special spicy lamb dumplings in soup was spicy. The filling was spiked with mala spice, numbing Szechuan peppercorns and cumin. The dumplings were small – not more than one to two bites, but each packed big flavour. Big enough to ask yourself why you're still eating something you know you will pay dearly for in a few hours. The soup was rich with green peppercorns which added a bright floral taste. It was numbing and delicious. I would order again and again.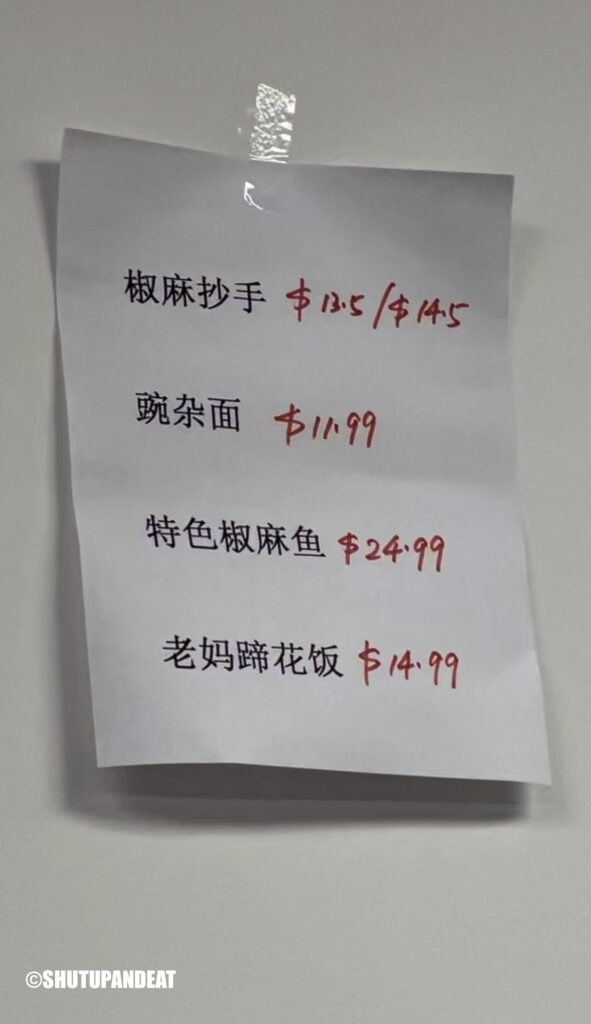 We almost missed this dish as it was written on the wall in Chinese. As with many Chinese restaurants who may advertise dishes they might not feel would be appetizing to the western palate, don't be shy to ask what's written on the wall especially if there's a price next to it.
Mala Express bills itself as Szechuan street food. Fast casual dishes you'd find at unassuming stalls and corner shops serving local neighbourhoods in China. I will be the first to tell you that Kirkland was the last place in the city where I thought I'd be able to find a Szechuan street food restaurant. Nestled between a French bakery, an upscale Italian restaurant and Lebanese takeout counter, Mala Express exemplifies expect the unexpected. They also represent the culinary diversity in Montreal's gastronomic scene proliferating across the city. What I thought would be a diluted version westernized Chinese food, turned out to be one of the best authentic Szechuan experiences I've had in a very long time. I'm going to go out on a limb and say this is the best discover I've made in 2023 so far.
Mala Express
3630 St Charles, Kirkland
https://www.malaexpress.com/