As most self-proclaimed Epicureans, simple acts of obtaining the highest pleasure is first and foremost on my mind. These vices are not as arbitrary as some might think. Simple to ridiculous, admirable to outstanding, my ventures take me around the city I call home, Montreal. Situated on the St. Lawrence seaway, Montreal was in the path of Canada's trade industry both by sea and rail, welcoming people from abroad, Montreal has established itself as a multicultural hotbed of Canada. Encompassing the colors and flavors of countries around the world, it goes without a doubt that Montreal is one gigantic ethnic mixing bowl where identities do not get lost, but beam in its big city charm. My appetite includes the quest to find tempura shrimp (with a crisp quotient of more than 5 minutes) or the most pungent bowl of steaming Pho with the capacity of permeating a 15 foot radius stemming from my sweater… an hour after I've eaten it to the Holy Trinity of Montreal cuisine, bagels, poutine and smoked meat. The majority of my food posts will be results of my endeavors set forth to discover the hidden gems of the city. I vow to not leave one hot pot lid unturned, snail shell hollowed, or souvlaki foil emptied until I can safely say that I ate my way across Montreal. And on this gastronomic journey, you have a first class ticket on the Montreal food train and a free pass to the stops along the way.
It's a big claim, but it's one I'm making.
There isn't a better way to inaugurate the first post than with Kyrptonite (As you will find out, I have only a few.)
Annabelle's parents were in town from Hong Kong not too long ago. We were out and about showing them around the city when we found ourselves costco-ed out and in the leather seats of Reuben's Deli. We were there late afternoon, before the dinner crowd so seats were aplenty and so was the attentiveness of a downtown waitperson – which is rare when places start to get busy. As everyone knows (I hope) smoked meat is to Montreal as Pastrami is to New York.
Having already tried the legendary Schwartzs deli (schwartzsdeli.com), her mom opted to try the smoked meat at Reuben's.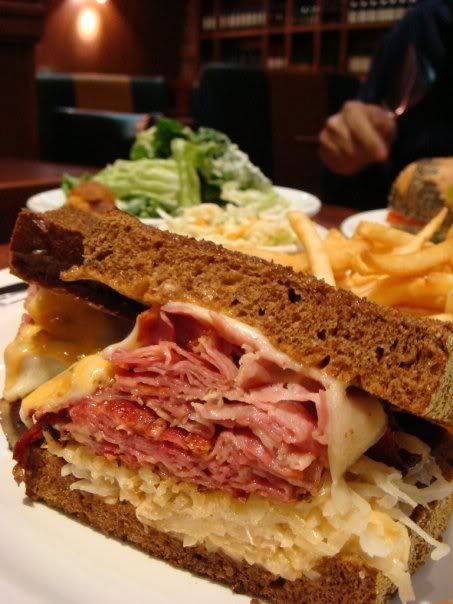 Reuben Melt. Piled high on pumpernickel, Swiss cheese and sauerkraut.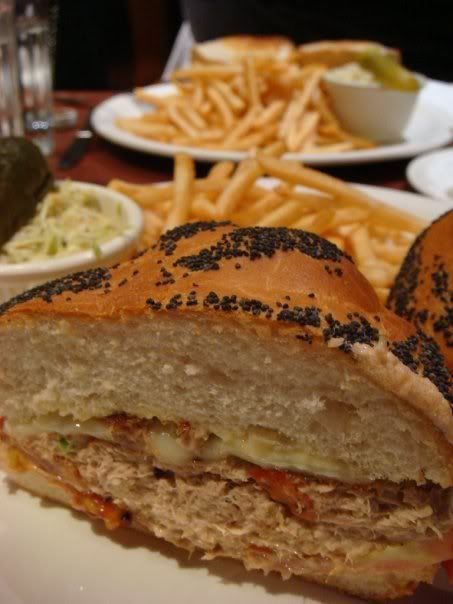 Tuna Melt. They called it a "mix tuna", which was basically a generous portion of a tuna from a can salad. Served on a Kaiser roll with grilled peppers, no one was really impressed after the bun started to sop up all the liquid.

My Turkey Melt. I cannot begin to describe to you the sin that is encompassed in this sandwich. Served on thick grilled Rye. The piled high grilled smoked turkey was complimented with grilled pimentos (again) but was set off with the oozing Montery Jack and and coleslaw. This sandwich is capable forecasting my future as an old man sitting in a deli complaining about various joint pain and government conspiracies.
Totally affordable. All sandwiches are were served with fries with an exception of opting a Caesar salad for an extra $5.
I'm a true advocate of "getting what you pay for" but I strive to find the exceptions what prove my mantra wrong.
Reuben's Deli Steaks Desserts
www.reubensdeli.com
1116 rue Sainte-Catherine Ouest, Montréal – (514) 866-1029