Guess what… I sprained my foot. Yeah, I know… AGAIN right? I'm going to say I don't know how it happened (but in reality, I know exactly what happened, but it's just a bit embarrassing to explain). So due to the lack of mobility I was stuck in between the kitchen, bedroom, living room and PS3 to warrant any dining out until today.
My mom had to go to Chinatown this afternoon to take care of some business so we decided to go for lunch. We headed to one of our family friend's restaurant, La Maison Kam Fung for Dim Sum. "Dim Sum" literally means, "touching the heart". Small steamers of sweet or savory dumplings and confectioneries are piled high on rotating dim sum carts, while the song like calls of "cart-ladies" listing their contents fill the air. Dumplings of three or four, small dishes of different meticulously marinated cuts of meat or feet, I think Dim Sum can be categorized as Chinese Tapas. The roots of Dim Sum are deep in the history of the Silk Road (so I've heard), with mention of the tea drinking culture as well as the symbolism of how each dish is created and visually represented. When you grow up in a Chinese family like me, it's undoubtedly that at one point in your child hood, you've spent a weekend morning at a Chinese restaurant listening to the clatter of white porcelain dishes. The clonking sound of a falling metal tea pot lid will always be synonymous to the days when you blew the plume of steam radiating from a carefully chopstick clutched dumpling over a multi-layered plastic lined table.
Stemming from these wonderful memories I asked my friends not too long ago about their top five favorite dim sum dishes. This made for interesting conversation because we knew how to recite the dishes of each cart as though we were one of the white plastic gloved cart-ladies. Everyone knew that "Har gow" was ALWAYS said before "Sui Mai" and "Pei Dan Jok" and "Ngow Jap" were ALWAYS on the same cart (shrimp dumpling, pork and shrimp dumpling, preserved egg porridge and stewed beef trimmings, respectively). This being said, we all agreed that Dim Sum wasn't Dim Sum until you had your favorites, and I managed to squeeze all of mine in today. So in no particular order, here's sum of the dim sum me and mum managed to dim.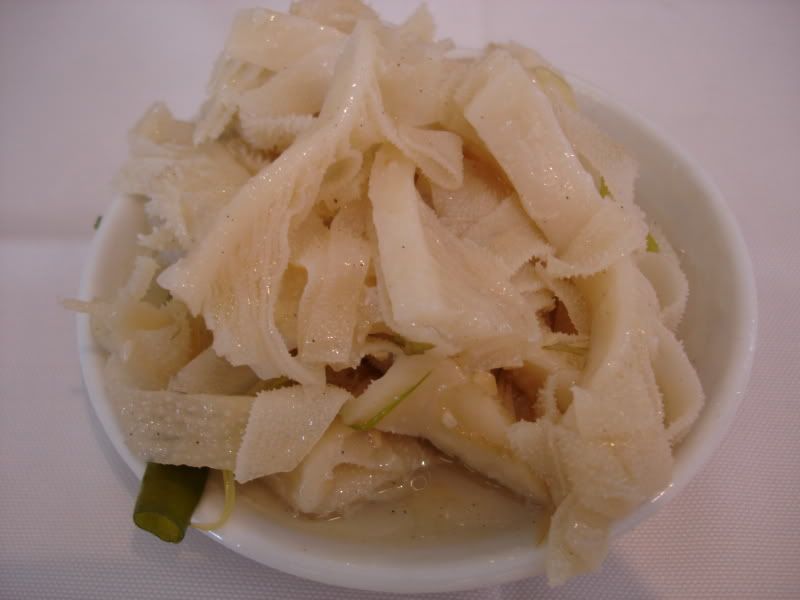 Steamed tripe with scallions, ginger and garlic. It was tender and crunchy, but not chewy, the biggest downfall of tripe. If not prepared properly, it can feel like you're chewing on a mouthful of rubber bands.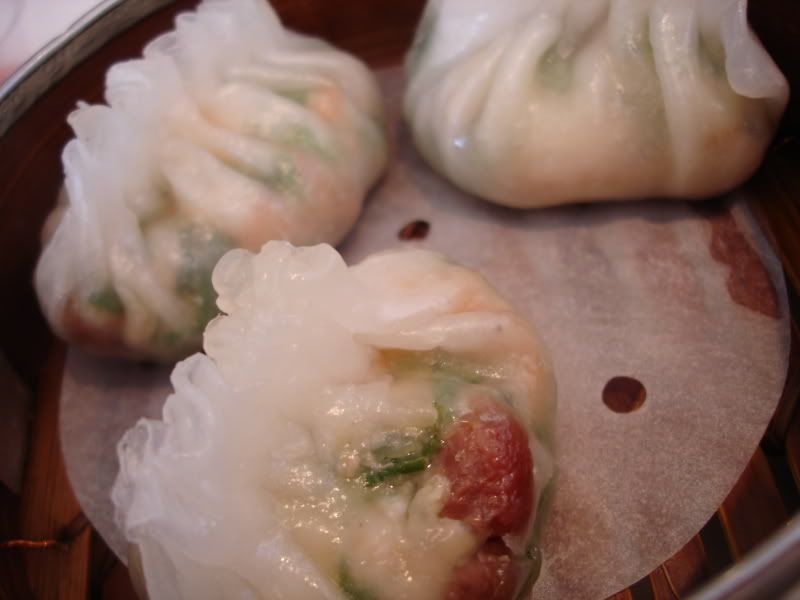 "Chiu Jiao Fun Gor" Dumpling of the Chiu Jiao people of China. Shrimp with pork, scallions and peanuts wrapped in a tapioca flour wrap, served with a chili oil on the side.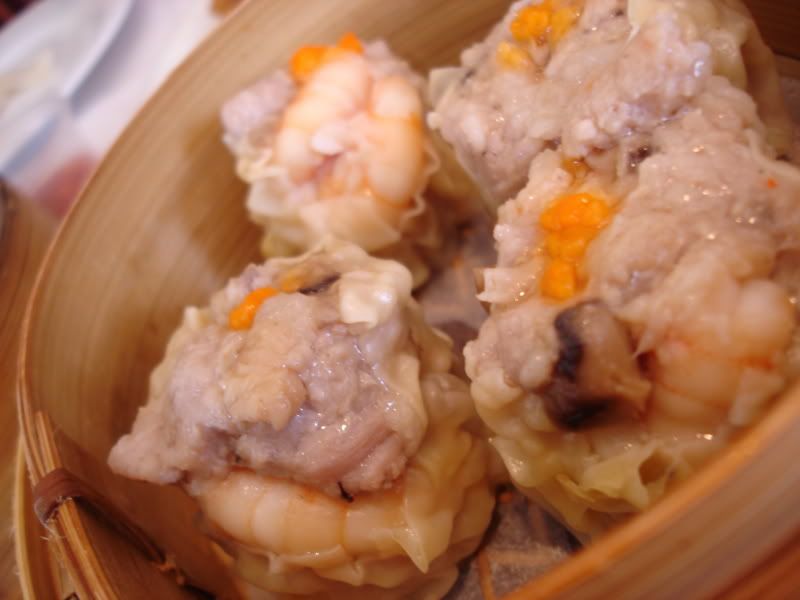 "Siu Mai" – Shrimp and pork dumpling with Chinese mushrooms with salted egg yolk on the top.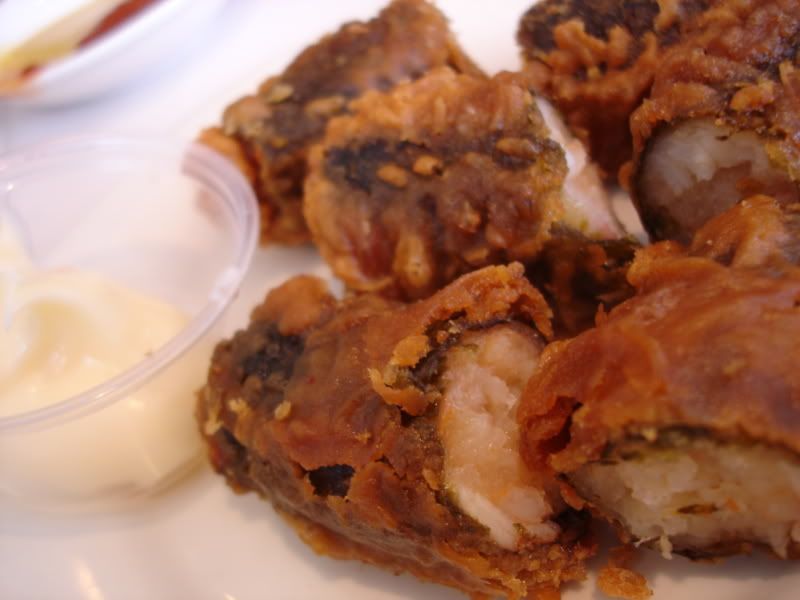 Shrimp and crab meat wrapped in seaweed… battered and FRIED. This dish is no joke, it's served with either a choice of a sweet transparent red sauce, or straight up nitty gritty, tangy yellow huey "mayo". Go with the mayo, you'll thank me later.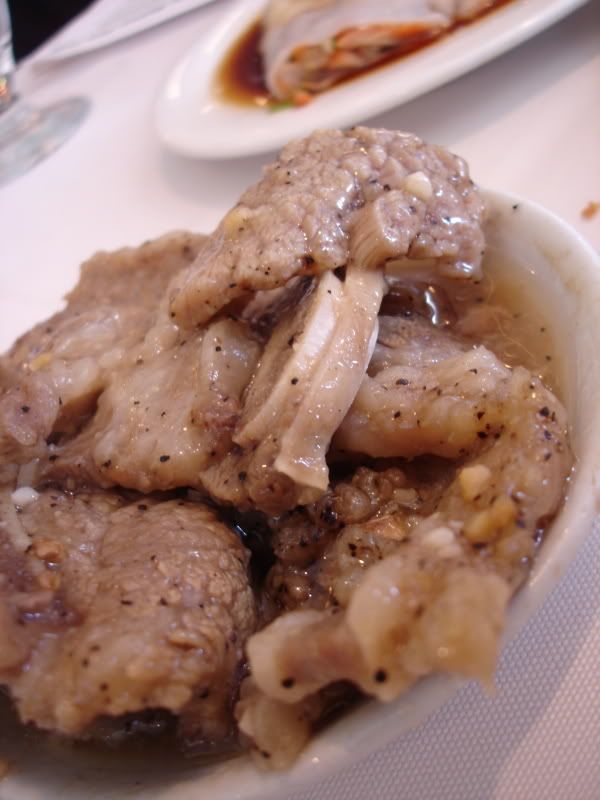 I've said it before, and I'll say it again: I love short ribs. There aren't enough words in the world to explain my unwavering devotion to the short rib. The adjectives in the English language and Giada De Laurentiis' vocabulary would fall short to the ones I would have to invent to fully express my yearn for the short rib. When I have short ribs, a warm sense of reassurance washes over me, I believe skies can clear, oceans can part and blind nuns can regain their sight.


Black pepper, and garlic steamed short ribs. Short ribs make me poetic.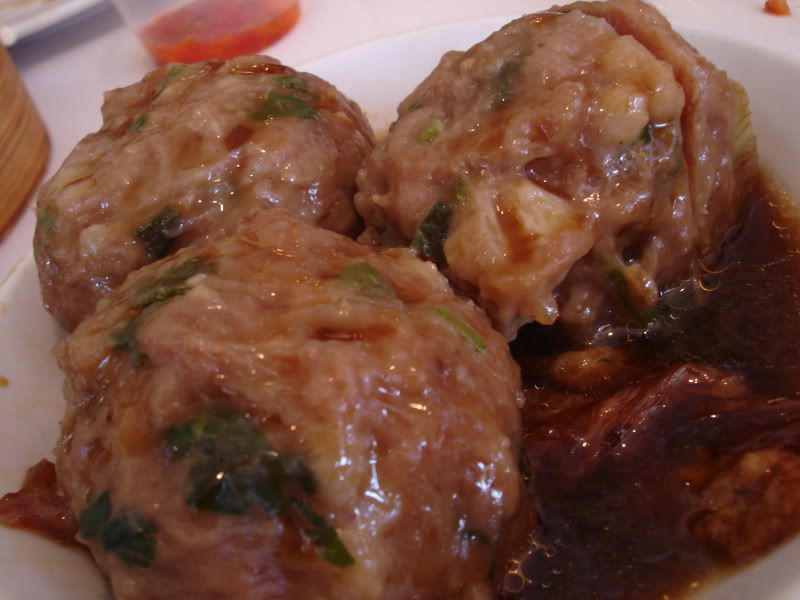 Soy sauce steamed beef meatballs with water chestnuts and coriander. The way they prepare this dish, in particular the beef. They whip it… they whip it good. By whipping the meat, you break down the protein molecules. Protein wants to stick together, so the more you tear them apart, the more they want to bind to each other resulting in elasticity. This renders the meatball like a super bouncy ball that would live up to being steamed and not fall apart like a meatball you'd get in a sangwich.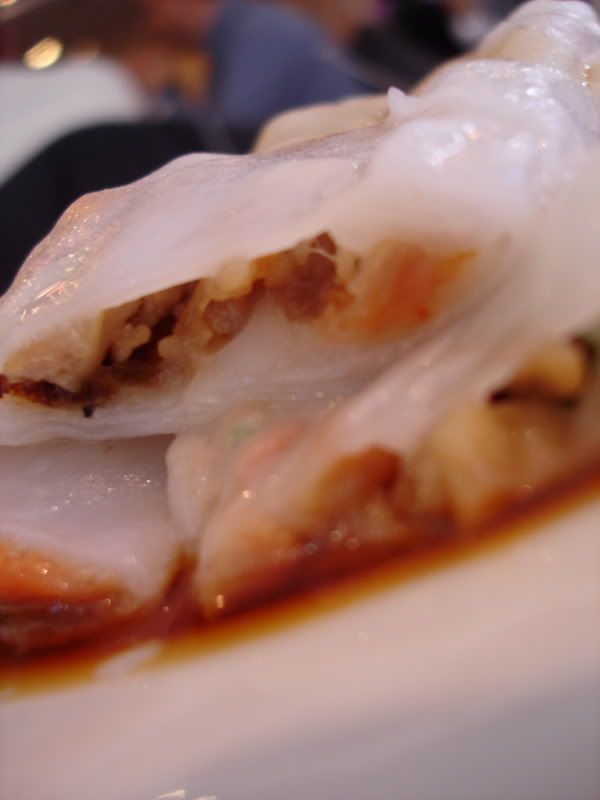 "Cheung Fun". Translated as "intestine noodle", this dish has nothing to do with any thing intestine other than the way it looks. Being stuffed inside a steamed rice flour "skin", this dish comes in three varieties, beef, shrimp or barbecued pork. Pictures here, of course is the choice of champions, barbecued pork.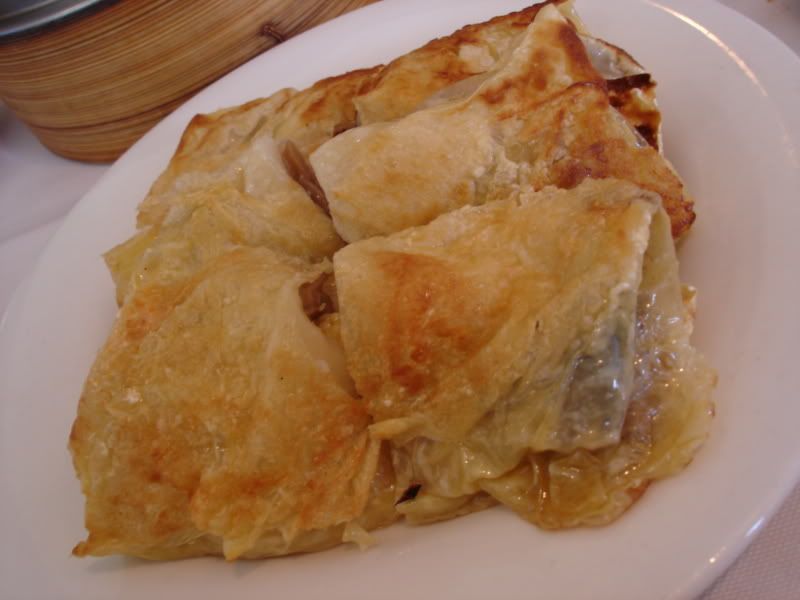 Vegetarian soy bean wrap… Chinese mushrooms, bamboo, baby corn, "wood ear" (black fungus), and water chestnuts in a garlic gravy awaits inside.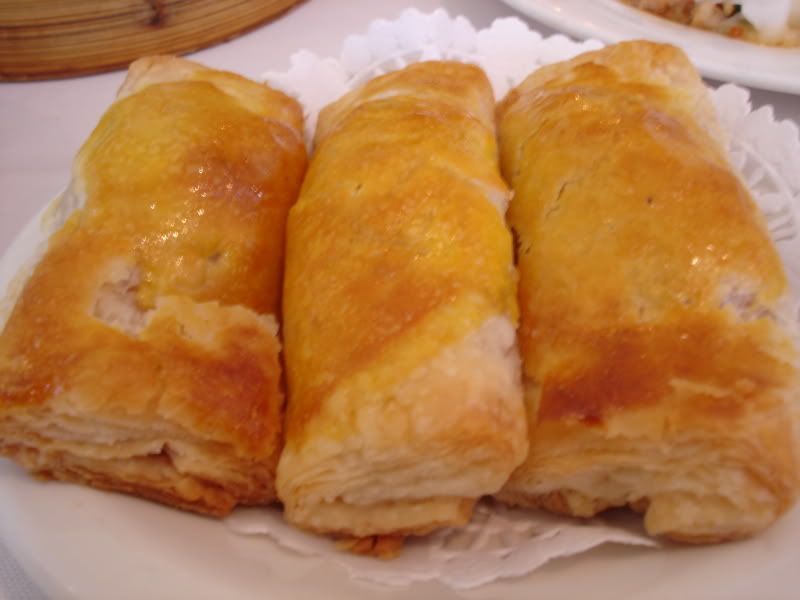 One of my top five. Barbecue pork puff pastry… crazy good. I like to eat this near the end so the pastry that falls off soaks up all the different sauces on my plate to then pick it up and eat it…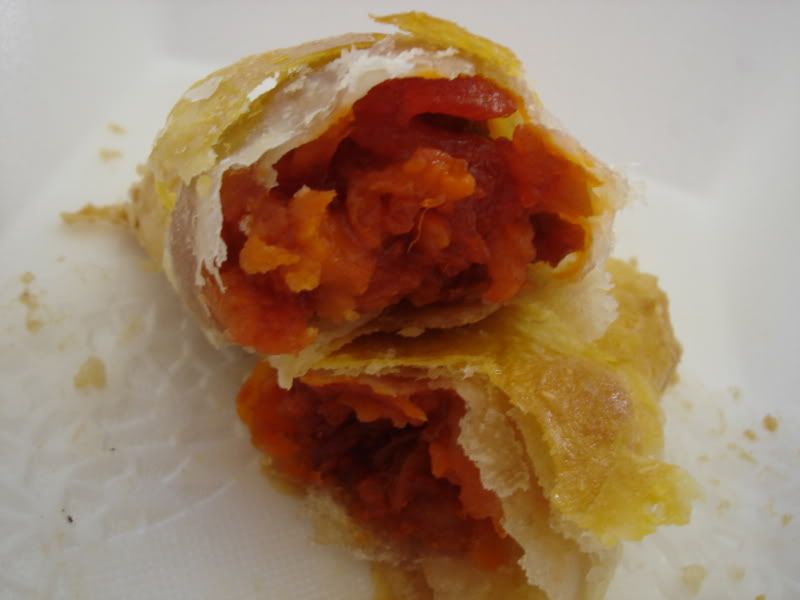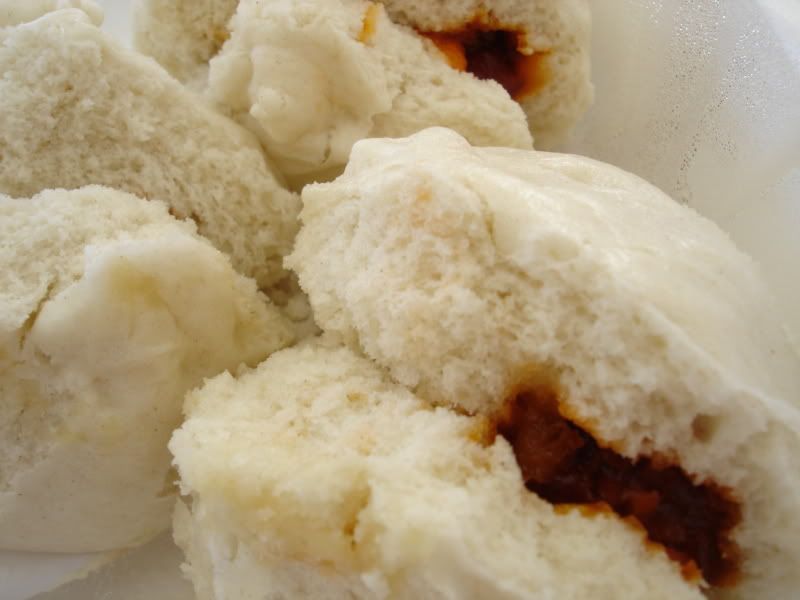 "Cha siu bao", Steamed barbecue pork buns. Light pillowy soft buns with steamy pork. This kind of bun also comes baked.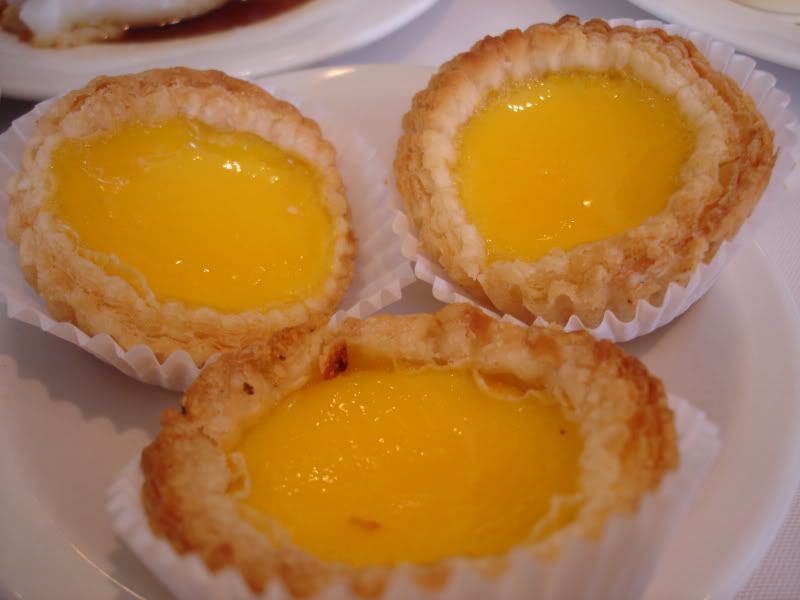 DESSERT!!! A Dim sum outing STAPLE. Egg Tarts. These are usually the first to go because people order them at the beginning of their meal. Once they come out of the kitchen, for some reason people go into hurricane mode and start hoarding these things like bottled water and batteries. They leave them on the table as a trophy in the face of the slow people who do not have cart-lady friends who would come directly to their table ignoring the designated carting route.
As with any Asian cuisine, you're going to have to wear your adventure hat. In the illustrious words of The Crow, eh hem, I mean the "Chairman", go in with "an open mind and an empty stomach." Be prepared to see, smell taste and experience everything for what it is. Don't be biased, and taste everything… If it wasn't edible, they wouldn't be serving it. I've been going to La Maison Kam Fung since before I was born. I've been eating there through three renovations and one relocation. The food is consistent, whether it is for Dim sum or a la carte and today was no different. The service was slow even for the lunch time rush, but that's expected with Chinatown service… at any time. Offensive to some, but endearing to me, it is what it is, that's the charm of Chinatown. Eating in Chinatown is like going to work, sit, eat, leave.
You can have dim sum anywhere in the world, but the sounds and smells accompanied by the strange faces, listing the same dishes in the same order will always be familiar to you. With everything Dim sum encompasses, whether it be the history behind it, memories associated with it or even the vision of pickled chicken feet being pedaled by take-no-bullshit-cart-ladies, maybe these reasons are just the top few rungs on the bamboo steamer tower of reasons of how and why Dim Sum touches your heart.
La Maison Kam Fung
1111 rue Saint-Urbain, Montréal
514.878.2888