I'm a realist. I like to keep things open, honest and true. I'm also a sandwich snob – sandwiches are so barebones and simple, that when you fuck it up, you can taste it right away. Many will say that all you have to do is slap some stuff in between some bread and it's a sandwich – WRONG. Ingredients are integral to a sandwich. The haphazard use of random meats, spreads and vegetables do not equate "sandwich", nor does the aimless flop of cheese dangling off the sides that was spared the spear of a frilly toothpick. That being said, I have one of the definitive go to spots for sandwiches that is capable to satisfy the biggest sandwich slut, snob such as myself.
The spot in question is Café Pavé. In the shadow of the Notre Dame basilica, this joint knocks out 21 different sandwiches, pizzas and salad meals that can make any churchgoer cross their legs in ambivalence.
I hit up this luncheonette for a quick bite in a middle of the work-day rush.

My lady ordered the Philadelphia off the steak sandwich menu. Canadian AAA strip loin, aged cheddar, roasted red onion, tomatoes and dressed with homemade ranch. Right off the bat, the bread is soft and crusty with the right amount of chew and it isn't that asshole whole wheat stuff. No racial, but straight up white bread is best for any kind of sandwich unless it's a breakfast sandwich… but it'd still have to be a white English muffin. The beef was tender and had a nice robust flavour. The sharp melted cheddar cut through the creamy ranch dressing and the sweet red onion made each bite taste like a glorious roast dinner.

I ordered the Monterey pulled pork sandwich. Café Pavé's signature sandwich group, the locally sourced pork is proudly advertised to be roasted for 18 hours, low and slow. Served on the same ciabatta bread, the pork is topped with roasted red peppers and onions, spinach, roasted garlic and artichoke aioli. The pork was moist and was sweet from the roasted pepper and onions. The bread, again, ciabatta, was nice and warm and soaked up all the braising liquid form the pork. The sandwich was honest, and hearty without getting too complicated.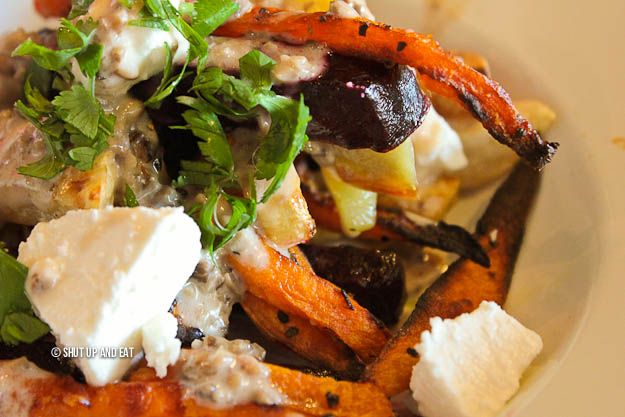 I also had the opportunity to try Cafeé Pavé's entry of the recent Poutine Week (album here) – The "Rootine" – a roasted root vegetable poutine. Topped with a macedonian feta and red wine gravy, this unique spin on the poutine is exactly what last week's fuss was all about – to showcase the city's talented chefs remixing a local favourite. Roasted and not fried, some of the vegetables still managed to crisp up more than others. A mix of seasoned beets, sweet potatoes, turnips and carrots, the creamy feta was not overly salty and complimented the sweet roasted vegetables.

All sandwiches come with a choice of soup of the day, salad or chips… Go for the chips, they're the thick, kettle-type chips. Café Pavé is a great lunch option for a quick grab and go or stay and eat. From grain-fed chicken sandwiches, all out bacon-based sandwiches and vegetarian choices; fresh ingredients, prepared properly, the sandwiches are warm and substantial; a great alternative to your typical refrigerated cold cuts and loveless sliced cheese. Alternatively, they do offer whole wheat wraps and gluten free bread, but if those are not to your taste, the fresh ciabatta is the best way to go anyways.
Besides, I asked Sweet Brown what her opinion on the choice of bread used at Café Pavé and this is what she had to say:

I'm a sandwich realist… Café Pavé is the realest.
Café Pavé
(514) 507-5102
243 Notre-Dame Ouest
Facebook