If you don't know by now, when it comes to Sugar Shack season, the hottest seat in town (or 45 mins north of town) is none other than the Cabane à Sucre Au Pied de Cochon; established by none other than the culinary genius behind the Pied De Cochon brand, Chef Martin Picard. Word has gone around the block a couple of times that these exclusive reservations are taken explicitly through email through what seems to a lot of people as a lottery system, where the chosen ones humble-brag on Facebook and make a conscious effort to make sure you know they went. As you would imagine, the menu was completely over the top featuring foie gras on top of foie gras layered over confit duck and lobster glazed by blind nuns served to you by strippers carrying balloons on roller-skates… well, not that last part.

"Dessert" was served first, A gelatinized yogurt with cubes of maple syrup jello. The molded yogurt was thick and custardy and was a nice subtle background for the maple syrup jello which in itself was not overtly sweet.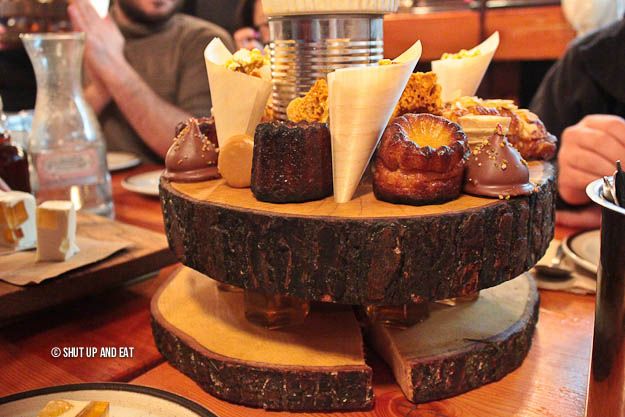 What came out next evoked the child in all of us. A three tiered wooden tea-tray like monstrosity that looked like it came straight out of a Quebec Lumberjack hell.

At the top sat maple glazed doughnut fritters; doughnut holes, Timbits, Martin Picard-Timbits… Mimbits topped with maple sugar cotton candy, that sat atop of a ramekin of maple sugar creme caramel.

Below that was the tier of diabetic's nightmare; sweet maple delights of little cornets of maple glazed popcorn, maple whippets of homemade marshmallow and maple biscuits, homemade crumbled of maple sugar honeycomb toffee, maple canelés, maple sugar ice cream cones (the ones that used to be sold on the depanneur counters in the open air) and homemade almond croissants.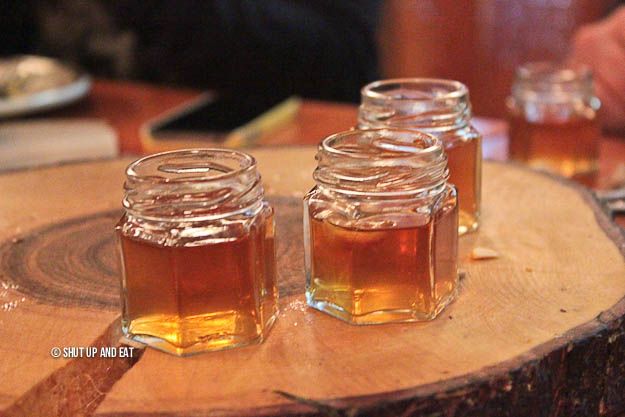 At the bottom saw a tray lined with tiny mason jar whiskey and maple syrup shots – obviously to weed out the weak ones who couldn't handle the insulin spikes during the first course of the Sugar Shack season, and having them pass out on the floor in a maple overdose coma.

The next service was fried confit duck legs in a homemade sweet and sticky maple barbecue sauce. Like giant fancy chicken wing drumettes, the confit duck legs were crispy on the outside and tender and salty on the inside.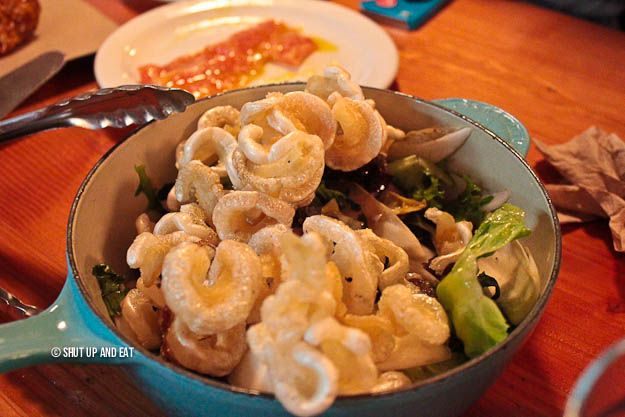 "Salade d'oreilles CRISS" – Endive salad with lettuce, onion, and confit duck heart and gizzards, dressed in a maple vinaigrette and topped with fried pork skin. The hearts and gizzards were tender and soft and the sharp vinaigrette helped cut through it all. Those chicharon are dangerous… if not supervised, anyone can probably eat through a whole pound of them. This was also served with a side of maple cured salmon which was an underrated hit; with barely a slice per person left everyone wanting more!

Foie gras entier sur la crêpe à Cécile – A crêpe fried in duck fat (obviously), topped with baked beans, fried eggs, cottage cheese, pan-fried foie gras and pickled shallots. This was the first baby-step towards food-coma.

Giant sliced lobes of foie gras spread its buttery legs and straddled the crêpe; the lusciousness was next to Kate Upton's Sports Illustrated Swimsuit cover.

Omelette au bacon et cervelle à l'érable – Omlette with sliced potatoes, topped with maple bacon and pan-seared calf's brain and drizzled with maple syrup. The eggs were light which sat on top a layered potato crust. This wasn't one of my favourites, but everyone else seemed to enjoy it.

Whole roasted chicken with a cotechino (italian sausage), lobster and foie gras stuffing.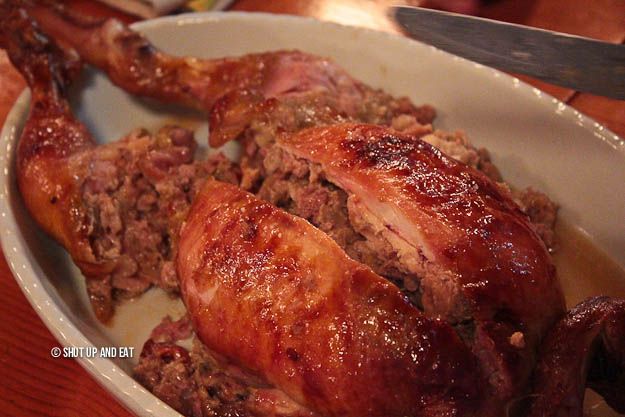 Chicken, foie gras and lobster… The Chigrabster. The stuffing was out of this world; fatty chunks of ground pork sausage mixed with that distinguishable irony taste of liver and tender briny bite of lobster. This symphony was buttressed by a roasted chicken that was glazed with none else… maple syrup.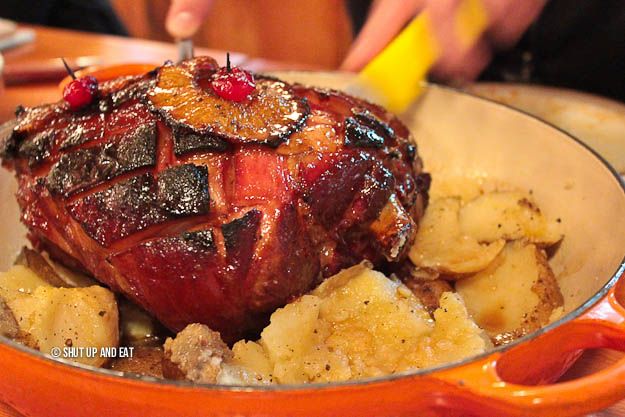 Pineapple and maple glazed ham served on potatoes and Lipitor. I'm not a big fan of ham, probably because I ate the crap out of it when I was younger. But when the mood strikes, I'm never one to turn down the opportunity to kill some bone-in roasted ham. The skin was crisp and the layer of fat right under was soft and delicious. The sweetness of the glaze was complimented the saltiness of the pork and brought out the fruity overtones from the pineapple in the glaze.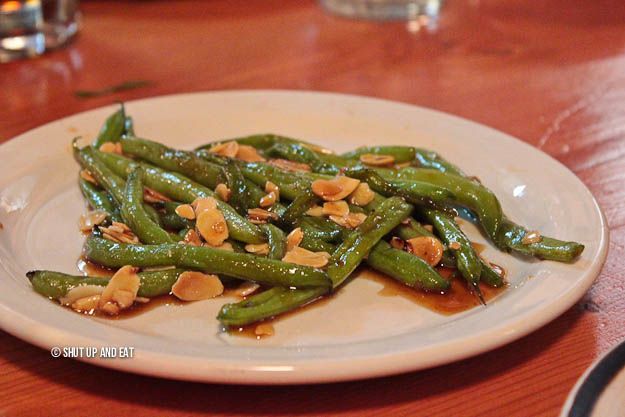 Haricots amandines a l'érable – Green beans with almonds glazed in maple syrup and irony. Barely three to four pieces per person, this dish was served to try and lessen the guilt of the entire meal… well not officially, but there wasn't much green on any of the plates, other than parsley garnish.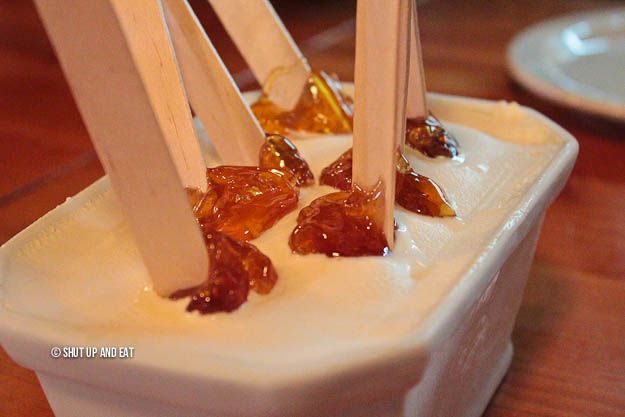 We ended our Easter Sunday lunch with soft serve vanilla ice cream with maple sugar taffy – a classic staple of any cabane a sucre.

As well as a maple meringue angel's food cake with pistachios and almonds. The presentation was quite dramatic; served in a glass cloche filled with dry-ice smoke.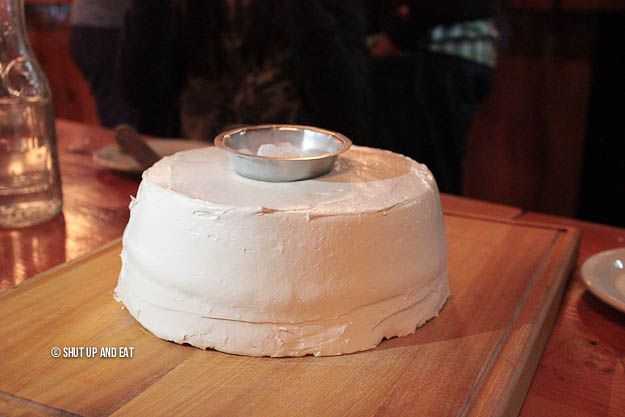 The cake was moist and the icing ate like marshmallow. Quite surprisingly, the cake itself wasn't overly sweet and was dense and decadent.

If you didn't already guess, cabane a sucre – sugar shacks is all about celebrating the maple syrup harvest and the spring thaw. Chef Picard and team have conceptualized yet another fantastic maple season menu, highlighting local Quebecois products and a tradition that many of us like have emotional attachments to, while giving it a spin of a caliber that only the creative minds behind the Au Pied de Cochon are able to foster and harness.
Remember to pick up your copy of the Cabane à Sucre Au Pied de Cochon cookbook that recently won Book of the year by the prestigious international Gourmand World Cookbook Awards.