You've probably walked past this on numerous occasions the last time you were in Chinatown stocking up on your yearly quota of chocolate Pocky, or going for dim sum. To the uninitiated, the bbq stand might look intimidating with its glass window showcasing various roasted and barbecued meats glistening under the heat lamps and the lineup of old Asian aunties yelling, talking loudly, clambering to make sure they cop the right bird that looks plumpest or the perfect piece of char siu that is both fatty and lean. To help you navigate this uncharted delicious roasted terrain, here is my definitive guide to the Chinese bbq stand.
Roasted Pork – 燒肉 (pronouced: sew yuk – translation: "roasted meat")
The first and most obvious sight is the whole roasted pig. Hung and roasted vertically at high heat, the skin of the pig is pierced with hundreds of holes to allow the fat to melt and render out as it cooks. This yields its famous crunchy skin and leaves the meat tender.
The roast pork is often sold by weight or by rib and is served with a sweet hoisin dipping sauce.
 Barbecue Pork – 叉燒 – (pronounced: char siu, translation: "fork roast")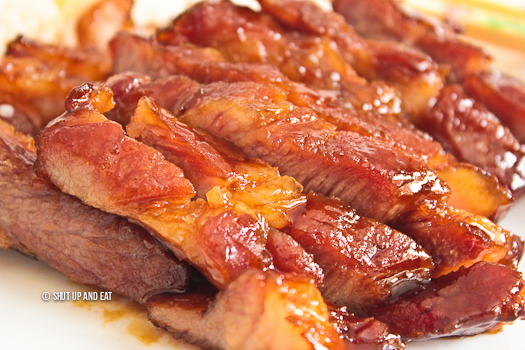 This barbecued pork is prepared in the classic and traditional way of roasting long boneless strips of pork loin; it's skewered on long forks and cooked over fire. Marinated in combination of sweet soy, hoisin sauce, rose wine and glazed in maltose, this versatile pork can be eaten as steamed buns, in noodle dishes or can be eaten alone with rice.
Roast Duck – 燒鴨 –  (pronounced: siu app)
The roasted duck  is marinated in Chinese five-spice powder and cooking wine and is hung to air-dry before it's roasted for hours. This allows the alcohol to permeate the meat and tenderize the duck. Not to be confused with "peking duck" which has a completely different preparation process, the two are similar, however the Peking duck is more laborious to prepare and isn't sold in BBQ stands. The roast ducks is served with a container of five-spice sauce which is a combination of oil and pan drippings.
Soy Sauce Chicken – 豉油雞 (pronounced: see yow gai)
Soy sauce chicken is simply poached chicken in a pot of seasoned sweet soy sauce with scallion, and ginger and other spices. Served with a side of the poaching soy sauce. Variations: soy sauce chicken wings and soy sauce chicken thighs.
Roasted Quail – 烤鹌鹑 (pronounced: siu nam chun)
The roasted quail is prepared with a light marinated of soy and five-spice. A word of warning, the bones are small and brittle; some may chose to eat the entire bird whole, bones  and all or sieve through them while eating, enjoy this with caution.
Honey Ribs – 蜜汁燒排骨 (pronounced: mut jup siu pai gwut)
Prepared similar to char siu, the ribs are slathered with honey as it roasts as well as glazed at the end again.
Fermented Bean Curd Roast Chicken – 南乳焗雞 (pronounced: nam yu siu gai)
The bean curd fermented in wine lends almost a floral aroma, while bringing out the deep and savouriness of the chicken and gives it its bright red colour.
Salt Roasted Chicken – 鹽焗雞 (pronounced: yeem siu gai)
This salt roasted chicken is simply a bird rubbed down with coarse salt and roasted. Salty in flavour (imagine that!) it's served with ginger-scallion oil.
Master Stock Duck Wings – 滷水鴨翼 – (pronounced: lo sui app yik)
The pot of master stock in a Chinese kitchen is the magic added in a lot of dishes that gives each plate it's unique "je ne sais quoi." Duck wings are cooked in a pot of broth from this simmering cauldron of bones and various aromatics like five-spice, scallions, ginger, clove, Chinese cinnamon and nutmeg. These master stock duck wings are eaten as a snack.
Master Stock Orange Cuttlefish – 鹵水墨魚 (pronounced: lo sui bao yu)
These mutant cuttlefish are prepared in the same way as the duck wings, in a master stock. Coloring is added just for aesthetic purposes. Not much flavour, the cuttle fish are tender, sliced thin and eaten as a side dish.
Master Stock Pork Intestine – 鹵水豬腸 (pronounced: lo sui ju cherng)
Master stock poached pork intestines, these off-cut offerings are an acquired taste; similar to chitterlings. The small intestines are thoroughly cleaned and poached in the same master stock and are served with a five-spice sauce that's heavy on pepper.
Master Stock Pork Stomach – 鹵水豬肚 (pronounced: lo sui ju toe)
Prepared like the other master stock goodies, the pork stomach is served like the intestines. The pork stomach is not for everyone, but is still popular.
The Chinese are masters at "nose-to-tail cuisine". This is where reality hits you hard bro, seeing intestines and stomach, roasted birds with their neck and head attached up on display is real… and delicious. These awesome Chinese BBQ stands are not only found in Chinatown. If you're lucky enough, your local Asian grocery store might have a small versions of these. Most Chinese BBQ stands offer a handful of standard items as well as specialty cuts depending on the chef.
So have you delved into the tasty world of Chinese BBQ before? What's your favourite? Let me know!