In case you missed it, we are currently in the thick of Montreal's restaurant week – MTL à Table – an autumn staple where the over 140 restaurants offer special table d'hôte menus at either $19, $29 or $39. An awesome way to discover some of Montreal's culinary talent at extremely friendly prices. Featuring some of the city's finest tables, MTL à Table gives everyone from foodies to occasional restaurant diners a great opportunity to visit some of Montreal's best establishments where they probably usually wouldn't go, all the while being wallet friendly. I was a guest of Tourism Montreal and had the opportunity to check out one of Montreal's newest restaurants in Old Montreal, Ikanos.

The newest endeavour of Constant Mentzas, former owner of Plateau's Tasso Bar A Mezze, Ikanos continues the mezze tradition, offering tapas style dining of market fresh ingredients. The regular menu features over 21 different dishes of expertly prepared grilled seafood and fish, meats and vegetables grilled over their Josper charcoal oven. For MTL à Table, Chef Mentzas' menu consists of a very generous five courses.
Our tasting menu started with a duo of great chilled mezze plates; Kalamata brined tuna tataki, cherry tomato sauce vierge, green beans and white anchovies. Brined and then lightly seared, the tuna was almost cured in taste and texture.

Salt cured fluke carpaccio dressed with shaved fennel, pickled plums and crushed nuts. Both cold starters were bright in flavour and definitely woke the palate. The acidulated dressings in both dishes brought out the inherent sweetness in each type of fish. The light crunch of the nuts complimented the fluke – whose neutral taste was permeated by the sweetness of the plum.

Josper grilled halibut, sauteed heirloom zucchini, spinach, and grilled baby leak. The fish was juicy and tender. The tzatziki was light and not as thick and heavy as the ones I'm accustomed to. When eaten with the fish, the tzatziki made each bite so light and creamy, supple and soft.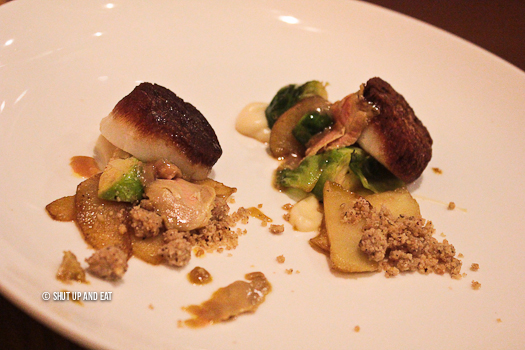 Seared scallops, foie gras shavings, sauteed Brussels sprouts, pan-seared apples, parsley root purée and hazelnut crumble. The scallops were incredibly sweet, a tad overdone, but the luscious shavings of foie gras made up for it. The sweetness of the scallop and caramelized apples cut but the bitterness of the greens, however, the hazelnut streusel threw me off. However, if the taste of the season was what was intended, evoking a sense of autumn though taste was successfully accomplished.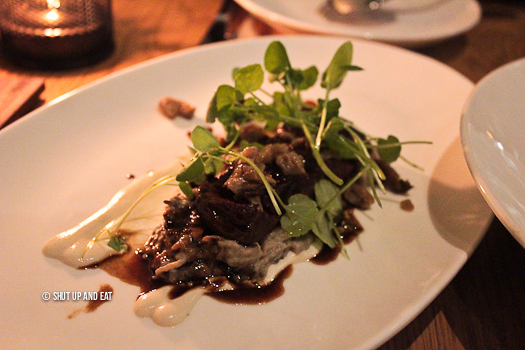 For the main coursed, seared magret de canard, roasted eggplant, tahini cream, on top of a marinated oyster mushroom salad. The duck was expertly cooked, a blushing pink au jus, each slice was like biting into a stick of butter. The mushrooms were earthy and went so well with the eggplant and tang of the tahini.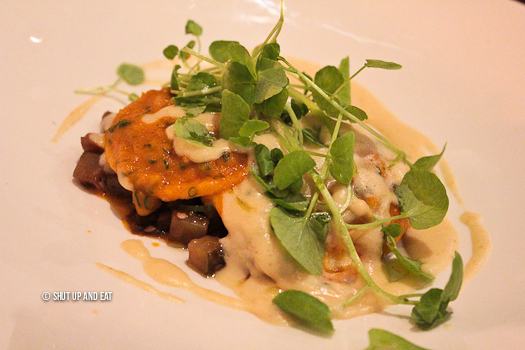 The main course also included the ravioli moussaka style. Lamb ravioli on squash and eggplant "caviar", topped with bernaise – Ikanos' take on a classic moussaka, reinvented. The ravioli were hearty and the robustness of the lamb came through. The sauce was light which was a great alternative to the wallpaper glue often used in moussaka and brought the bite of lamb and sweet brunoise of eggplant and squash together in each mouthful.
A very generous menu presented by Chef Mentzas and the team at Ikanos. The other main options seemed to be just as impressive; with a grilled medetteranialn sea bass and greek salad as well as a seared red snapper with braised fennel tortellini and shrimps in a roasted red pepper sauce and feta saganaki. This was one of the only tasting menus I've ever had that didn't feature a dessert course. I found it to be a bit unsettling and made the meal feel incomplete. Whether it was a chilled flute of Greek yogurt and a drizzle of honey, or a bite sized piece of baklava or even a whimsical golden nugget or two of loukoumades to offset the air of refinement in the meal would have been appreciated. I could have done without a plate or in exchange for something sweet to end my amazing meal.
Being opened only a few months, Ikanos is jumping into the Old Montreal culinary landscape with over 20 years of experience and presence in the Montreal restaurant scene. Ikanos' menu looks like something that would be best enjoyed amongst a few people to really get the chance to explore the different aspects of their take on mediterranean cuisine, from fish and seafood to meats and vegetables; although the MTL à Table menu gives you a great glimpse of what you can expect from their regular menu.
For more info on Montreal's restaurant week MTL à Table, make reservations and see a complete list of participating restaurants check out: http://www.tourisme-montreal.org/mtlatable/index-en.php
Ikanos
112 McGill St
(514) 842-0867
http://www.restaurantikanos.com

–
This meal was paid for by Tourism Montreal, however, thoughts and opinions are my own.