Montreal has some great Chinese restaurants, this we know. But did you know that we have different restaurants that serve very specific and regional cuisines? There are considered to be eight regional cuisines in China. The cooking styles are familiar but very distinct and differ from each other. Some of my favourites are Beijing, Mon Nan, and Kam Fung for Cantonese, Hong Mere and Gia ba for Sichuan, and Nouilles Lanzhou and Delice Oriental for Jiangsu. I recently went to a small local spot for some delicious Taiwanese food. Although not part of China, Taiwanese is indigenously Chinese and the food shares many of the same qualities. I visited Maison Mignon to get my fix of Taiwanese comfort food.
Maison Mignon is located in Ville Saint-Laurent, right off the busy Decarie strip. I've passed by many times but never went in. Convinced by a friend that I MUST try their Taiwanese beef noodle and home made pastries, I decided to go. I stopped by on a Tuesday morning just as they opened at noon and placed my order.
"You have to hate life a certain kind of way if you don't like golden deep fried cutlets."
Maison Mignon's menu comprises of Japanese specialties, Taiwanese specialties and "House" specialties – which is basically a handful of random Cantonese items like General Tao chicken, sesame beef, fried noodles and rice. Taiwanese cuisine has Japanese influences (from Japanese colonialism) – this is why (I'm guessing) they serve donburi, omuraisu, katsudon as well. I mean, unless the owners just like deep fried cutlets and wanted to put them on their menu in which case I would have done the same. You'd have to hate life a certain kind of way if you don't like golden deep fried cutlets.
Lu Rou Fan (滷肉饭)
With only 14 dishes on the eclectic menu, I did what anyone else would have done; I ordered all the Taiwanese dishes. The minced pork on rice – lu rou fan (滷肉饭) is considered a "gaifan dish" or "street rice". A dish served in street side stalls and fast service low-cost restaurants. The minced pork is stewed in a seasoned soy sauce, packed full of aromatics. Although painstaking and laborious, chopping the pork by hand lends a unique texture to the dish. Each bite is a tender a mix of lean and fat pork pieces which are fragrant in spices like, 5-spice, clove and anise.
Taiwanese Fried Chicken
What makes fried chicken Taiwanese? It speaks Mandarin, obviously. Popcorn chicken is a popular street food and night market snack that Maison Mignon made into a meal. Each piece was salty and was subtly seasoned with white pepper and five-spice powder. Other variations of this dish has the chicken lightly dusted as opposed to battered (like this one) – which unfortunately didn't hold up very well for takeout. However, the smaller pieces remained crunchy as the bigger substantial ones didn't. I'm pretty sure this wouldn't be the case if you were to dine-in.
Beef Noodle Soup (牛肉麵)
I'd prefer to let this dish cool and eat it warm, not hot, just so that I can get it into my body faster.
This is what I came to Maison Mignon for – the iconic Taiwanese beef noodle soup. Luscious pieces of tender stewed beef shank on top of bouncy udon noodles served with Shanghai bok choy and pickled mustard greens. I've never made this dish before and for good reason. There's millions (literal millions, I counted, trust me) of ingredients that it takes to make the broth and beef both separately that when combined locks in for the perfect bite. Like going to Adonis on a weekend, it's something I'm not brave enough to do.
The beef shank offers each bite a great melange of tender beef and soft, gelatinized, rendered bits. The bowl is a perfect blend of flavours and textures. Interweaving profound robust beefiness, with bitter greens and spicy pickles, toothsome noodles and a crisp soup, I'd prefer to let this dish cool and eat it warm, not hot, just so that I can get it into my body faster.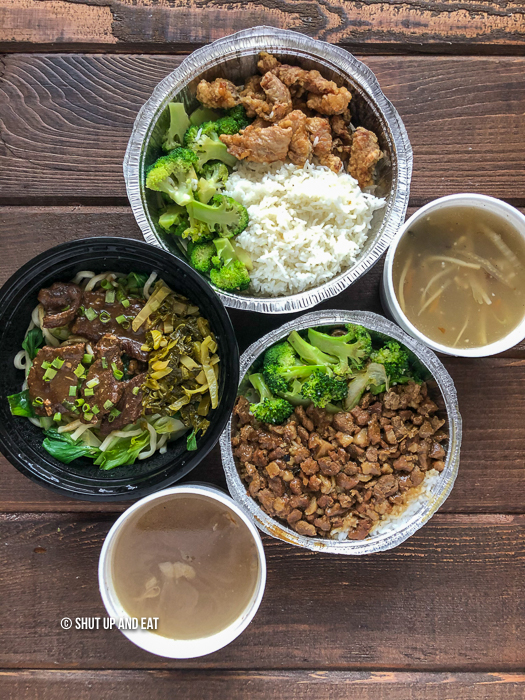 I also ordered the Taiwanese pork soup. A thick pork bone soup with wood ear mushroom, Napa cabbage, bamboo shoots and pork meat balls. It was hearty and welcomed on a cool autumn day.
There isn't much Taiwanese food representation in Montreal. Sorry, I mean you don't see it outside of downtown and "Chinatown 2" around Concordia. I'm not sure why. Maybe it's a combination of the inherent smaller Taiwanese population in the city and the cuisine being too similar or niche to other popular types of Chinese food to justify a standalone establishment. The pastries I was looking for are apparently only made on weekends – they make the classic Taiwanese pineapple cake in house as well as a "UFO" cake which looks like a stuffed waffle cookie.
Maison Mignon is a mom and pop run operation. You could hear mom behind the magical curtains cooking up a storm and pop can be found behind the counter taking orders, literally. So I want to ask you; what is better that home cooked comfort food? Go on, I'll wait.
Maison Mignon
1440 De l'Église St, Saint-Laurent,
Quebec H4L 2H3
(514) 744-1919