Cheers! Santé! Kampai! "When I say sake, you say bomb… SAKEEEEEE…" We've all said these things at one time or another. If you're not Vietnamese (or drank with Vietnamese friends) I'm about to put you on to a new drinking toast. "1…2…3… Yo!" which roughly translates to "1,2,3 let's go!" This toast is the namesake of the newly opened Vietnamese spot in Laval, 1,2,3, Dzo! A spot that is offering up legit street food eats and an authentic curb-side dining experience. Be honest, we're all fans of street food and we're fortunate enough in Montreal to have access to all kinds. From Japanese izakayas, to Korean indoor stalls, Chinese crepes and dumplings and Vietnamese pubs, we're got them all, and now, we've got another.
Papaya Salad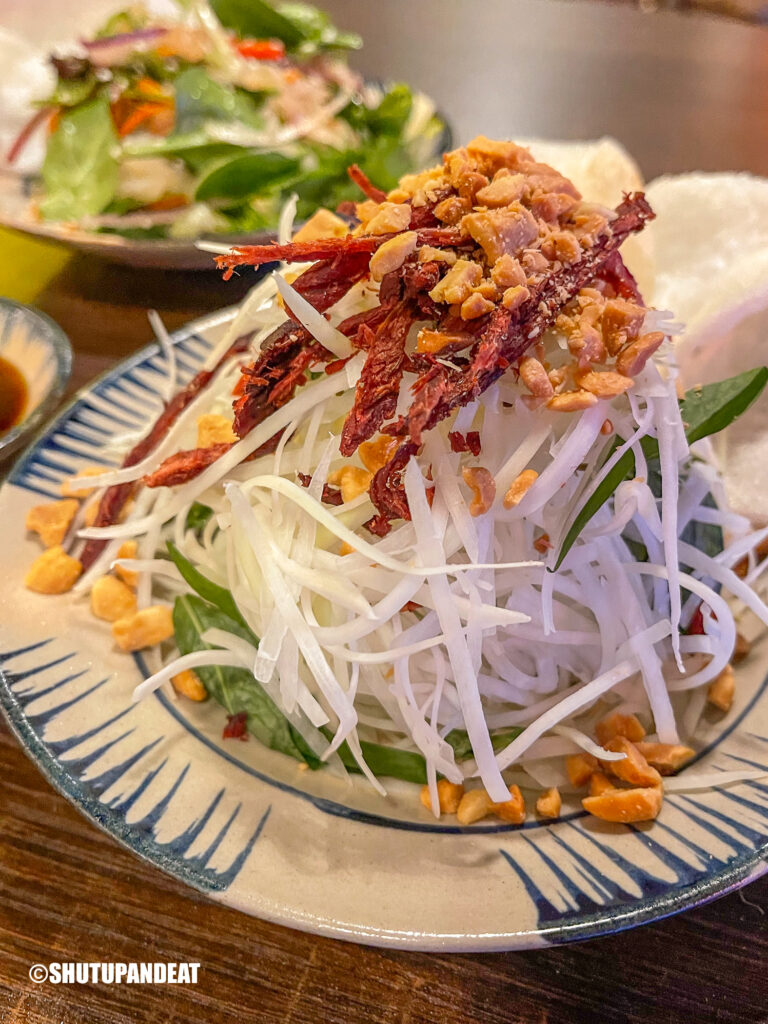 The menu at 123 Dzo, ranges from small bites like salads, rolls, brochettes, to tapas, to hearty options like noodles and rice. I suggest sticking to the tapas part of the menu. We started off light with the green papaya salad. The freshly shaved shards of green papaya was crisp and refreshing. It sat on top of a sweet and sour dressing made with fish sauce, lime juice and sugar. The salad featured strips of savoury homemade beef jerky and garnished with hot mint and crushed peanuts. The dressing is the kind where it hits the back of your mouth and makes you crave more. It's also the kind that makes you wonder if it's ok to lap up the rest at the bottom of your plate after your done with the salad. Do it. YOLO.
Jellyfish Salad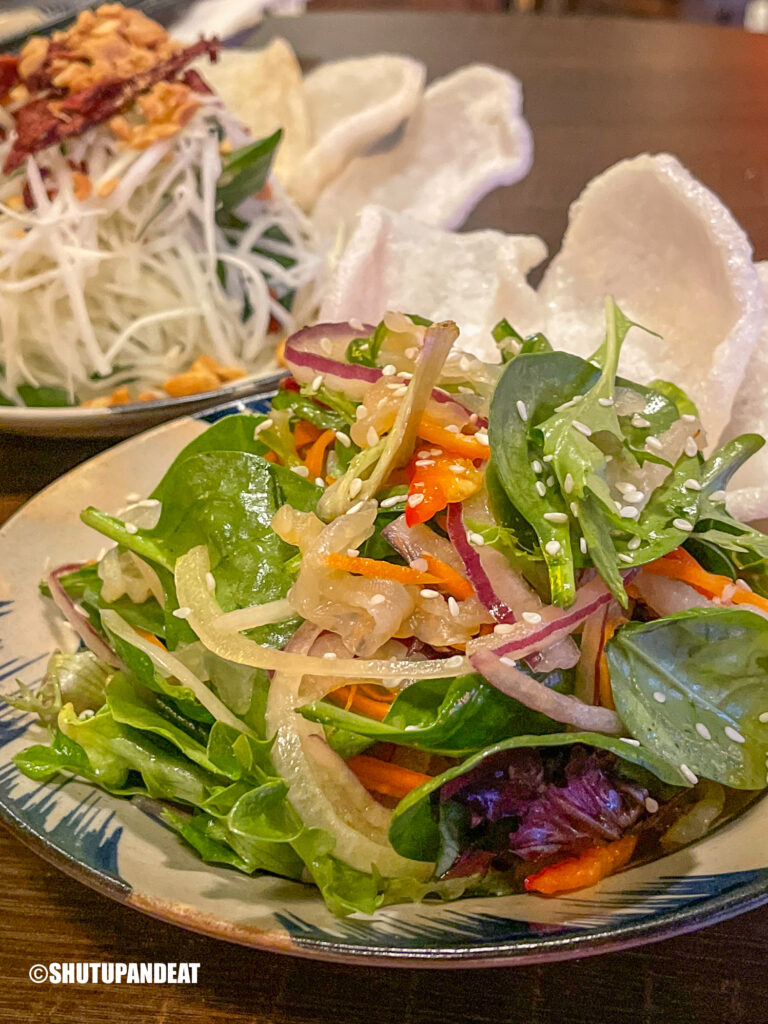 Have you ever had jellyfish before? It's not as intimidating as you might think. This salad has thin chewy strips of your favourite salted gelatinous zooplankton tossed into a bed of mesclun and topped with a simple vinaigrette.
Grilled Squid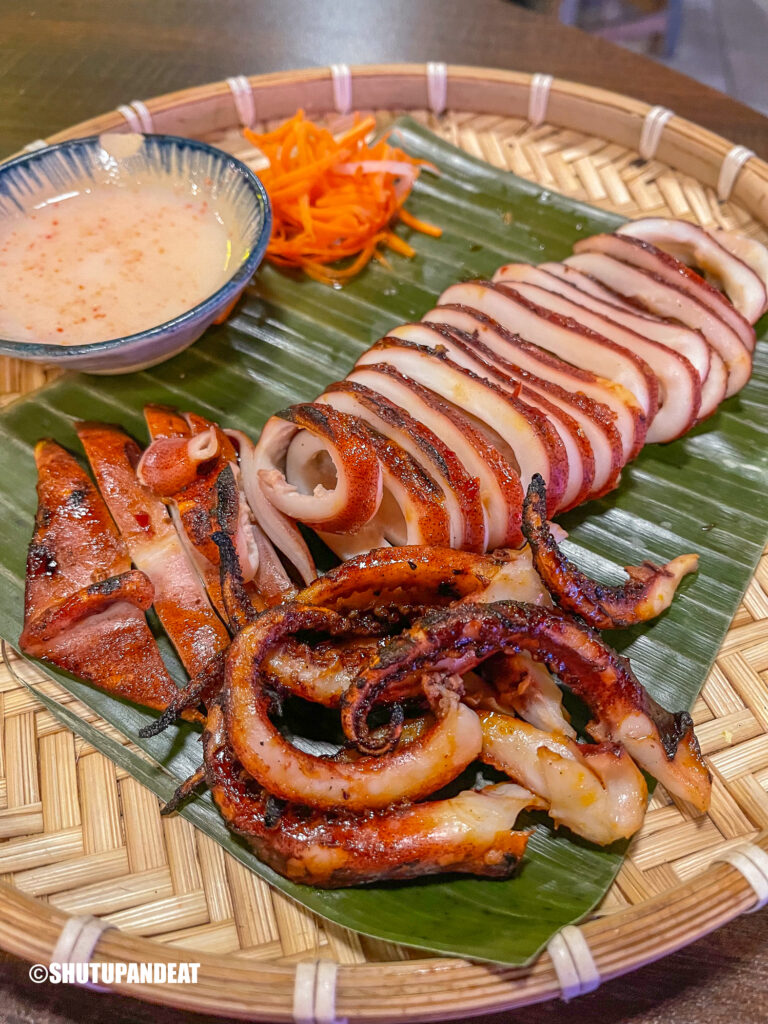 The grilled squid was glazed and grilled over fire. It was tender and full of flavour. The smokiness of each bite was complimented by the dipping sauce, which in itself was sweet with a hint of spice. Get this.
Chicken Wings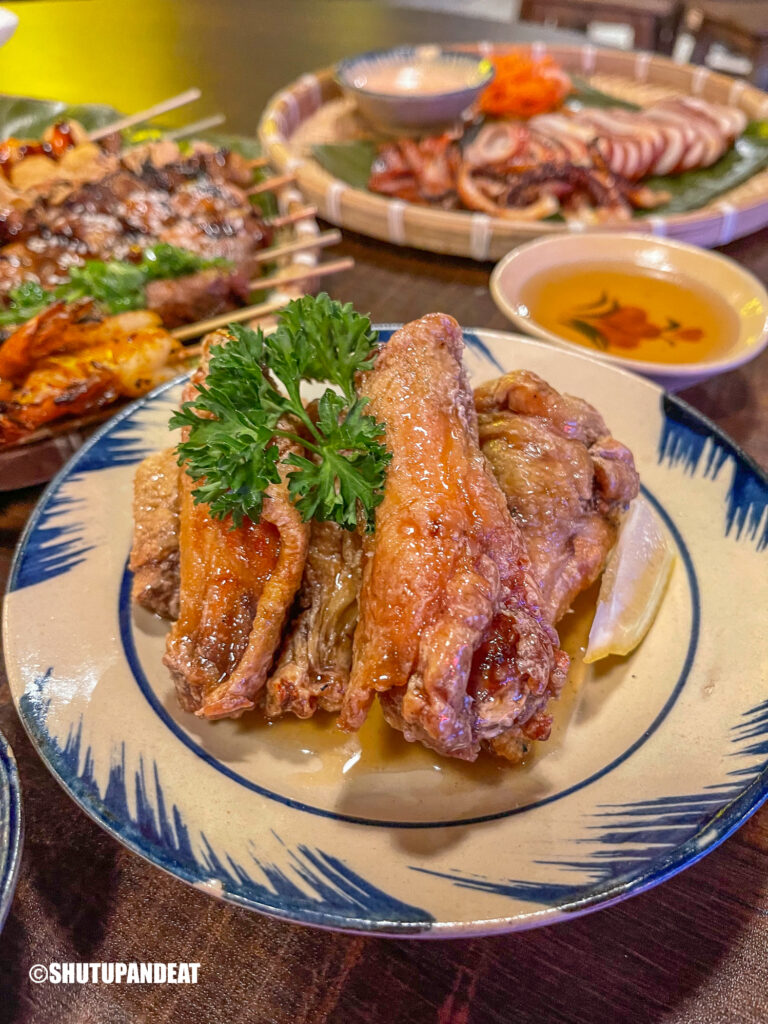 Apparently off of prehistoric pterodactyls, these wings were huge. They were crunchy and inherently salty and the sweet honey glaze went perfect.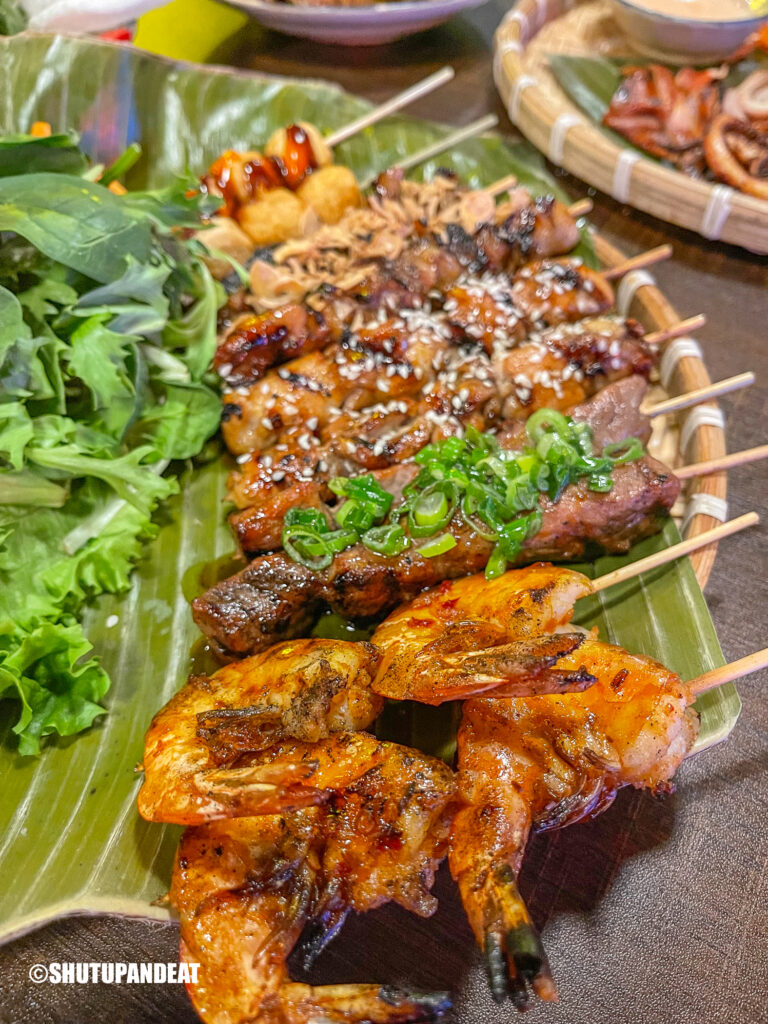 123 Dzo offers a variety of different brochettes. We got the chef's plate which was a set of 10 brochettes (two each of five selections). The shell-on shrimps were plump and juicy. The lightly charred shells gave each bite a great texture. Yes, you read that right. They shattered so it wasn't worth the effort to peel them. Each brochette had it's own different garnish. Scallion oil on the beef (which was a bit tough), sesame on the chicken, fried scallion on the pork and a drizzle of hoisin and Sriracha on the fishballs. Each bite was different and unique.
Mussels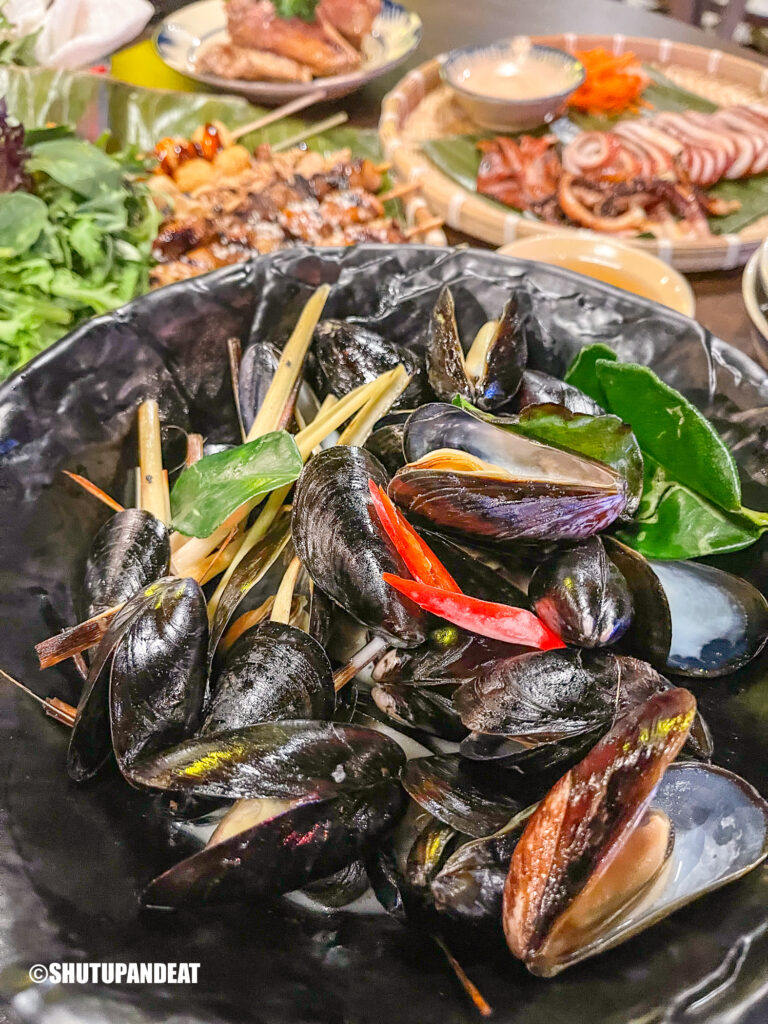 The mussels in coconut cream sauce was ridiculous. The sauce was incredibly sweet and savoury. Rich lusciousness of coconut milk laced with the vibrant aromatics of fresh lemongrass and lime leaves. The portion was generous and I would have drank the sauce with a straw.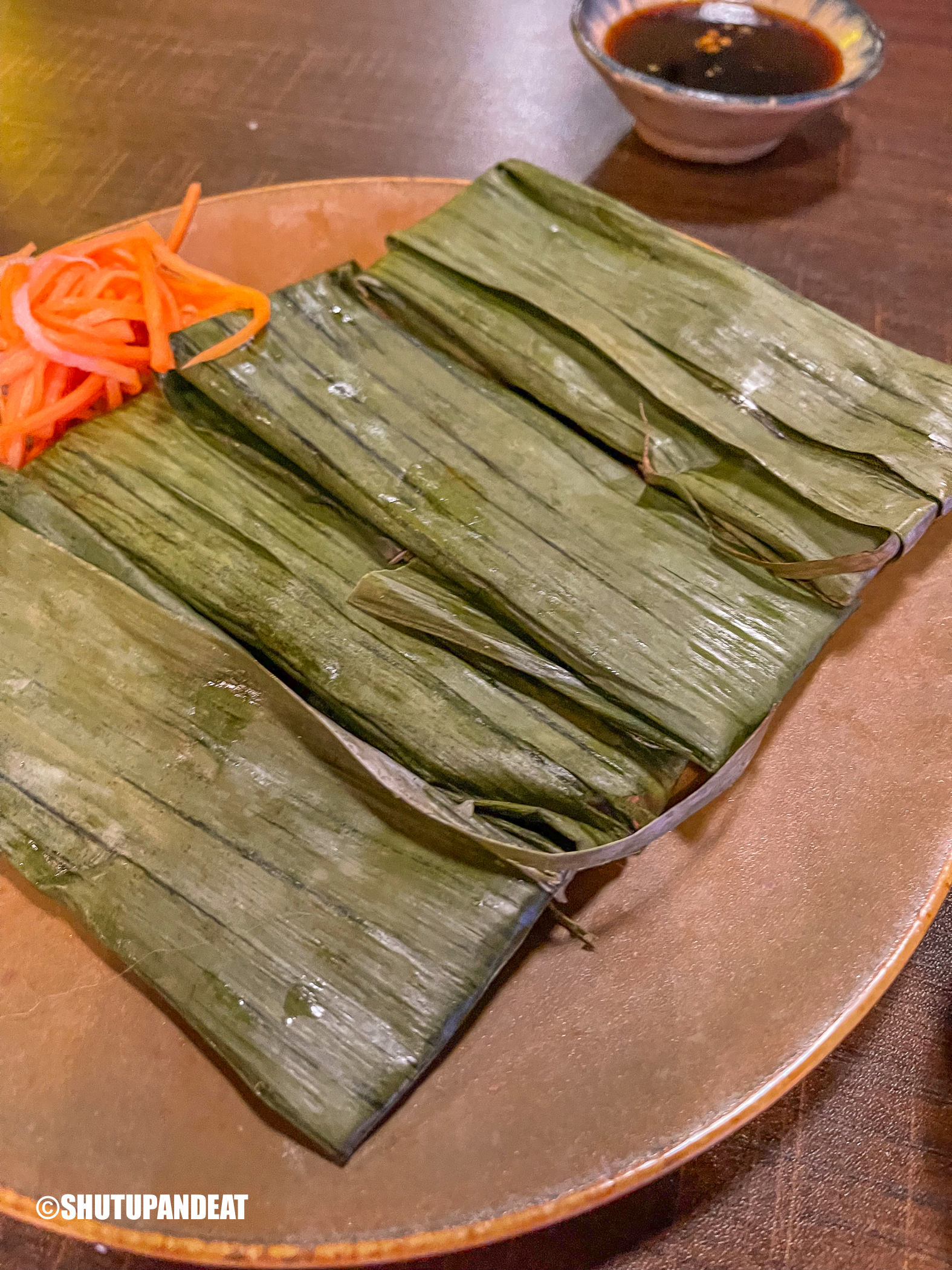 The Hue flat rice dumplings were a complete surprise to see on the menu. There aren't many places that offer them – they're labour intensive to make. A rice flour batter is mixed with pork, dried shrimp and scallions, then steamed in a banana leaf. Similar to a tamale in preparation. They didn't pack a lot of flavour, but they're not supposed to. These are meant to be eaten in volume – at least I would have – with a tall glass of beer… or three. These are similar to Chinese rice noodle rolls (cheung fun) without the pageantry.
Fried Rice Cake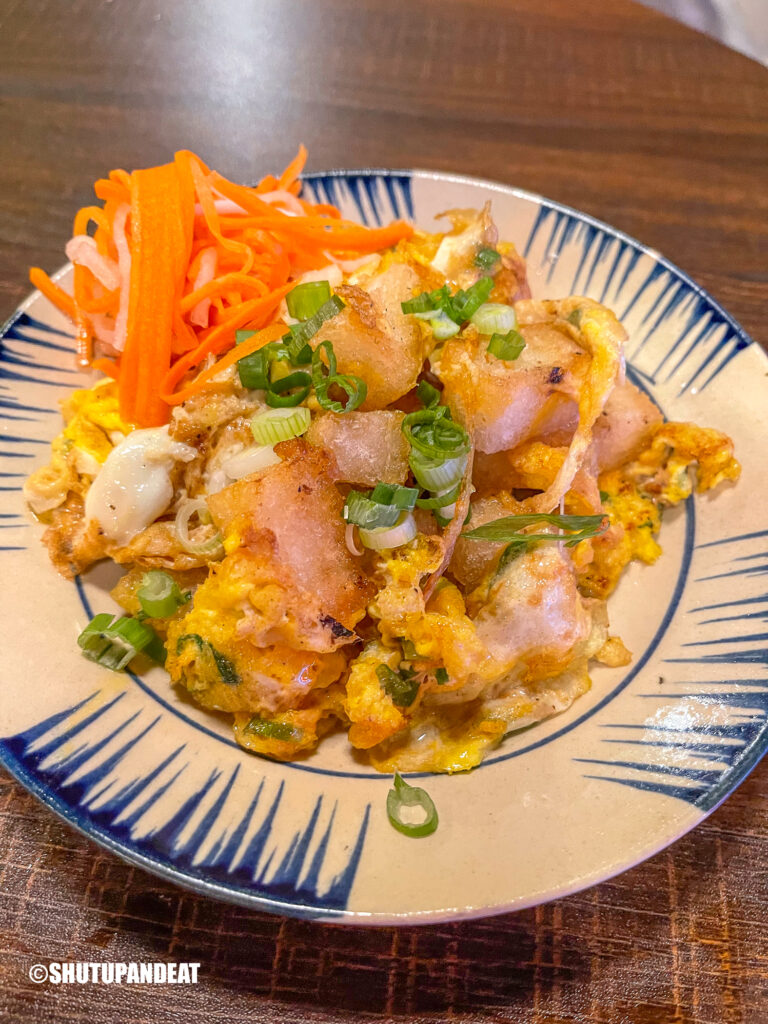 Fried rice cakes with egg. A steamed batter that solidifies, which is then cube and deep fried then fried with eggs. Again, a laborious dish to make, but the payoff is worth it. Especially to say they're one of the few places in the city that serve it. Each cube was covered in an incredibly crunchy shell that bit into a soft and chewy centre. It's served with a tangy dipping sauce. This is also another dish that's rare to find in the wild.
Dessert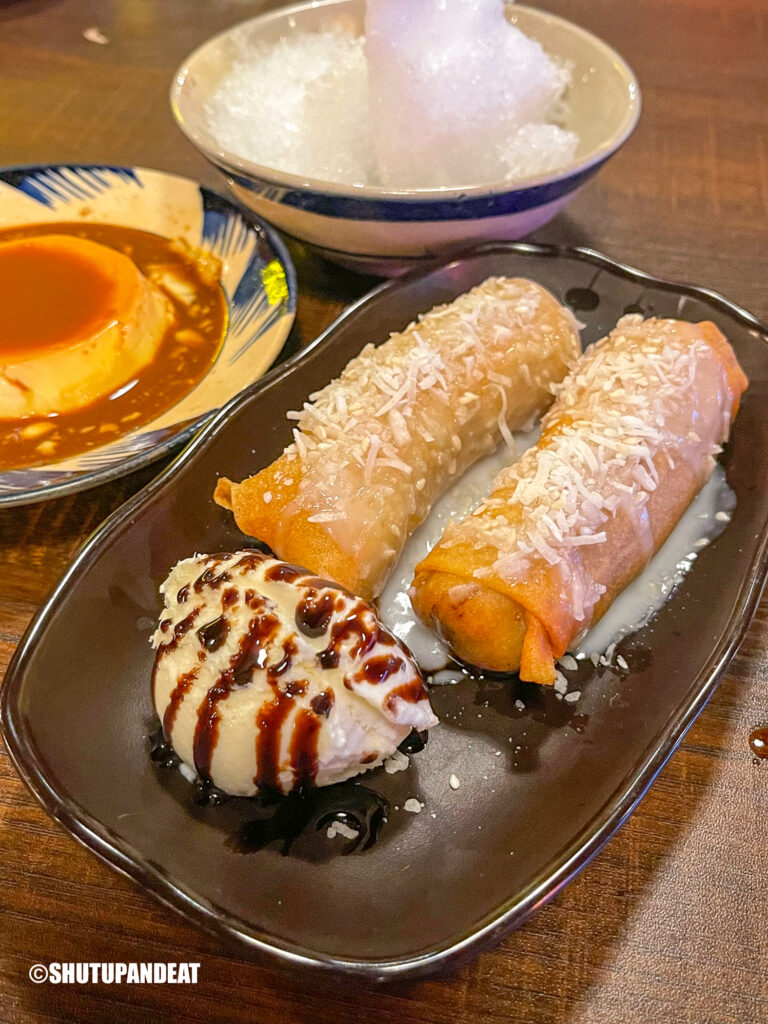 We got the creme caramel as well as the fried banana with ice cream for dessert. The flan was great. It was served in a way that I've never had before and apparently it's typical at street food stalls in Vietnam. It's served with a side of shaved ice and you're meant to scoop the ice onto the egg custard as you ate it. It makes sense if it's being served in a bustling side street in the middle of Southeast Asia. It's also sweetened with Vietnamese coffee. A rich earthy mix of strong coffee and condense milk. Awesome. The fried banana was nice – it was wrapped in a spring roll wrapper, opposed to being deep fried like tempura (which is how a lot of other places serve it).
The experience at 123 Dzo is one that I've had before… just not in Montreal. I've spent time in Southeast Asia (not in Vietnam) the tastes and flavours were familiar and different at the same time. Not to say the cuisine in that part of the world all tastes the same, but they share similar ingredients that treated differently. I went during the week, so the party atmosphere was limited to a handful of tables. But if you follow 123 Dzo on social media, you'll know you'll catch the vibe on a weekend. You're coming here to try the bits and bites of various snacks to to accompany your drinks or at least to try as much as you can from the menu – I recommend staying in the tapas section of the menu. But explore as much as you can. All dishes are a hit. Only thing missing to complete the authentic experience is the sound of meeping mopeds and the smell of diesel exhaust.
123 Dzo
2121 Boulevard le Carrefour, Laval, QC H7S 2J7
https://resto123dzo.ca/
---
I was a guest of 123 Dzo, thoughts and opinions are my own.